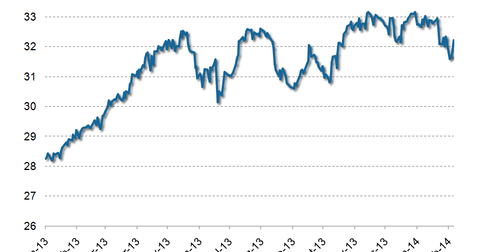 An overview of some of the ETFs designed to manage volatility
By Aniket Ullal

Updated
A detailed evaluation of the ETFs designed to manage volatility is beyond the scope of this landscape report. We have provided a brief overview of some ETFs/ETPs that are designed for managing volatility (this should not be interpreted as investment advice).
Low volatility ETFs
These ETFs provide index-based exposure to low volatility securities in a particular investment category. For example, the PowerShares S&P 500 Low Volatility ETF (SPLV) comprises the 100 stocks in the S&P 500 Index with the lowest volatility (that is, standard deviation of returns) over the trailing one year. The biggest benefit of these ETFs is that they allow investors to stay invested in equities, while reducing the relative magnitude of a potential drawdown. For example, in the calendar year 2008, the S&P 500 index declined by 37.6%, while the S&P Low Volatility Index declined by 21.4%.
Article continues below advertisement
However, it is also important to be aware of the risks and features of these ETFs, such as a likely underperformance in bull markets and concentration in sectors such as utilities. Low or Minimum Volatility ETFs vary in their design, such as in the application of sector limits and weighting of securities. More information on these products is available in our ebook on this topic published in 2013.
VIX-based ETPs
Although there is no easy way to access the "spot" market for volatility, there are several ETPs that hold VIX futures contracts. These ETPs tend to have a low correlation with the S&P 500. In our opinion, however, these are not suitable as "buy-and-hold" products, since they usually lose value over time due the "roll cost" associated with rolling from one VIX futures contract into the next. Our analysis indicates that such roll costs tend to be slightly lower in the mid-term VIX ETPs compared to the short-term VIX ETPs.
Some traders or institutional investors may use VIX-based ETPs for specific trades such as using VIX exposure as a hedge against tail risk. For example, some investors may use ETPs like VXX (iPATH S&P 500 VIX Short-Term Futures ETN) to partially offset the risk of a decline in equity markets.