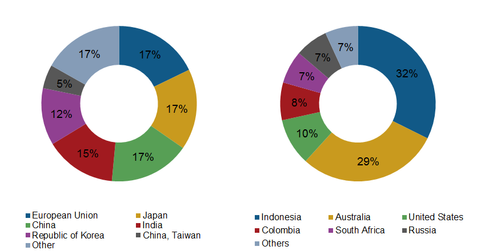 Key players involved in the global seaborne coal trade
By Xun Yao Chen

Updated
Coal trade
Coal (a fossil fuel) is another large category of dry bulk shipped by dry bulk shippers, comprising close to 30% of total dry bulk shipments. Throughout history, the raw material has been widely used to generate heat and electricity, as well as for industrial purposes like refining metals. Thermal coal is used for electricity purposes, while coking coal (metallurgical coal) is for industrial activities.
Production effort
Article continues below advertisement
Coal can be found almost everywhere on our planet. But not every coal discovered can or is extracted. Factors pertaining to reserves (depth, quality, and quantity), infrastructure, mining technology, and government regulations can all affect where coal is produced. This is important because where future production takes place will affect demand for dry bulk vessels.
The significance of coal
Trading in the most abundant resource out of all fossil fuels (which include oil and natural gas), the global coal trade makes up a smaller percent of total world consumption—near 16% in 2010, according to the U.S. Energy Information Administration. But world coal consumption on a metric tonne basis is much more than iron ore consumption, which makes coal equally important.
Key suppliers
Today, China, the United States, India, Australia, Indonesia, Russia, and South Africa are the largest producers of coal. The top five producers' share of global output is currently projected to increase from 78% in 2010 to 81% in 2014, based on the "International Energy Outlook 2013" report. China and India are two of the top three producers, but they don't have enough domestic supply to meet their annual needs. So they have to rely on major exporting countries like Australia, Indonesia, or Russia to fill the shortage.
Major importers
Unlike iron ore, top coal importers' share of coal is more equally distributed among countries like China, South Korea, India, Japan, and European Union countries. Nonetheless, we must not ignore China's significance, because it's the largest coal consumer. Plus, a slight change in the balance between domestic production and consumption can have a large impact on global trade volume. Still, other key importers remain important to the dry bulk trade.