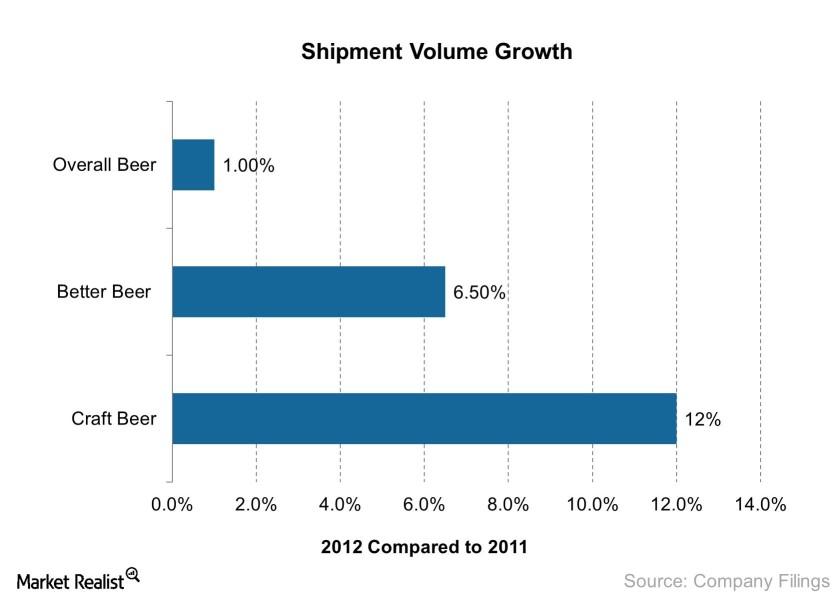 The rise of craft beer: Boston Beer Company and Samuel Adams
The rise of craft beer
Craft beer consumption is on the rise, as drinkers are going for more premium products these days. U.S. large brewers like Anheuser-Busch Inbev and Miller Coors LLC—a joint venture of SABMiller (SBMRY) and Molson Coors Brewing Company (TAP)—are benefiting from this trend, posting double-digit growth each year for the past few years, but Boston Beer Company (SAM) stands to benefit the most because of its focus.
Article continues below advertisement
Article continues below advertisement
While shifts in taste preference and purchase behavior have contributed to an overall decline in beer consumption in the United States over the past few years based on volume, the craft beer segment of the industry grew at ~12% in 2012—faster than the better beer industry's ~6.5% and the overall beer group's 1%.
Several surveys have found that Millennials are keener to spend cash on more expensive alcoholic beverages like craft beers than cheap beers. This age demographic is also more likely to purchase wine and spirits. Light beers with fewer calories have also gained traction among customers over the last 30 years, as more women joined the workforce and drinkers began caring more about their bellies. The light beer segment is now bigger than traditional beers.
Flavored malt and hard ciders
The flavored malt beverage category is also on the rise, as Millennials are a relatively more adventurous bunch compared to the loyal generations from the past. New alcoholic beverage drinkers are more interested in tasting new products rather than sticking to the old options. The flavored malt beverage segment—only 2.0% of U.S. beer consumption—was estimated to have grown 9.0% in 2012, mostly due to the launch of Bud Light Lime Lime-a-Rita. Hard ciders, a very tiny category of alcohol that's expected to make up less than 0.5% of U.S. beer consumption, saw a 65% volume increase in 2012.
Core brands
Boston Beer Company's core focus brands are Samuel Adams Boston Lager (Flagship brand) and Sam Adams Light (note that light beers have gained traction over the last 30 years). These were first introduced in 1984 and 2001, respectively. Certain products are produced at specific times during the year to be included in the company's variety packs. Others are brewed in limited quantities for special occasions.