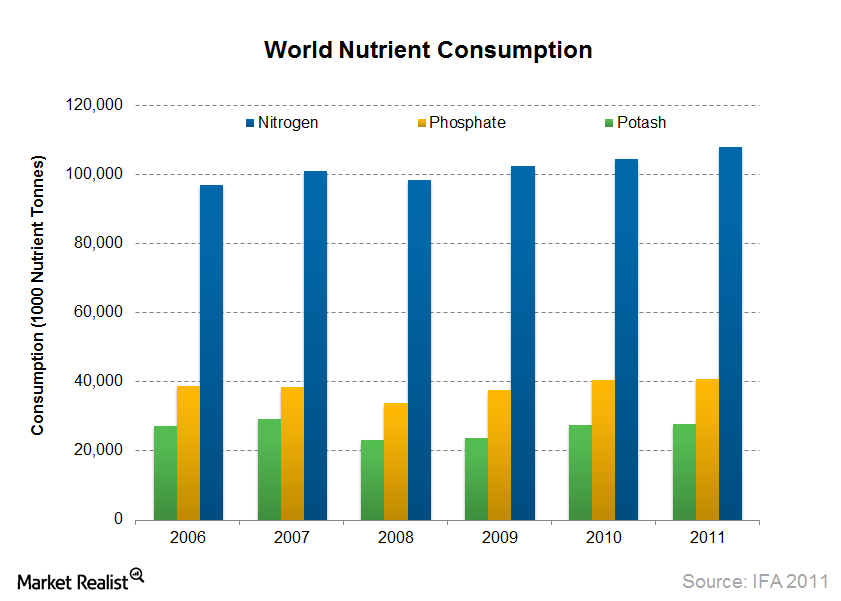 Potash industry opportunity for companies POT, AGU, MOS, and IPI
By Xun Yao Chen

Dec. 11 2013, Published 12:40 p.m. ET
Potash use
Potash is a chemical that's mainly used as a fertilizer. Approximately 91% of the world's potash is used as fertilizer, while the rest is for non-fertilizer purposes like aluminium recycling, oil-well drilling fluid, snow and ice melting, steel heat-treating, beer brewing, animal feed supplements, and medicine.
Quality nutrient
By helping plants develop strong roots and retain water, potash is a critical nutrient that enhances yields and provides greater resistance to disease and insects. According to Potash Corp. (POT), the chemical helps improve the "taste and nutritional value of food," so it's often called the "quality nutrient."
Balanced nutrient application
Article continues below advertisement
Although potash is least consumed compared to phosphate and nitrogen, it plays a vital role in plant growth. A well-balanced nutrient application is critical to the longevity of higher crop yields and is a key ongoing driver. This is often referred to as the NPK ratio (nitrogen-to-phosphate-to-potash ratio).
Over the next few years, demand growth for potash is expected to outpace demand for nitrogenous and phosphate fertilizers, as food consumption continues to rise due to growing emerging markets, rising income levels, and shifting towards crop-intensive foods like meat. A more balanced NPK ratio is also a contributing factor towards higher potash use.
Cyclical demand
But investors should note that potash demand is more cyclical than nitrogenous fertilizers and farmers can forgo application from time to time. This is because potash isn't directly consumed by plants, unlike nitrogenous fertilizers.
During these times, potash producers like Intrepid Potash Inc. (IPI), Potash Corp. (POT), Mosaic Co. (MOS) and Agrium Inc. (AGU) tend to experience falling potash prices or demand, which negatively impacts share prices. This will negatively impact the VanEck Vectors Agribusiness ETF (MOO) too. However, this also presents opportunities for those who do buy in at industry troughs.