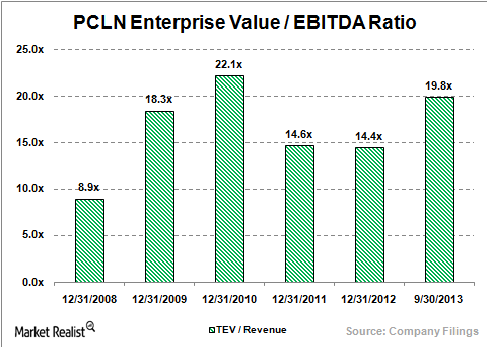 Eton Park Capital opens new positions in FDO, STZ, BID, EQIX, Sells NLSN, PCLN – 13F Flash
In this six-part series, we will go through some of the main positions Eton Park Capital traded this past quarter
Eton Park Capital Management is a multi-strategy hedge fund founded in November 2004 by former Goldman Sachs partner Eric Mindich.
The firm started new positions in Family Dollar Stores (FDO) , Constellation Brands (STZ), Sotheby's (BID), and Equinix Inc. (EQIX) and sold positions in Nielsen Holdings NV (NLSN) and Priceline.com Inc. (PCLN).
Abbreviated financial summaries and metrics for these securities are included below. Detailed analysis and recommendations require a subscription (more information at the bottom of the article).
Why sell Priceline.com Inc. (PCLN)?
Article continues below advertisement
Priceline stock price crossed the $1000 mark in September. The company reported stellar results for 3Q 2013, with a revenue increase of 33.0% to $2.27 billion year-over-year. The company said in its earnings call that strong unit growth, paired with good operating margins, drove results that exceeded the top end of its guidance range in all key metrics. Its 3Q 2013 gross bookings grew 38% compared to the prior year. Gross bookings growth accelerated to 17% for its Priceline.com brand business in the U.S. The U.S. growth was also helped by increasing advertising placements within KAYAK. Performance was strong across air, rental car, and hotel verticals. The company also announced the promotion of Darren Huston to President and CEO of the group effective January 1, 2014. The company said non-GAAP EPS is expected to be in the range of $7.8 to $8.3 for Q4 2013 against analyst estimates of $8.34. Analysts also consider the revenue growth guidance conservative.
Eton Park Capital founder Eric Mindich has a degree in economics, summa cum laude, from Harvard University. The fund is estimated to have around $19.4 billion in assets under management and has offices in New York, London, and Hong Kong. The fund follows a bottom-up, research-driven approach seeking mispriced assets that fall both within and between conventionally defined investment strategies. It invests in both public and private markets, and investors in the fund generally have their capital committed for between three and five years—considerably longer than the quarterly redemption notices characteristic of many hedge funds. Eton Park has a global approach to investing and flexibly allocates capital between regions in the same bottom-up, idea-driven manner that it applies to investment strategies within a region. It focuses its investments in Europe, North America, Latin America, Eastern Europe, Asia, the Middle East, and South Africa. Cross-border strategies are also an important area of emphasis.