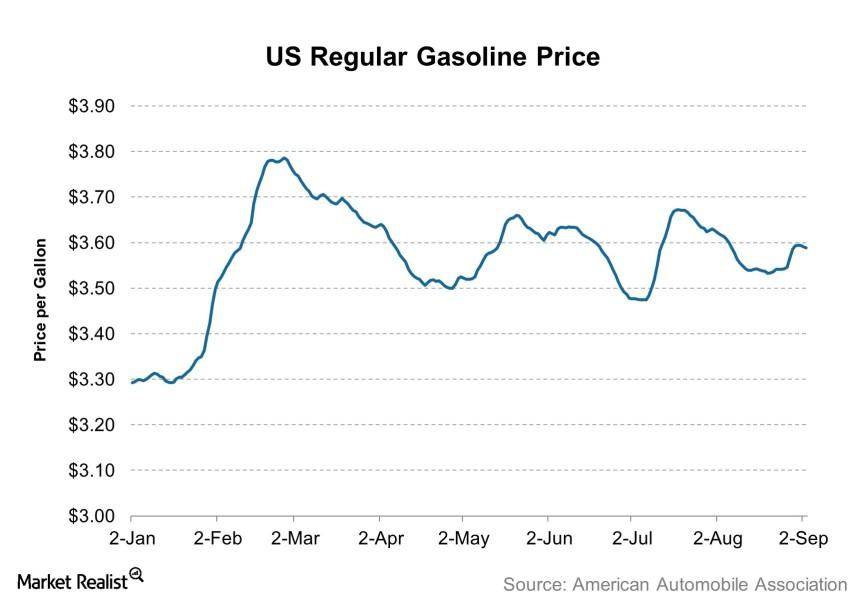 Syria strike would raise gas prices and reduce restaurants' sales
The importance of gasoline price
We call disposable restaurant income (wallet money) the amount of "free cash" available for people to spend eating away from home after considering other expenditures they have to make. One factor that affects this amount is the price of gasoline. Higher gasoline prices can reduce people's leftover spending at restaurants, which will negatively affect restaurant sales. Higher gasoline price can take away leftover spending at restaurants, which will negatively affect restaurant sales.
Gasoline price on the rise
Article continues below advertisement
Gasoline prices in the United States have been rising on the back of higher Brent oil lately. Gasoline prices have been rising because people went on summer vacations, refiners shut plants for maintenance, and unrest escalated in Egypt. While tapering concerns have occasionally led to lower gasoline prices, potential disruption to oil supply infrastructure through a possible strike against Syria had pushed Brent oil above $110 a barrel.
Relationship between Brent oil and gasoline
Historically, gasoline prices have been largely affected by fluctuations in prices for Brent oil because the majority of refiners use Brent oil to make gasoline. As the more expensive crude oil, refiners are charging customers based on Brent oil, as opposed to WTI (West Texas Intermediate)—the U.S. benchmark crude. WTI prices were also lower because of inadequate infrastructure to transport WTI crude oil to refiners. As a result, refiners had limited access to WTI crude oil.
Obama vying for military action against Syria
Article continues below advertisement
With Obama trying to gather support for a military strike against Syria on charges of chemical weapon use, a strike may seem more likely day by day. The President was quoted on Wednesday, September 4, 2013, saying, "My credibility is not on the line. International credibility is on the line. The question is, how credible is the international community when it says this is an international norm that has to be observed? The question is how credible is Congress when it passes a treaty saying we have to forbid the use of chemical weapons?"
Possible negative for casual dining restaurants
Analysts expect crude oil to rise to $125 a barrel and higher if a strike launches at Syria. Whether this would disrupt supply or not is yet to be seen, but speculation will keep crude oil high and gasoline prices will nonetheless follow suit. This could negatively affect restaurants' sales. Casual dining restaurants like Blooming Brands Inc. (BLMN), DineEquity Inc. (DIN), Brinker International Inc. (EAT), and Darden Restaurants Inc. (DRI) would be negatively affected the most, because they neither sell on-the-go foods nor high-end cuisine, as wealthier customers are able to absorb higher gas prices. The iShares U.S. Consumer Services ETF (IYC) will also be negatively affected.