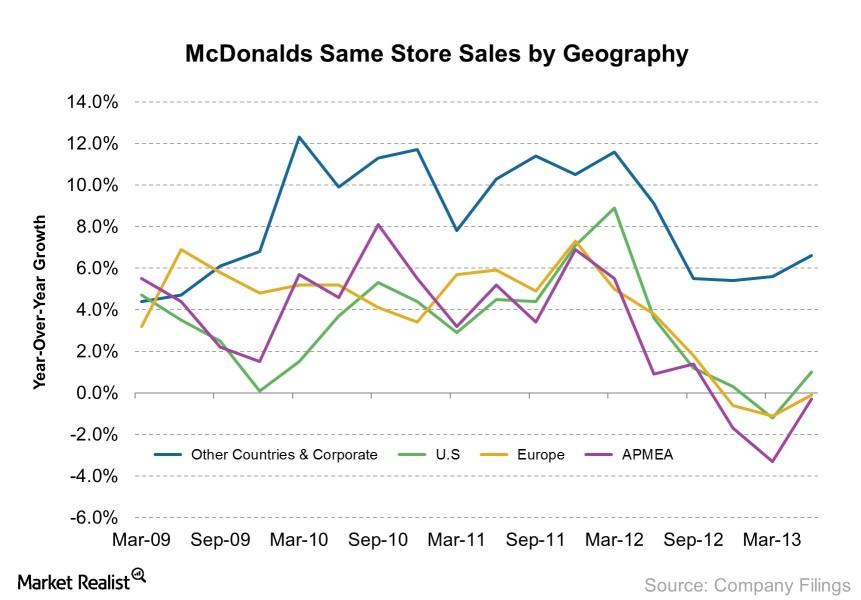 Are McDonald's higher sales in Europe part of a larger trend?
McDonald's sees higher same-store sales
On September 10, 2013, McDonald's Corp. (MCD), the world's largest fast-food chain, said its same-store sales grew 1.9% in August compared to the same month a year ago, helped by demand in Europe. According to Bloomberg, the figure was higher than the median expected increase of 0.3%, based on 16 estimates from Consensus Metrix. In Europe, McDonald's said that its same-store sales, which only account for stores that have been open for at least 13 months, jumped 3.3%—its largest gain since June 2012. Analysts as a whole were looking at 0.1% drop.
Is recent pickup part of a larger trend?
Article continues below advertisement
Just last quarter, McDonald's Corp. (MCD)'s managers stressed the challenging environment they were facing and said they expected the condition to remain for the rest of the year. Same-stores sales in Europe were negative 0.1% for the second quarter of this year compared to the same period last year. Fundamentals have improved over just a short period, though, and that's just one reality in life. When momentum kicks in, changes can happen quickly. Other times, they take longer than what most people expect. McDonald's recent announcement could be part of a larger trend forming in Europe. Yum! Brands Inc. (YUM), which has significant exposure to Europe, may also see some pick-up in sales growth.
Key indicators you can use to stay a step ahead
Retail investors are always bombarded with information from the media, the movements in the market as well as the opinion of relatives, peers, and investment superstars on the web. Quite often, they also become irrational because of emotional influences. Because of these factors, investors should stay calm, reflect, and reassess the fundamentals so that they're more sure of their (prospective) investments, while knowing that they won't always be right and that outlook can change. For mega fast-food companies such as McDonald's Corp. (MCD) and Yum Brands Inc. (YUM), large consumer ETFs such as iShares Dow Jones Consumer Service ETF (IYC) and Consumer Discretionary Select Sector SPDR ETF (XLY), as well as the Vanguard FTSE Europe ETF (VGK), investors can use several publicly available indicators to better position themselves in the market.
While these indicators are often discussed in the media, perhaps most investors don't really know them or understand how they're important for industry and company analysis. So in this series, I'll try my best to uncover the key indicators investors should know to help them stay calm and position themselves correctly in the market more often. Hopefully, you'll get a better grasp of some of the key indicators you can use to generate higher returns and minimize risk. One final word: different businesses and companies will have different drivers. Even if they do have similar drivers, the extent to which each driver affects the industry or the companies' performances differs from one to another. Investing is an art and a science. There is no secret formula.