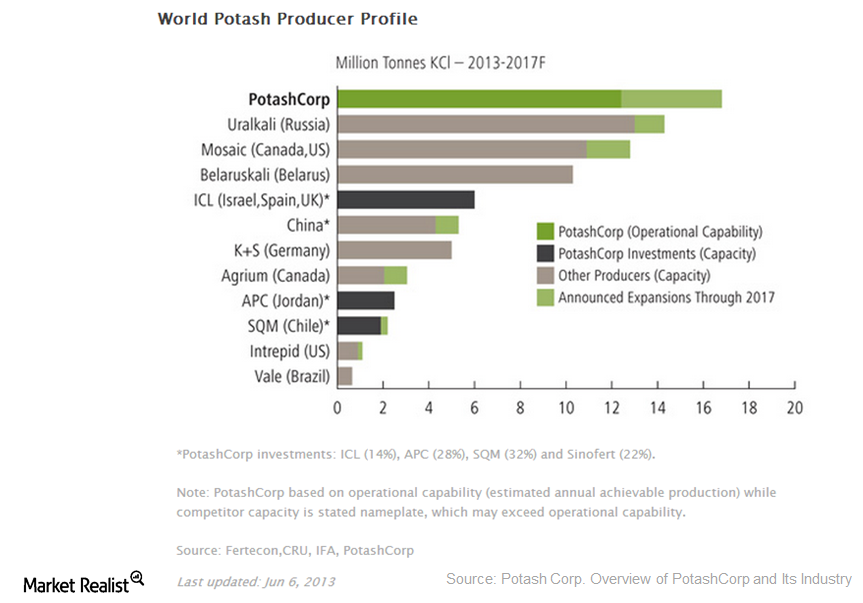 Why are potash producers increasing capacity?
Introduction
Most often, investors expect new capacity addition plans as a positive indicator of booming business. This is because companies often increase their capacity following a period of demand boom. But capacity increases can be negative, as we saw with several fiber optics companies back during the tech bubble, when earnings plummet on falling demand and excess capacity. Can the same thing be said for the fertilizer industry?
New capacity additions
Article continues below advertisement
Because of soaring crop prices, which also brought fertilizer prices higher, several potash companies have announced plans to increase their potash output capacity by 2017.[1. Potash is a type of nutrient that improves root strength and disease resistance.] Potash Corp. (POT) intends to raise its capacity from ~12 million tonnes per year to ~17 million—a significant increase of ~40%. Other companies such as Mosaic Co. (MOS) and Uralkali had also planned to increase output of ~3 million tonnes combined.
What happens when capacity increases?
First, when capacity increases, depreciation expense will also rise, as the company begins expensing the investments in plant, property, and equipments. So earnings will fall. Second, to cover fixed costs, the company that had increased capacity is often eager to put the new mine or machine to work. This can be either positive or negative.
Positive: If there's enough demand for the fertilizer, it means more revenue for the company that had increased capacity.
Negative: If there isn't enough demand, then competitive pressure due to higher supply will drive industry-wide prices down, which hurts earnings. If the company with increased capacity intends to keep industry prices leveled by not increasing output, the company would still be negatively affected by the depreciation costs.
Is capacity addition worrisome?
Analysts have cautioned that the current capacity addition plans could outpace demand growth. But what's special about the fertilizer industry—potash in particular—is that the bulk of total production is controlled by a few members like Mosaic Co (MOS), Belaruskali, and Uralkali. As such, they often coordinate with each other by changing output to set higher than competitive price levels to earn higher returns.