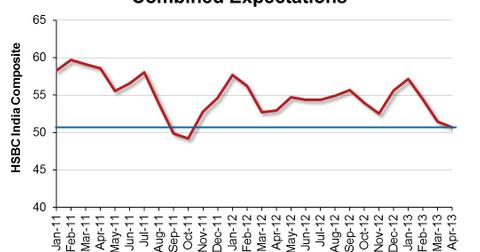 India Services PMI drops to lowest growth rate since October 2011
By Dale A. Norton, ME

Updated
In case the Manufacturing PMI didn't disappoint you enough, the Services PMI should drive the point home
The Services PMI is a useful survey to review in conjunction with the Manufacturing PMI to get a full picture of the prospects of an economy. In emerging markets, like Brazil, Russia, India and China, the services sector PMI is available approximately one week after the Manufacturing PMI.
The combination of both indices is used to create the Composite Index, which is an overall index that can serve as a more complete gauge of the economy than the manufacturing PMI on its own.
Services disappoint
The business activity index dropped to 50.7 from 51.4 March. To put it in perspective, the average for the first three months was 54.3. Weather conditions hindered growth in the sector as the monsoon season is starting.
Inflation seems to be easing, which is positive given the inflationary pressures the country was facing.
Expectations for the next 12 months, though, remained elevated and in line with the level posted in March.
Outlook
The Composite Index dropped from 51.4 to 50.4, barely clinging onto the expansionary side of the PMI survey scale. With growth down, the only positive data point is that inflation eased as well, which gives India more room to cut interest rates to boost growth.
Article continues below advertisement
The Reserve Bank of India cut interest rates earlier this month by 25bps, though that alone will not spur growth. The Parliament needs to stop their quarreling and start working on reforms to boost investment in infrastructure, attempt to balance the budget and pass other necessary business reforms.
Until investors don't hear from solid government actions, India will not improve significantly, if at all. Hopefully we hear something before legislators get into election mode for the 2014 elections, at which point it is unlikely anything will be accomplished.