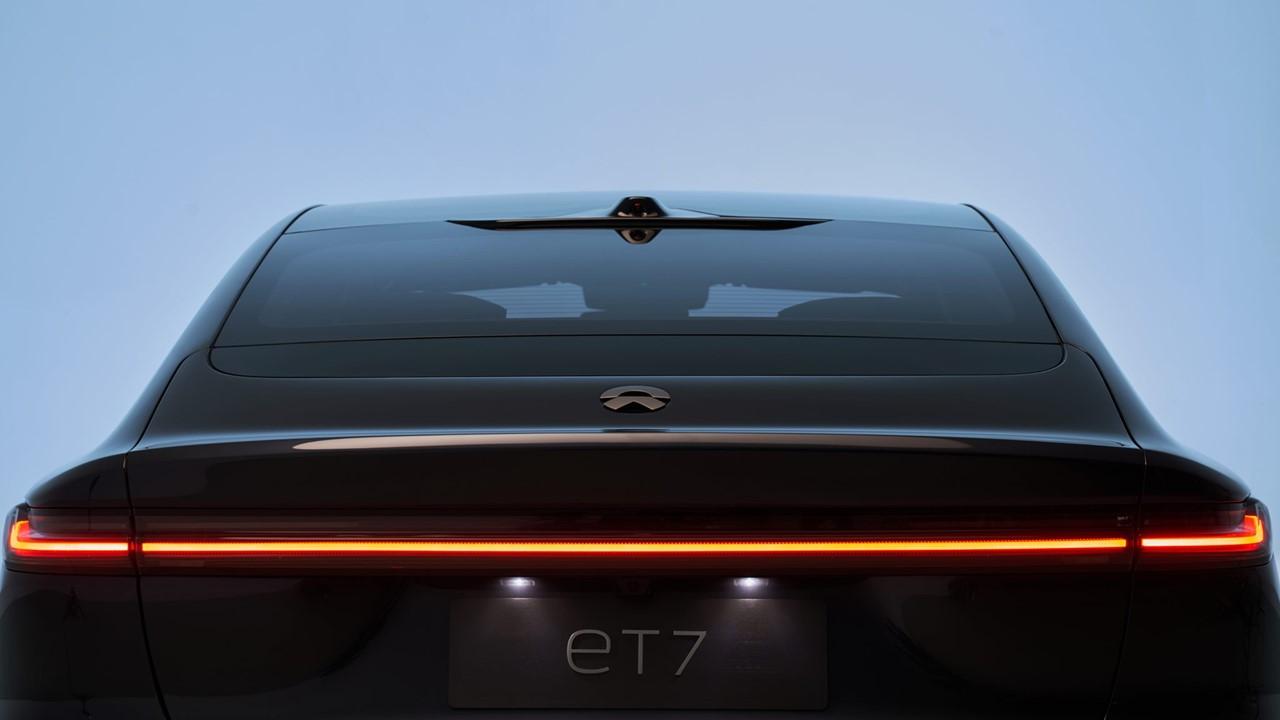 NIO Stock Might Rise More Amid Q1 Earnings and 2021 Guidance
NIO is scheduled to report its earnings for the first quarter of 2021 on April 29 after the markets close. After losing momentum due to market rotation away from growth stocks and into value, the stock has started its upward march. Will NIO stock rise more after its first-quarter earnings?
Article continues below advertisement
Article continues below advertisement
Tesla announced its earnings on April 26. The company posted a record net income of $438 million and beat analysts' estimates. Its revenue surged by 74 percent YoY. However, TSLA stock was down 2.5 percent after-hours as investors digested the numbers.
Why NIO stock is rising
NIO stock is down 12.6 percent YTD and 32 percent from the 52-week high. Recently, the stock started its upward march again. As of April 26, the stock has risen consecutively for seven trading days and gained 19.5 percent. There are several reasons for the price increase.
Article continues below advertisement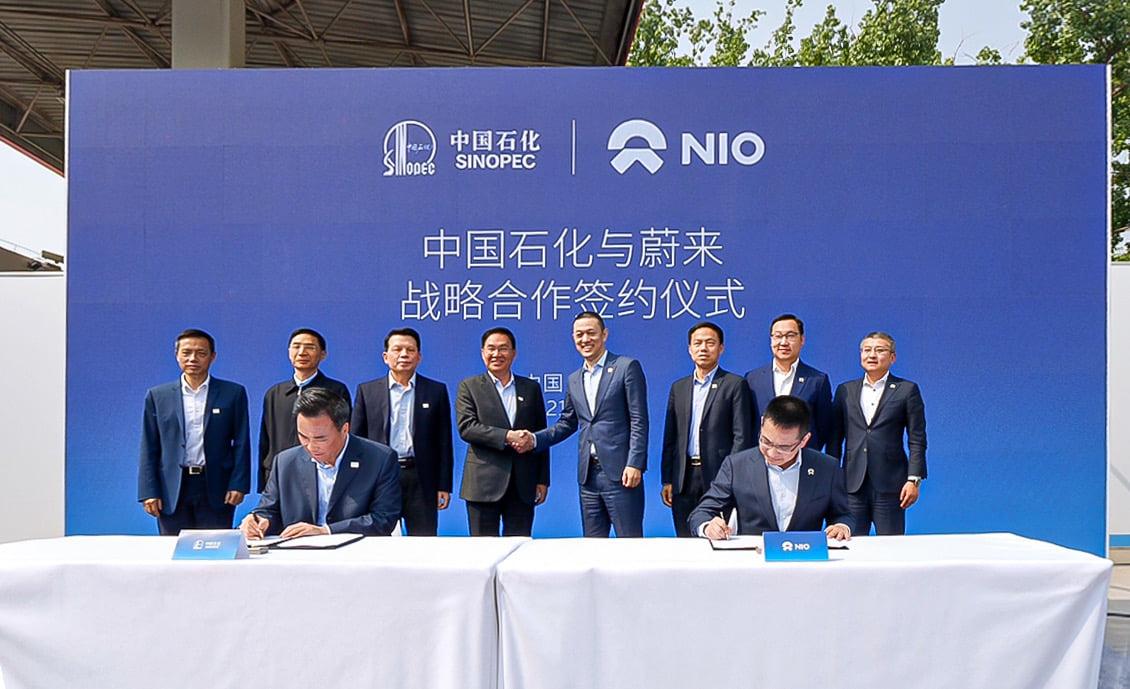 First, President Biden has made ambitious climate pledges, which favor EVs. NIO put on a very good show at the Shanghai Auto Show, where it showed off ET7 and announced a collaboration with Sinopec Shanghai. NIO CEO William Li also sounded bullish. He mentioned that he expects EV penetration to rise to 20 percent over the next two years. The company also gathered a new buy rating from CLSA on April 25. These developments helped shift the stock momentum in NIO's favor.
Article continues below advertisement
Article continues below advertisement
NIO Q1 earnings estimates
Analysts expect the company to post EPS of -$0.16 on revenue of $1.02 billion. Ahead of the earnings, 18 Wall Street analysts covering the stock have a consensus buy rating on the stock. Among the 18 analysts, 11 have a buy rating, while seven have a hold rating, according to the consensus compiled by Market Beat. Analysts' consensus target price is $50, which implies an upside potential of nearly 18 percent.
Article continues below advertisement
On April 25, CLSA initiated coverage on NIO with a buy rating and a target price of $50. CLSA analyst Soobin Park sees NIO's plan to enter the European market as "feasible." The analyst also sees NIO's battery-as-a-service model as "innovative" and "game-changing." On the same day, Mizuho analyst Vijay Rakesh raised Tesla's target price from $775 to $820 and also reiterated his bullish thesis on NIO. Rakesh thinks that NIO and Tesla are well-positioned in a secular EV market as legacy car manufacturers "struggle to balance portfolios between legacy combustion engines and EVs."
Article continues below advertisement
Can NIO beat the Q1 estimates?
NIO missed its fourth-quarter earnings estimates. It posted a loss of -1.05 yuan per share versus the -0.70 yuan analysts expected. As far as deliveries are concerned, the company has surpassed analysts' expectations for the first quarter.
Article continues below advertisement
NIO delivered 7,257 vehicles in March, which was a new monthly record. This staggering 373 percent YoY growth month brought the first-quarter total to 20,060 vehicles, which was also a record quarter. During the first quarter of 2021, the company's vehicle delivery growth came in at an impressive 423 percent YoY and 15.6 percent higher sequentially. The company expected deliveries in the vicinity of 19,500 vehicles.
Given the strong momentum in deliveries, the company might be able to beat the revenue and earnings estimates for the first quarter.
Article continues below advertisement
Article continues below advertisement
NIO stock could rise after its Q1 earnings.
If NIO is able to beat analysts' estimates for the quarter, its stock could rise. The company could also provide its guidance for 2021 during the earnings call. If that happens and the guidance represents a significant upside from analysts' estimates, the stock could soar. The company could also provide its outlook and updated timelines for things like it venturing into the European market. Such an update would also cause NIO stock to zoom.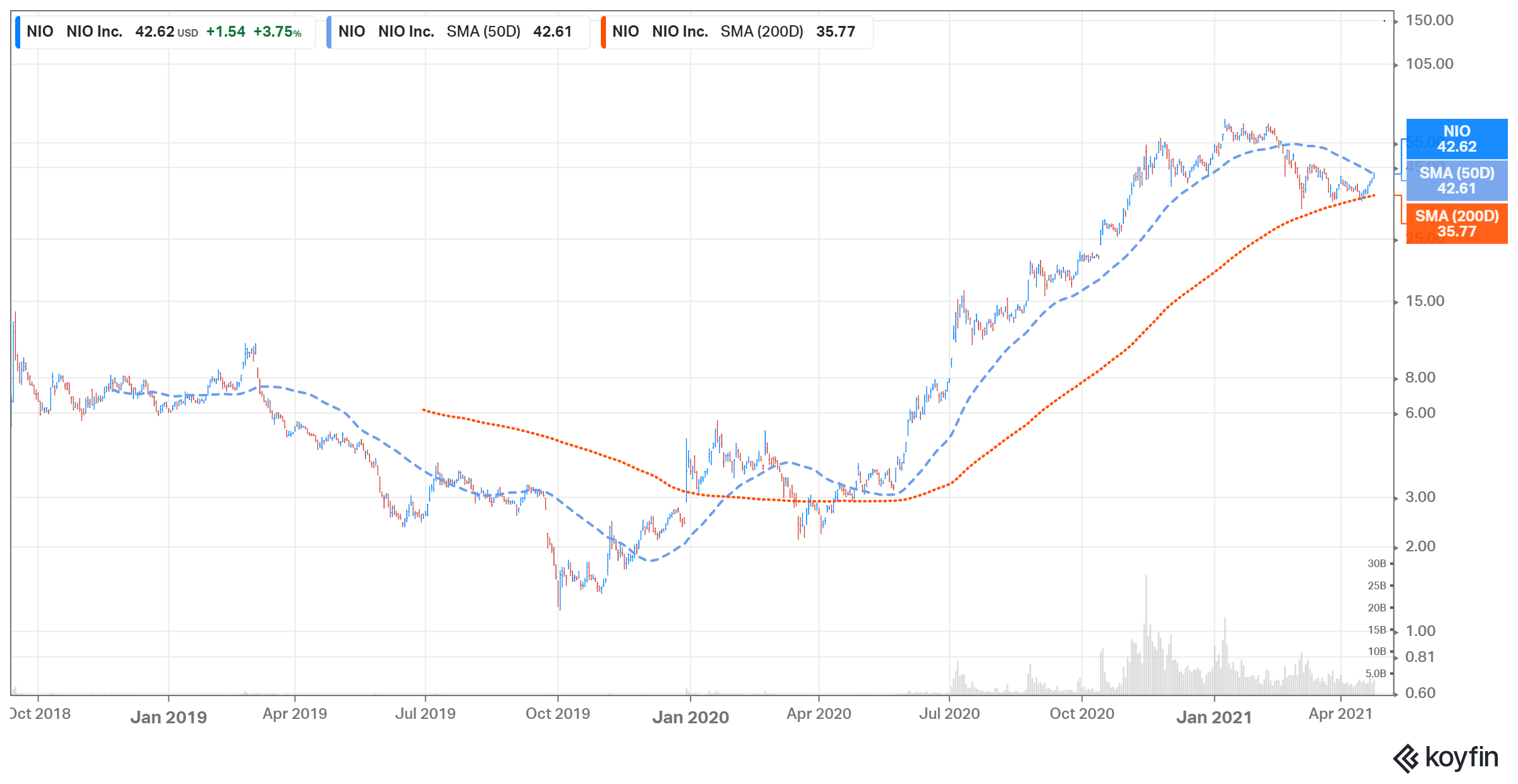 Article continues below advertisement
NIO stock technical indicators signal a breakout
Based on NIO stock's technical indicators, there seems to be a potential for a breakout. NIO stock is trading at $42.62, which is almost equal to its 50-day moving average of $42.61 and below its 200-day moving average of $35.77. This could indicate that the stock is likely facing a period of consolidation. Its 50-day moving average has acted as a resistance for it in the past. If the stock is able to clear this level, there could be a breakout.
Last week, the stock took off as it completed the formation of a triple bottom pattern, which usually signals a possible reversal. The stock bounced off the $35 level three times, which could mean strong support at this level. The breakout above the 50-day moving average could mean another run higher for the stock.