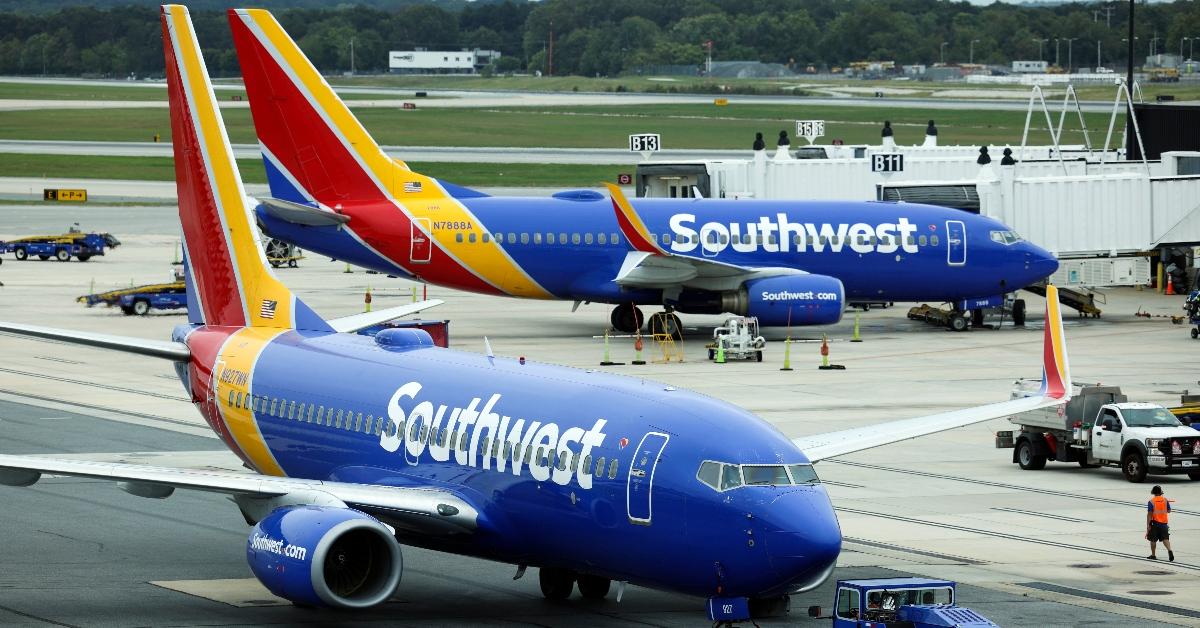 Why Is Southwest Canceling Flights? Frustrated Travelers Want Answers
Last weekend, multiple airlines canceled thousands of flights in airports across the U.S. The airlines included JetBlue, American Airlines, Alaska Airlines, Frontier, Spirit, and Southwest Airlines. Why is Southwest canceling flights? Many travelers are frustrated and want answers.
Article continues below advertisement
Technology issues and weather challenges caused Southwest to pause service on April 2, which led to the flight disruptions, airline officials said in a statement on Twitter. The airline also told Fox Business that the flight delays and cancellations were due to "intermittent performance issues following routine overnight maintenance of some of [its] backend technology."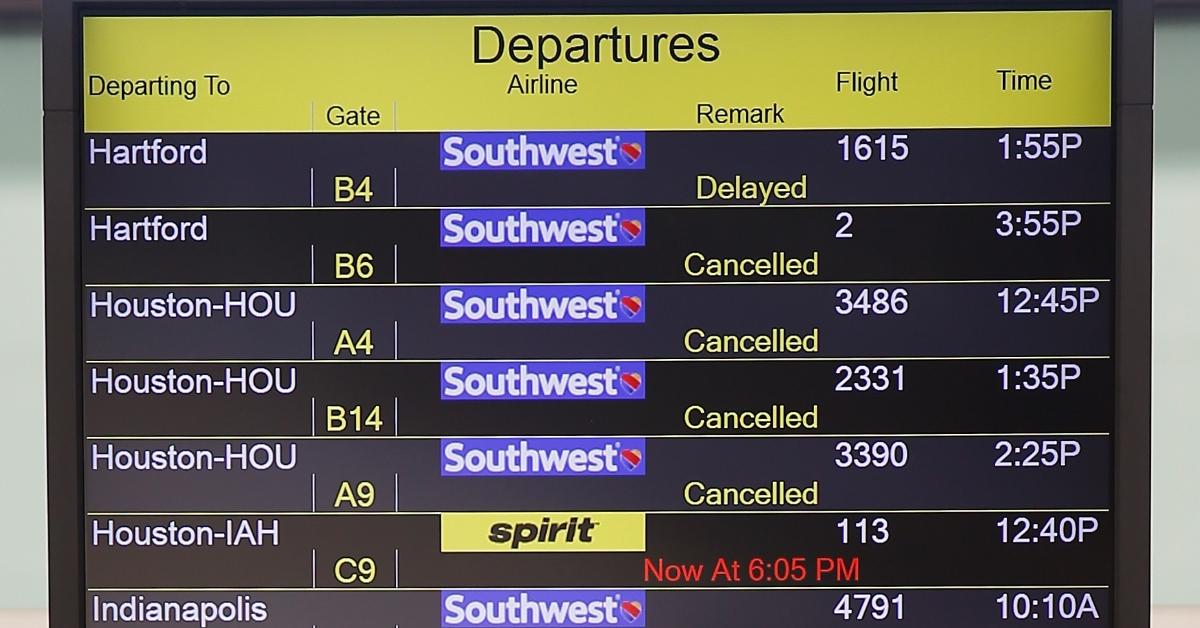 Article continues below advertisement
"We offer our heartfelt apologies for any inconvenience, and we will continue to work with customers who experience a disruption in their travel plans," reads an April 2 statement on the Southwest Airlines Twitter page.
Southwest was still having issues with flight delays as of April 8 when 267 flights were delayed, according to the website FlightAware.com. Many of the flights are to or from popular Spring Break destinations in Florida, including Tampa, Orlando, and Fort Lauderdale.
Article continues below advertisement
"Very frustrated with @SouthwestAir this morning after having a slightly infuriating night (yesterday) from a canceled flight (w/no explanation). I was told I had a flight out at 10:20am PST but that info is suddenly gone from the app. #help," Ramon Madrid tweeted in the morning on April 8.
Flight issues caused a track team to miss its competition.
Delays on Southwest even caused problems for Georgia State University Women's Track & Field team members, who were heading to Tampa for the USF Invite competition.
Article continues below advertisement
"Get to the airport we'll ahead of departure time, but @SouthwestAir didn't have our tickets ready. Causing us to miss the gate. Now we driving to Tampa," tweeted team head coach Kyle Stevenson.
Article continues below advertisement
"@SouthwestAir thank you so much for making me and my teammates miss our flight to a track&field competition," tweeted track team member Maleah Heard.
"Southwest is so trash. They made my team, and I miss our flight !!! Missed out on the meet and all. It's giving spirit @SouthwestAir do better please," tweeted team member Celes Augustus.
Article continues below advertisement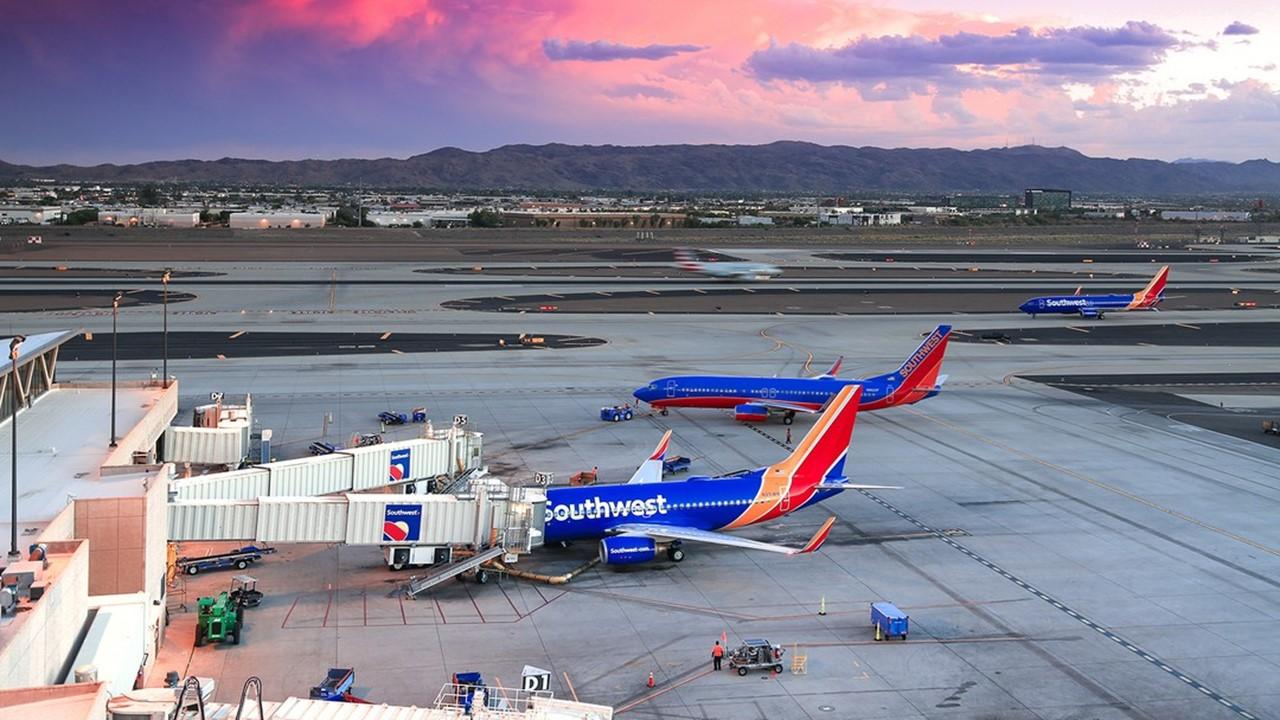 Southwest isn't the only airline canceling flights.
Southwest isn't the only airline struggling with delays and cancellations. As travel rebounds from the COVID-19 pandemic, many airlines have had their share of problems. Severe weather and technical issues also caused JetBlue to cancel about 700 flights over the weekend.
Article continues below advertisement
"Over the past several days, severe weather in the southeast and multiple air traffic control delay programs have created significant impacts on the industry," JetBlue said in a statement. "Today's cancellations will help us reset our operation and safely move our crews and aircraft back into position."
What should you do if your flight gets canceled?
To ensure that you aren't stuck at the airport due to a flight delay or cancellation, it's always a smart idea to check your flight status before leaving for the airport. Most airlines have apps that can provide you with timely updates on your flight.
If you're already at the airport when your flight gets canceled and you're going to be there overnight, ask the airline if they provide hotel vouchers for stranded passengers. The airlines aren't required by law to offer vouchers but may do so as part of their policies.