Based in Britain, food delivery service company Deliveroo has had its fair share of hurdles. Last year, the CMA (Competition and Markets Authority) in the U.K. conducted an antitrust investigation due to Amazon's heavy investment in the company. However, regulators decided to clear Deliveroo after the onset of the COVID-19 pandemic. Now, the company is going public.
Article continues below advertisement
Amazon has spearheaded yet another funding round for Deliveroo, which might be enough to push the company into the public domain.
The Deliveroo IPO date is largely under wraps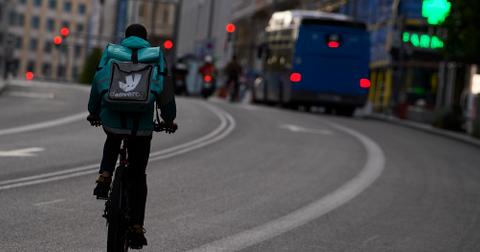 On Jan. 17, Deliveroo announced its next big feat — going public. Business Insider spoke with a source who said the transition to the public market could occur as soon as April. However, no official reports have been released.
Article continues below advertisement
Despite the fact that the CMA gave Deliveroo a break due to restrictions amid the COVID-19 pandemic, the company actually saw a jump in customers throughout 2020 and into 2021.
When Deliveroo goes public, the company will list its stock on the London Stock Exchange.
Article continues below advertisement
Deliveroo's valuation is big and could grow more
Amazon continues to be a minority stakeholder in Deliveroo. The other investors include Durable Capital Partners and Fidelity, which have both historically funded public and private companies.
The most recent funding round concluded with investors adding another $180 million to the pot, which brought Deliveroo's total valuation to a reported $7 billion.
Article continues below advertisement
Some reports suggest that Deliveroo could be worth as much as $13.6 billion by the time it makes it to the public domain. Two of Deliveroos' main backers, Durable and Fidelity, also funded the company's U.S. counterpart, DoorDash. DoorDash's valuation went from $32 billion to $60 billion after the public offering.
Deliveroo is expanding its services and hopefully its profit
Deliveroo operates in 200 cities across 12 Asian and European countries. The company delivers food, alcohol, and groceries. Customers order through an app and gig workers deliver the goods on bicycles and motorcycles.
Article continues below advertisement
Once Deliveroo receives funding from the IPO, the company plans to expand its dark kitchen service (called "Editions") as well as its monthly subscription and grocery delivery services.
As Deliveroo's founder and CEO Will Shue works on the upcoming IPO, it's worth taking a peek at the company's EBITDA. The EBITDA margins went from 28.3 percent in 2017 to 15.4 percent in 2019. We don't have the 2020 numbers, but we do know that the service has increased dramatically — although I wonder if that will continue after the COVID-19 pandemic.
Article continues below advertisement
Deliveroo might be a good IPO to buy for preferred investors
Big appointment. Next CEO Lord Wolfson has joined the board of Deliveroo as a non-exec. Deliveroo is understood to be lining up an IPO.

— George MacDonald (@GeorgeMacD) January 19, 2021
While we don't have an official IPO date for Deliveroo yet, we do know that things are moving along nicely. New non-executive board members include Simon Wolfson (CEO of British retailer Next and Britain's Conservative Party peer) and Claudia Arney (who has a storied resume teeming with board positions).
I have a feeling that Deliveroo might become overvalued in the same vein as DoorDash. Deliveroo could be lucrative for preferred investors, but it could be playing with fire for retail investors who get in the door just a smidge too late.