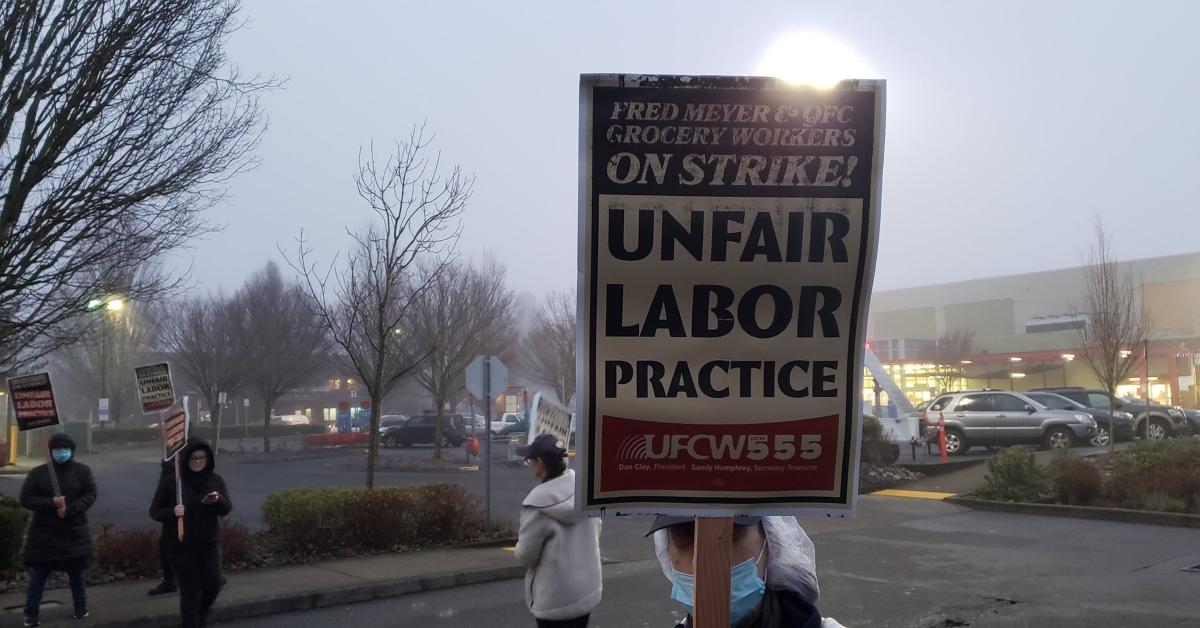 Kroger Union Workers Are on Strike in Oregon and Washington
By Danielle Letenyei

Dec. 17 2021, Published 2:16 p.m. ET
Union workers at two Kroger-owned grocery chains in the Pacific Northwest walked out on the job on Dec. 17. They're striking for better wages and fair labor practices. Unions representing Kroger employees in other parts of the country are battling with the company for better contracts. What Kroger stores are striking?
Article continues below advertisement
On Dec. 17, the United Food & Commercial Workers Union Local 555 announced a strike for its union members that work for Fred Meyer and Quality Food Centers (QFC) grocery chains in Oregon and Washington. Both grocery chains are subsidiaries of Cincinnati-based Kroger Company.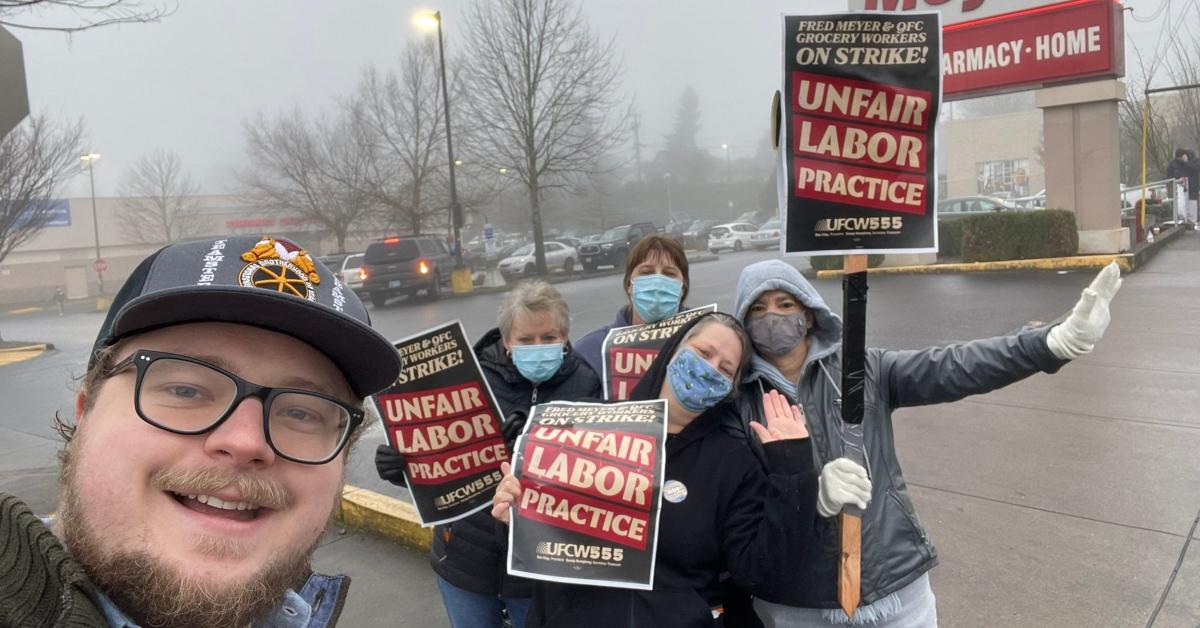 Article continues below advertisement
The union claims that Fred Meyer and QFC refuse to increase employee wages, even though the company has "enjoyed record profits." The union also accuses Kroger of breaking labor laws.
"Fred Meyer's callous disregard for their own essential workers is stunning considering the sacrifice these employees have made throughout the pandemic," said Sandy Humphrey, the Secretary Treasurer of UFCW Local 555.
Article continues below advertisement
"While so many were able to stay safely in their own homes, essential grocery workers showed up to work helping feed our communities. These employers should recognize their sacrifice by treating these workers with the basic respect they deserve," she said.
The strike is scheduled to end on Dec. 24.
Article continues below advertisement
Houston Kroger workers are still in negotiations for a new contract.
Meanwhile, in Houston, a strike is pending as the UFCW local union there negotiates with Kroger over better pay and healthcare for workers. The latest meeting between the two sides was held on Dec. 15.
"Our union members have always been available and eager to work with Kroger to find a compromise, but compromise is not a one-way street," union officials said in a statement. "If Kroger still refuses to do what is right in our meetings with the company (Dec. 15), Houston Kroger workers will be forced to walk off the job."
Article continues below advertisement
According to The Houston Chronicle, the union has been negotiating a new contract for two years after the last contract expired in 2020.
If Houston's UFCW Local 455 union goes on strike, it will impact 14,000 grocery workers, The Houston Chronicle reports.
Article continues below advertisement
Union negotiations in Arkansas have become a legal battle.
In Arkansas, negotiations appear to have stalled between Kroger and the UFCW Local 2008 union representing workers there. In a Nov. 1 letter to union members, UFCW Local 2008 President Steve Gelios said that the matter has now become a legal battle since Kroger has refused to budge.
Article continues below advertisement
Charges against Kroger have been filed in Arkansas and Houston with the National Labor Relations Board, Gelios wrote.
"We have not stopped working to resolve your contract and will continue to do everything we can to get a fair, equitable contract for our members!" Gelios wrote.
Article continues below advertisement
In a Dec. 15 statement, Kroger officials criticized the union for using "rhetoric and scare tactics" and said that they're available to meet and continue contract discussions. The company submitted its last, best, and final offer back in February.
"Kroger is making significant investments in our Little Rock associates. By implementing our LBFO, we're investing $25 million in wages and providing secure and stable company-administered healthcare through the life of the contract," Kroger says in a statement. "We will continue to do what's right for our associates. Our focus throughout this negotiations process remains on you."