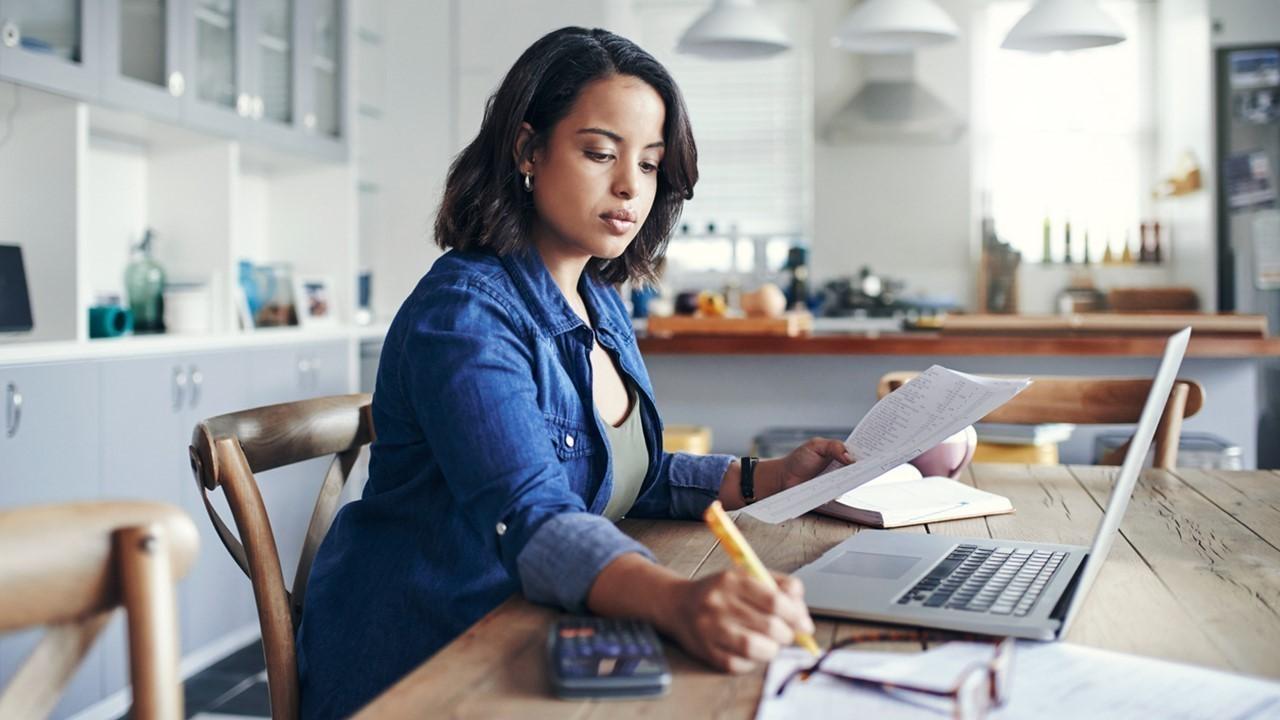 Tian Ruixiang Holdings (TIRX) Stock Is a Risky Bet for Investors
By Ambrish Shah

Apr. 13 2021, Published 10:02 a.m. ET
On April 12, Tian Ruixiang Holdings (TIRX) stock fell 79.5 percent and closed at $18. The stock fell despite no company-specific news or an analyst downgrade. So, what caused TIRX stock to fall significantly? It seems to be the social media-driven pump-and-dump scheme that's driving wild fluctuations. After the drop, what's the forecast for TIRX stock and should you buy it?
Article continues below advertisement
Founded in 2010, Tian Ruixiang is a China-based insurance broker with its headquarters in Beijing. The company claims to be an insurance broker focusing on property and casualty insurance and life insurance products. Tian Ruixiang receives compensation for its services by commissions paid by other insurance firms, usually calculated on a percentage of the premium paid by the insured.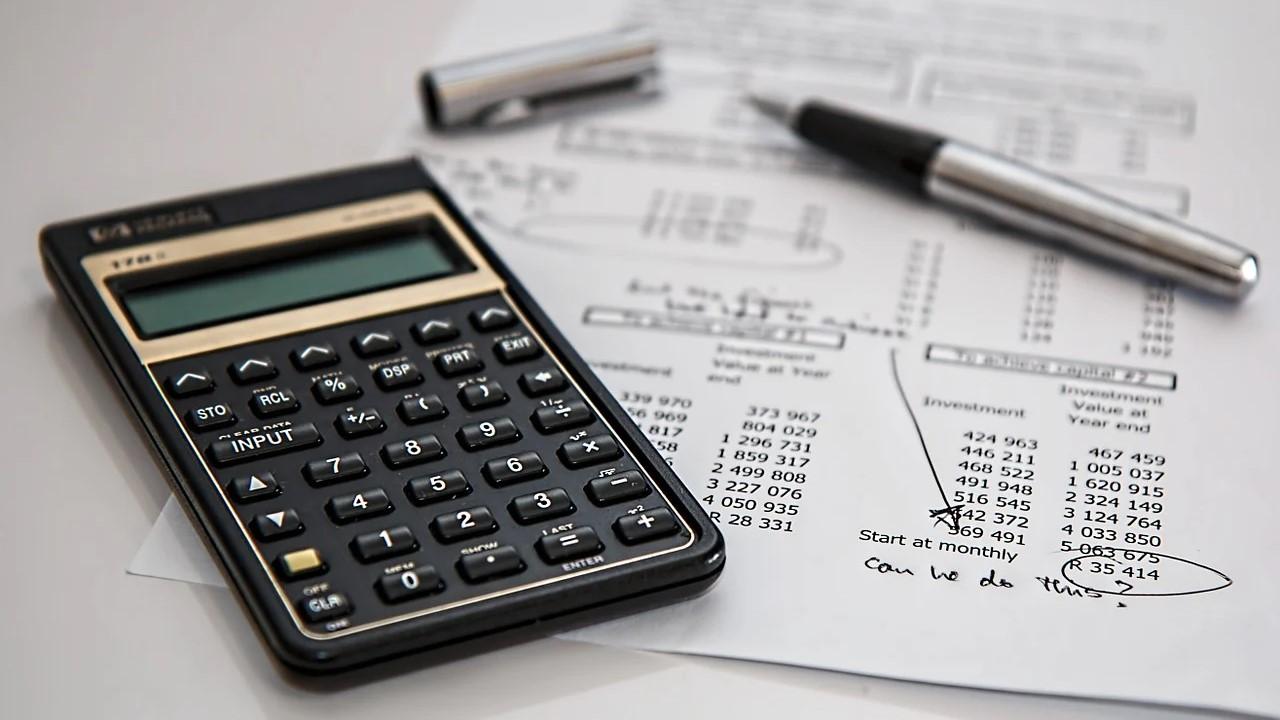 Article continues below advertisement
Tian Ruixiang Holdings (TIRX) stock news
There hasn't been any recent news about Tian Ruixiang stock. The company went public in January 2021. Tian Ruixiang raised nearly $12 million in the IPO. The net proceeds from the offering will be used for infrastructure, research and development, and general working capital purposes. Network 1 Financial Securities and Brilliant Norton Securities were the underwriters for the IPO. On Jan. 27, Tian Ruixiang stock started trading on Nasdaq under the ticker symbol "TIRX."
What happened to TIRX stock
On April 12, TIRX stock fell 79.5 percent on a volume of about 24.4 million compared to its average volume of 96,458. The stock has dropped 83 percent from its peak. In pre-market trading at 8:15 a.m. ET on April 13, TIRX stock was trading up by 17 percent.
TIRX stock has witnessed wild fluctuations since its debut. The stock has traded in the range of $11.10–$103.87 after going public.
Article continues below advertisement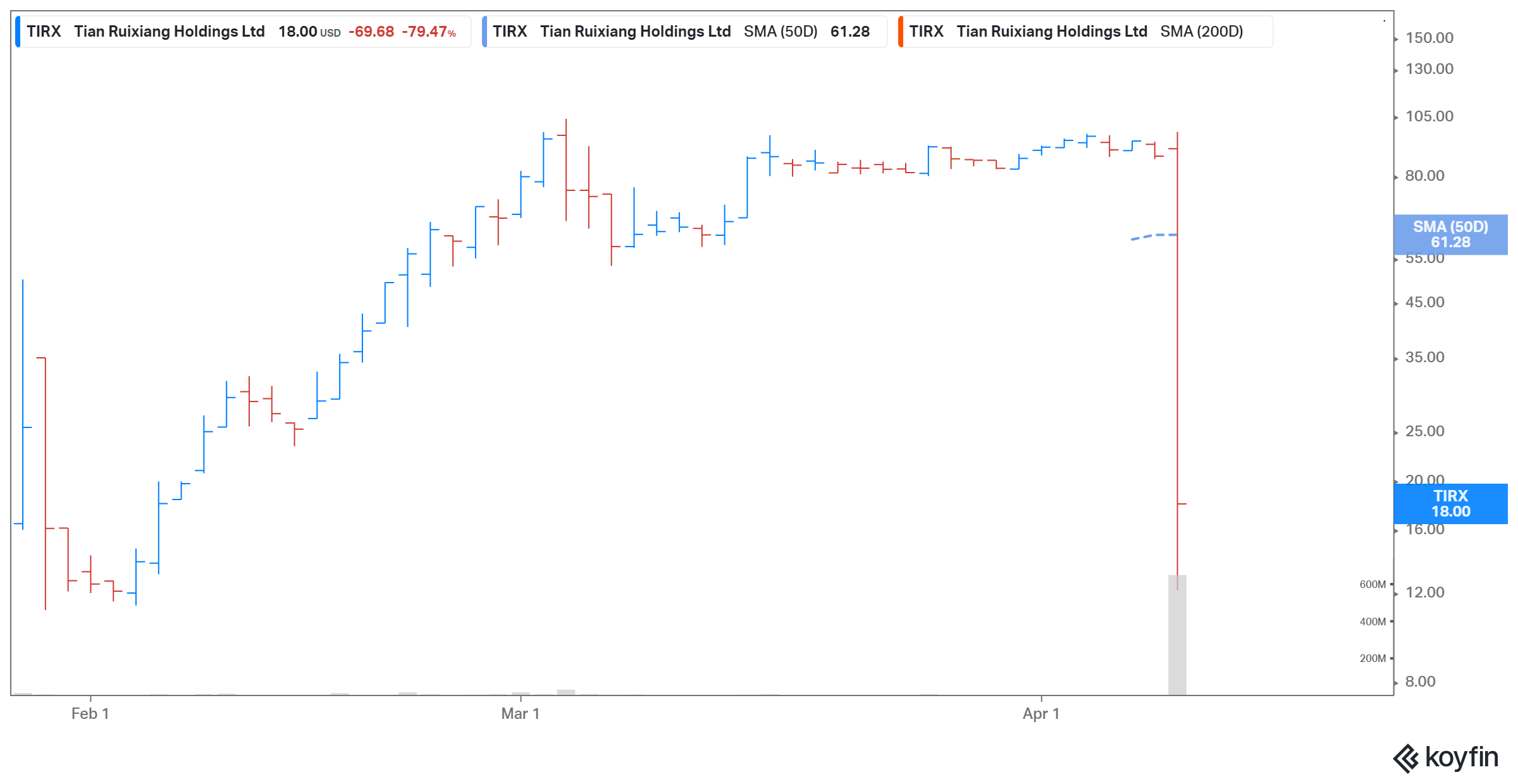 Is TIRX stock a pump-and-dump scam?
There has been speculation on social media platforms that TIRX stock has been the target of a pump-and-dump scam. A person bought many shares of TIRX stock and then promoted and asked others to buy the stock. The price of TIRX went up since enough people bought the stock. Then, the scammer sold all of the TIRX stock holdings for a profit and TIRX stock went down. Everyone who purchased TIRX stock based on the scammer's stock tip is trapped.
Article continues below advertisement
TIRX's stock forecast and Reddit discussion
The outlook for TIRX stock isn't very promising because of deteriorating U.S.-China ties. The U.S. could delist shares of Chinese firms that fail to meet auditing requirements. TIRX stock is also being discussed on stock forums, including Reddit. A user by the name "u/Buffalo_Magic" on Reddit cautioned investors that TIRX stock is a part of a pump-and-dump scam targeting Canadians.
TIRX stock is a risky bet.
Usually, penny stocks are a riskier investment compared to large-cap companies. Investors should avoid buying TIRX stock because the recent surge in its stock price isn't based on the company's fundamentals. Tian Ruixiang is struggling financially amid the coronavirus pandemic. The company's revenue fell 35 percent YoY to $0.7 million in the six months ended April 30, 2020. Tian Ruixiang reported a net loss of $0.2 million in the six months ended April 30, 2020, compared to a net income of $0.2 million in the same period a year ago.