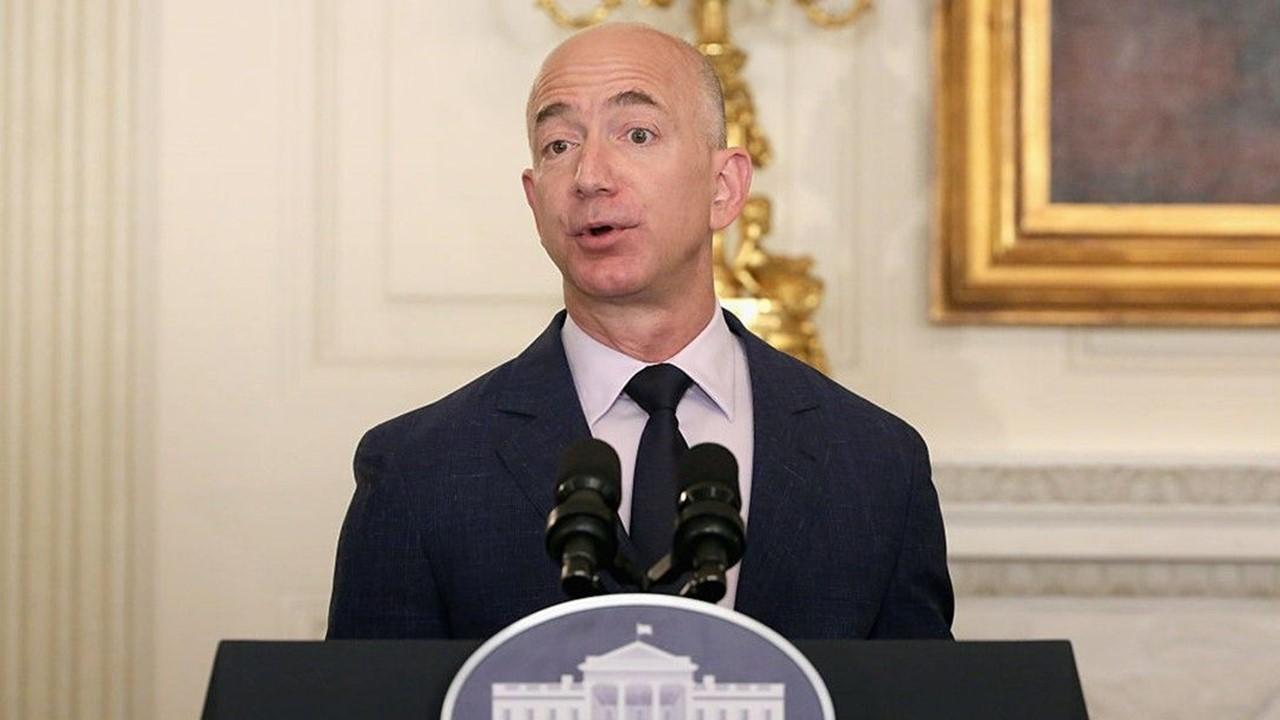 What Did Jeff Bezos Say About Biden? All the Details
Amazon (AMZN) and Blue Origin founder Jeff Bezos took to Twitter over the weekend ending Sunday, May 15 to call out President Joe Biden, specifically his tax strategy. What did Bezos say about Biden?
Article continues below advertisement
Here are the details of Bezos's criticism of Biden's strategy, plus what the Biden administration said in return.
Bezos on Biden: "Misdirection doesn't help the country."
Bezos tweeted on May 14, "The administration tried hard to inject even more stimulus into an already over-heated, inflationary economy and only Manchin saved them from themselves. Inflation is a regressive tax that most hurts the least affluent. Misdirection doesn't help the country."
Article continues below advertisement
What is Bezos referring to? Bezos disagrees with Biden's claim that taxing wealthy corporations can help trim hyper-inflation. Bezos says it's fine to discuss raising corporate taxes and taming inflation, but that they're separate issues. "Mushing them together is just misdirection," he adds.
Does Bezos's criticism of the Biden administration hold water?
Article continues below advertisement
Bezos says inflation hurts the poor and working classes the most, which is true. However, experts say corporate tax and inflation aren't mutually exclusive, as Bezos suggests. Harvard economist and former Treasury Secretary under the Clinton administration Larry Summers tweeted that it's perfectly reasonable to think "that we should raise taxes to reduce demand to contain inflation and that the increases should be as progressive as possible."
All that said, injecting money into the economy does increase inflation. We're still waiting to see the long-term impact of the pandemic-era stimulus.
Article continues below advertisement
The White House responded to the Bezos-Biden dispute.
White House spokesperson Andrew Bates got involved in the Bezos-Biden squabble with his own statement. Bates insinuated that Bezos has a clear stake in the matter, and it makes sense he wouldn't want to see higher corporate taxes. Despite leaving his role as Amazon CEO in 2021, Bezos retains a stake in the company worth about 10 percent.
Bates added, "It's also unsurprising that this tweet comes after the President met with labor organizers, including Amazon employees."
Article continues below advertisement
On April 1, the Amazon Labor Union (ALU) won the election to unionize a Staten Island Amazon warehouse. Amazon has reportedly engaged in union-busting attempts like hiring professional union avoidance consultants, threatening to reduce employee wages, and arresting union organizers, among other tactics.
In an attempt to get in the last word, Bezos wrote, "Unions aren't causing inflation and neither are wealthy people."
Even if the rift between Bezos and Biden seems surface level, it could have tangible impacts. Biden isn't a radical politician by any account, but he's already interested in imposing higher corporate taxes — especially on companies that operate internationally, like Amazon. It wouldn't be surprising if this was the fire Biden needed to get it done.