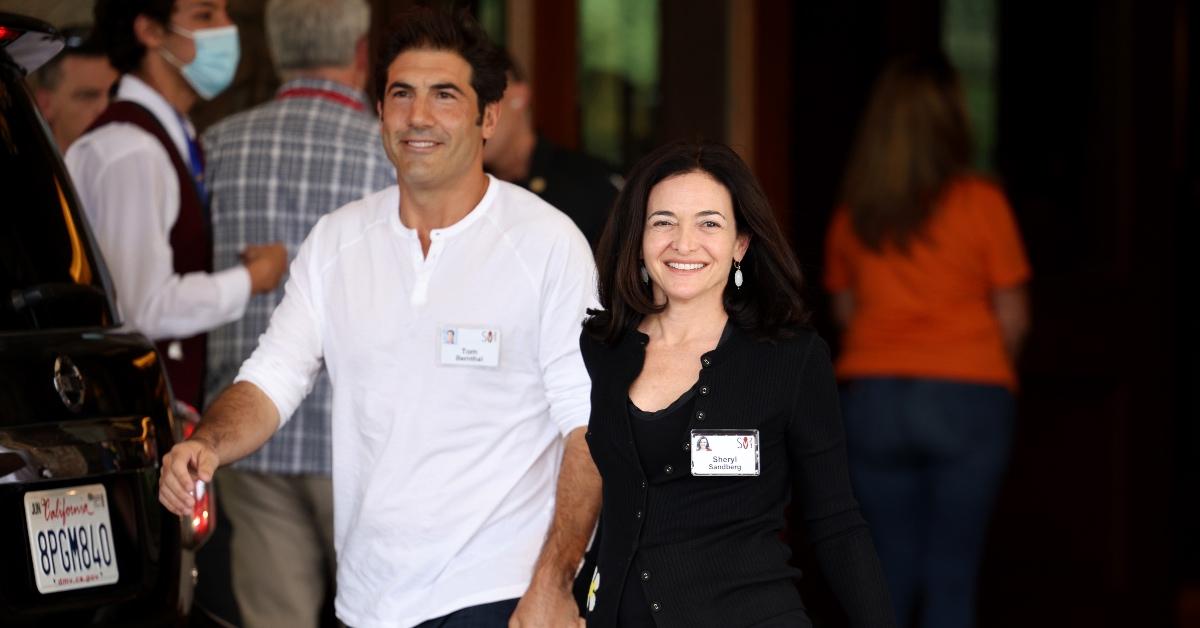 Tom Bernthal Is a Millionaire, While Fiancée Sheryl Sandberg Is a Billionaire
Emmy-Award-winning news producer Tom Bernthal has gained significant attention over the last few years since he and Sheryl Sandberg announced their engagement in 2020. Sandberg, who served as the COO for Facebook since 2008, recently decided to step down from her role in early June 2022. As a result, there's renewed interest in the couple.
Article continues below advertisement
Although much of the attention Bernthal receives may be attributed to his relationship with Sandberg, he's quite an accomplished individual. Here's a look at who Bernthal is and how much he's worth.
Tom Bernthal
Founder and CEO of Kelton Global
Net worth: $5 million (unconfirmed)
Tom Bernthal has had quite a successful career working as a producer for NBC. While serving in the role, he assisted with shows like Today, Deadline, and also helped out at other networks including MSNBC.
Birthdate: 1973
Birthplace: Washington D.C.
Education: University of Wisconsin
Marital Status: Divorced (once), engaged to Sheryl Sandberg
Kids: 3 from his previous marriage
Article continues below advertisement
What is Tom Bernthal's net worth?
Unlike Sandberg, whose net worth is easily accessible and is said to be around $1.8 billion, Bernthal's net worth seems to be kept under wraps. Still, there's always room for speculation. While some say Bernthal's net worth may be around $5 million, others suggest it could be as high as $7 million. And it wouldn't be farfetched to assume otherwise.
Bernthal began his career working in the Clinton White House. He went on to become an Emmy-Award-winning producer for NBC News. Following his career in the White House and at one of the largest media outlets in the U.S., Bernthal founded Kelton Global, a consumer insights and strategy consulting firm.
Article continues below advertisement
Since launching in 2002, Kelton has worked with major brands including Nike, Target, Starbucks, Whole Foods, Facebook, and Amazon. Bernthal can also be credited for acquiring five agencies in which he and his team have helped "evolve" and become or remain "essential."
Article continues below advertisement
Is Tom Bernthal related to Jon Bernthal?
If you're a fan of actor Jon Bernthal, then you've likely been asking yourself whether the two men are related. And indeed, they are. Tom and Jon are brothers, and both were raised together in Washington D.C. by parents Joan and Eric Bernthal.
While Tom's career path fell more into the realm of journalism and business, Jon was more involved with sports and acting.
Jon studied at The Moscow Art Theatre School and played professional baseball while in attendance. It was during his time in Moscow that his skills were recognized by the director of Harvard University's Institute for Advanced Theatre Training at the American Repertory Theatre, according to his IMDb bio.
Article continues below advertisement
Jon eventually went on to appear in plays and later landed major roles, including that of Shane Walsh in AMCs The Walking Dead.
A look into Tom Bernthal's personal life and who he has dated.
Prior to dating Sandberg in 2019, Bernthal had been married, though he later divorced. From that marriage, Bernthal had three children. Sandberg and Bernthal later met through Sandberg's former brother-in-law, Rob Goldberg, and the two hit it off immediately, reports People.
Article continues below advertisement
Sandberg had also been married before getting involved with Bernthal. Her late husband, Dave Goldberg, reportedly passed away in 2015 from a heart-related issue while the two were vacationing. The former COO of Facebook welcomed two children during the time she was married to Goldberg.
In February 2020, about a year after Sandberg and Bernthal began dating, he proposed to her following a hike and picnic at Vermejo Park Ranch.