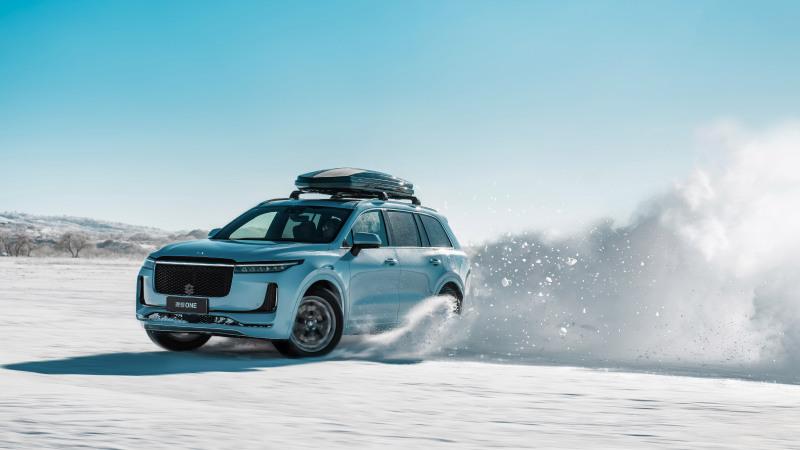 Buy Li Auto Stock at a Discount Before Market Re-Rates It Higher
Li Auto stock has dropped by more than 20 percent YTD. A lot of the decline has to do with the broader sell-off in growth names. Li Auto stock fell by 13 percent on April 8. Should you buy the stock now?
Article continues below advertisement
In addition to Li Auto, many EV names, including Chinese EV stocks, have fallen lately. While the current dip might have rendered some of the EV names undervalued, the correction was long overdue for a large number of stocks.
Why Li Auto stock is dropping
Li Auto stock dropped by 13 percent on April 8 on the news of a debt offering. The company announced that it plans to offer up to $750 million in convertible senior notes due in 2028. The notes will carry an interest rate of 0.25 percent per year and will be payable semi-annually in arrears on May 1 and November 1. The holders can convert any or all of their notes if they choose to at any time on or after November 1, 2027.
Article continues below advertisement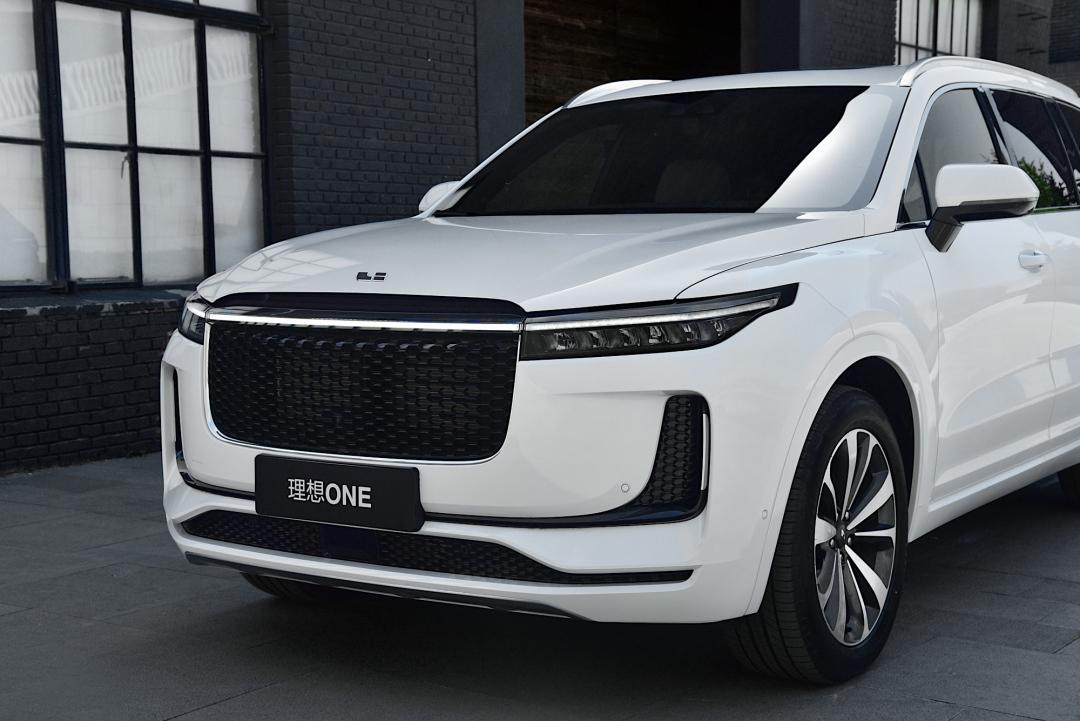 Li Auto intends to use the proceeds from the offering for "(i) research and development of new vehicle models, including BEV models, (ii) research and development of leading technologies, and (iii) working capital and other general corporate purposes."
Article continues below advertisement
The convertible bond offering is dilutive to shareholders' holdings. As a result, the stock dropping after such an announcement is expected.
In general, the stock has been lower YTD. Li Auto has seen losses of 23 percent in 2021. However, the decline isn't specific to Li Auto. Other Chinese EV stocks like NIO, Xpeng, and BYD have also been falling. The broader market sell-off and shift away from growth to value stocks is one of the driving factors behind the plunge in these stocks. Also, the global chip shortage is hitting automakers and especially EV-makers hard.
Article continues below advertisement
Will Li Auto stock recover?
The current decline for Li Auto is related to the issuance of convertible bonds and should be short-lived, which is usually the case with other companies. The bigger question is if the stock can recover from the broader slump.
While the sentiment has shifted away from high growth stocks due to their soaring valuations, the recovery in some of these stocks is imminent. However, the ascent might be more gradual this time. The fundamentals for Chinese EV stocks, including NIO, Xpeng, and Li Auto still remain strong. Li Auto reported robust delivery numbers, which implies a YoY rise of 334 percent. Therefore, the drop in Li Auto's price has more to do with factors that are out of the company's control. Li Auto is still an attractive bet on the Chinese EV market.
Article continues below advertisement
Li Auto stock's valuation
After the recent dip, many EV stocks have started looking undervalued or at least their valuations have come more in line with their fundamentals. For example, NIO's NTM EV-to-revenue multiple has dropped by 23 percent since December with future growth prospects remaining the same or even getting better.
Li Auto's NTM EV-to-revenue multiple has seen a more dramatic decline of 46 percent to 5.6x currently since December 2020. This is at a time when the company's deliveries were strong and the guidance was robust. Compared to Li Auto, NIO and Xpeng are trading at multiples of 17.2x and 11.1x, respectively.
Article continues below advertisement
Part of the discount is warranted given that Li Auto is behind its peers in the development of its ADAS (advanced drive assist systems) and it doesn't have a full EV offering yet. However, the market might be ignoring some of the company's positives, which have placed it at a larger valuation gap than it deserves. Li Auto has been a laggard compared to its Chinese peers like NIO and Xpeng. Therefore, given the positive news or an overall re-rating of the sector, Li Auto might have more runway compared to its peers.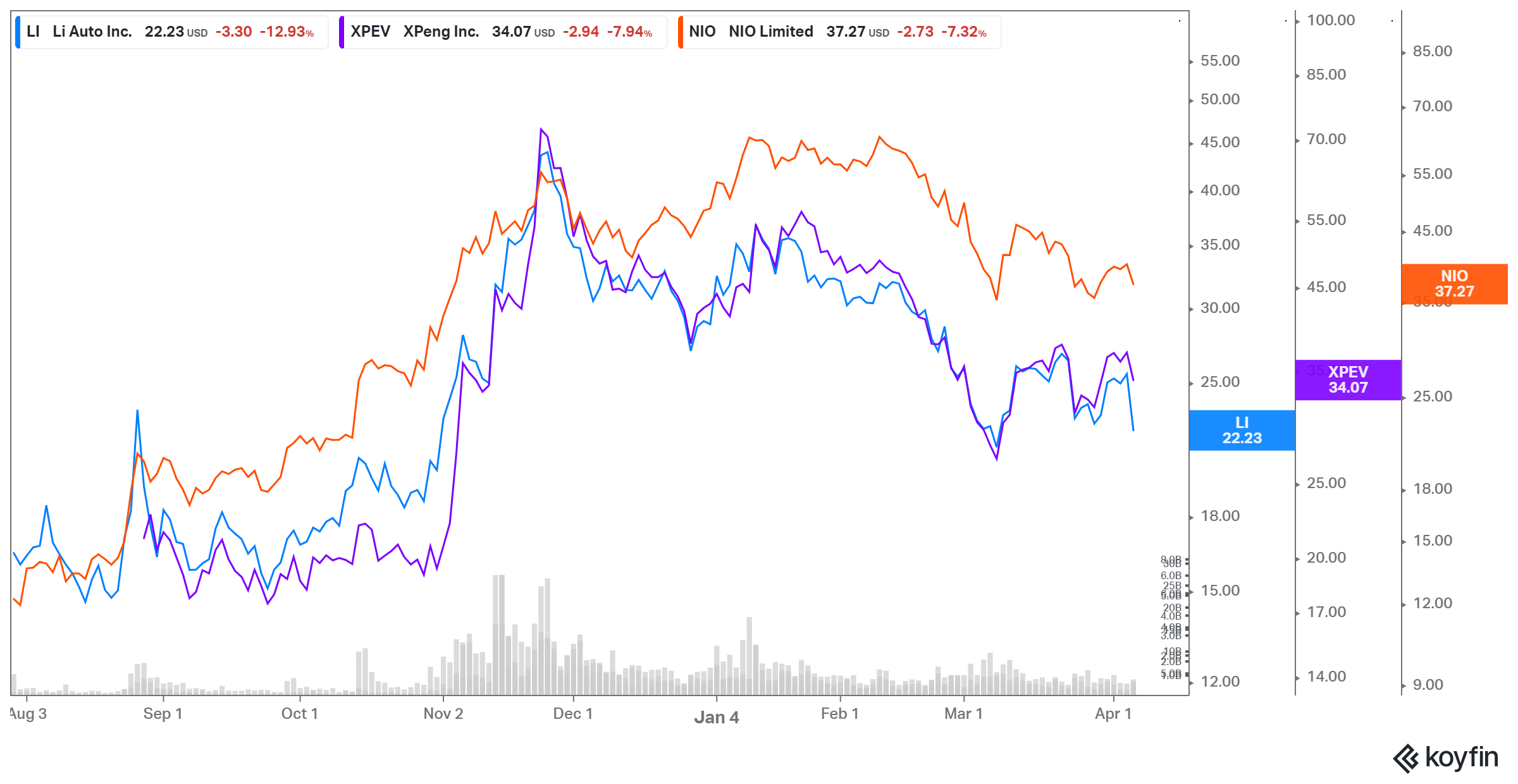 Article continues below advertisement
Li Auto stock is a good buy for long-term investors.
Li Auto is a good stock with strong fundamentals. The Chinese EV market is huge and expanding with government support. In 2020, the EV sales were 1.3 million and the sales are estimated to grow by 50 percent in 2021. This puts Li Auto at an attractive spot along with its other homegrown EV peers.
Li Auto just has one product, Li ONE SUV, which also boasts a gasoline-powered generator that makes it function like a hybrid when recharging isn't an option. This option has resulted in good sales numbers in China for the company because it reduces range anxiety for consumers. Li Auto's deliveries are accelerating at a fast pace, while its net losses are narrowing. The company's gross margins accelerated to 20 percent in the fourth quarter from 13.3 percent last year.
Li Auto has its fundamentals in place and the current correction phase has rendered the stock slightly undervalued, which makes the current stock price a good entry point for long-term investors.