Organigram's Stock Forecast: Should You Buy the Penny Pot Stock?
Marijuana stocks rose sharply after Joe Biden was elected as the 46th U.S. president. In November 2020, four more U.S. states voted to legalize recreational marijuana, which boosted the marijuana industry. While many marijuana stocks moved out of the penny stock category last year due to the sharp rally, Organigram is still below its 2020 highs. What's the forecast for Organigram stock and should investors buy the stock?
Article continues below advertisement
Marijuana and green energy stocks have surged since Biden won the election. The Biden administration is expected to pursue policies that support the marijuana sector.
Organigram offers medial and recreational marijuana
Organigram is a Canadian marijuana company. Within the marijuana space, there are medical and recreational marijuana companies. While some companies are pure-play medical or recreational marijuana companies, Organigram offers both medical and adult-use recreational marijuana products including Cannabis 2.0 products.
Article continues below advertisement
Organigram stock on Stocktwits
Username SolAurum on Stocktwits thinks that it's a good time to enter Organigram stock. Another user going by the name MoonPilotCosmoNaut expects the stock to move higher after Biden's inauguration.
Article continues below advertisement
Organigram's stock forecast
According to the estimates compiled by CNN, Organigram has a median target price of $1.66, which is a discount of 7.5 percent over its closing prices on Jan. 15. The highest target price of $3.05 is a premium of over 69 percent, while the lowest target price of $1.49 is 17.3 percent below its current price.
Why analysts are downgrading Organigram stock
In January, Alliance Global Partners and Canaccord Genuity downgraded Organigram stock from a buy to neutral. However, Raymond James upgraded the stock from a market perform to outperform.
Article continues below advertisement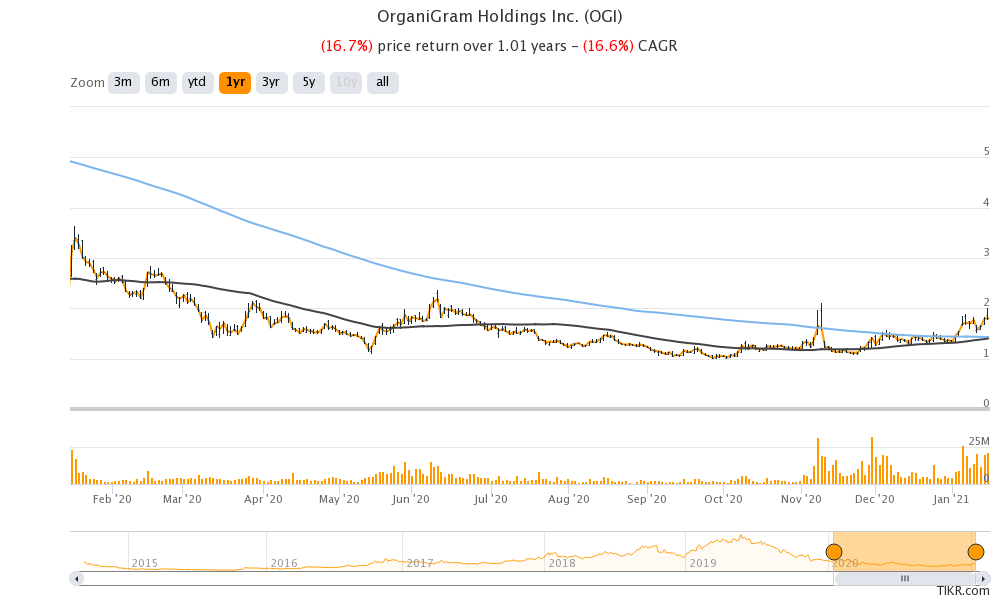 To understand why analysts are bearish on Organigram stock, we need to drill down into the company's financial statements. Most marijuana companies have been reporting strong sales. Investors have been willing to overlook their persistent losses for the growth. However, that isn't the case with Organigram.
Article continues below advertisement
Organigram's gross revenues fell 11 percent in the first quarter of fiscal 2021. The company's top line has been very volatile. While the company's revenues increased 32 percent in the fourth quarter of fiscal 2020, they fell 27 percent in the previous quarter. Most other marijuana companies have been reporting a linear increase in revenues.
Biden administration could benefit Organigram
The Biden administration is expected to push for adult-use marijuana legalization at the federal level. The U.S. House of Representatives passed the MORE (Marijuana Opportunity Reinvestment and Expungement) Act, which decriminalizes marijuana at the federal level. The Senate might also pass the act since Democrats will have a majority.
Article continues below advertisement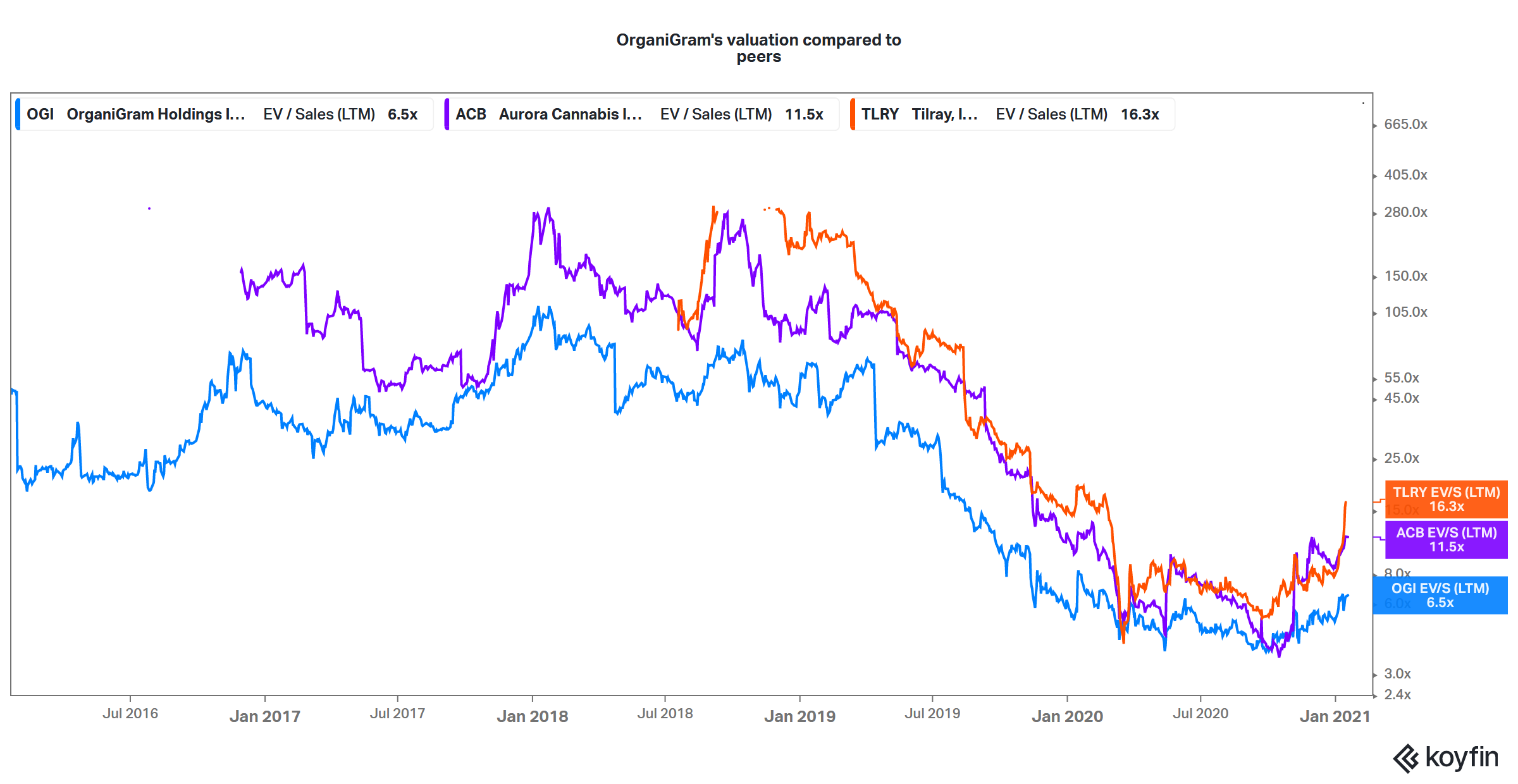 Federal marijuana legalization in the U.S. would be a shot in the arm for the marijuana industry. Legalization would benefit all of the companies like Organigram that produce recreational marijuana. However, marijuana legalization might not be a top priority for the Biden administration under the initial 100-day plan.
Article continues below advertisement
Investors should buy Organigram stock
Organigram stock trades at a NTM EV-to-EBITDA multiple of 5.03x. In contrast, Tilray and Aurora Cannabis trade at NTM EV-to-EBITDA multiples of 10.45x and 9.9x, respectively. Organigram stock is trading at a lower multiple for a reason.
Organigram has a massive production overcapacity and its revenue growth is weaker than other marijuana companies. However, the company is working to expand its margins. Federal legalization of adult-use marijuana in the U.S. would help lift the sentiments for this penny pot stock.
Overall, Organigram looks like a good stock to buy and a solid bet on the expected increase in recreational marijuana sales. If the company can improve its financial performance in 2021, it could be one of the stocks to watch in the marijuana space.