Is OrganiGram Stock Still Worth Buying After Its Massive Gains?
OrganiGram (OGI) stock rose almost 40 percent on Mar. 11, taking its year-to-date gains to 200 percent. There have been some positive developments for OGI stock, and the markets are taking note. What's the forecast for OGI stock in 2021? Is it a good cannabis stock to buy?
Article continues below advertisement
Cannabis legalization is the biggest story for marijuana companies. To date, Canada and Uruguay are the only countries to have legalized adult-use marijuana. Mexico soon plans to join them.
Cannabis legalization in the U.S.
In the U.S., recreational marijuana isn't legal on the federal level. However, many expect that to soon change with Democrats controlling Congress and Joe Biden as president.
Article continues below advertisement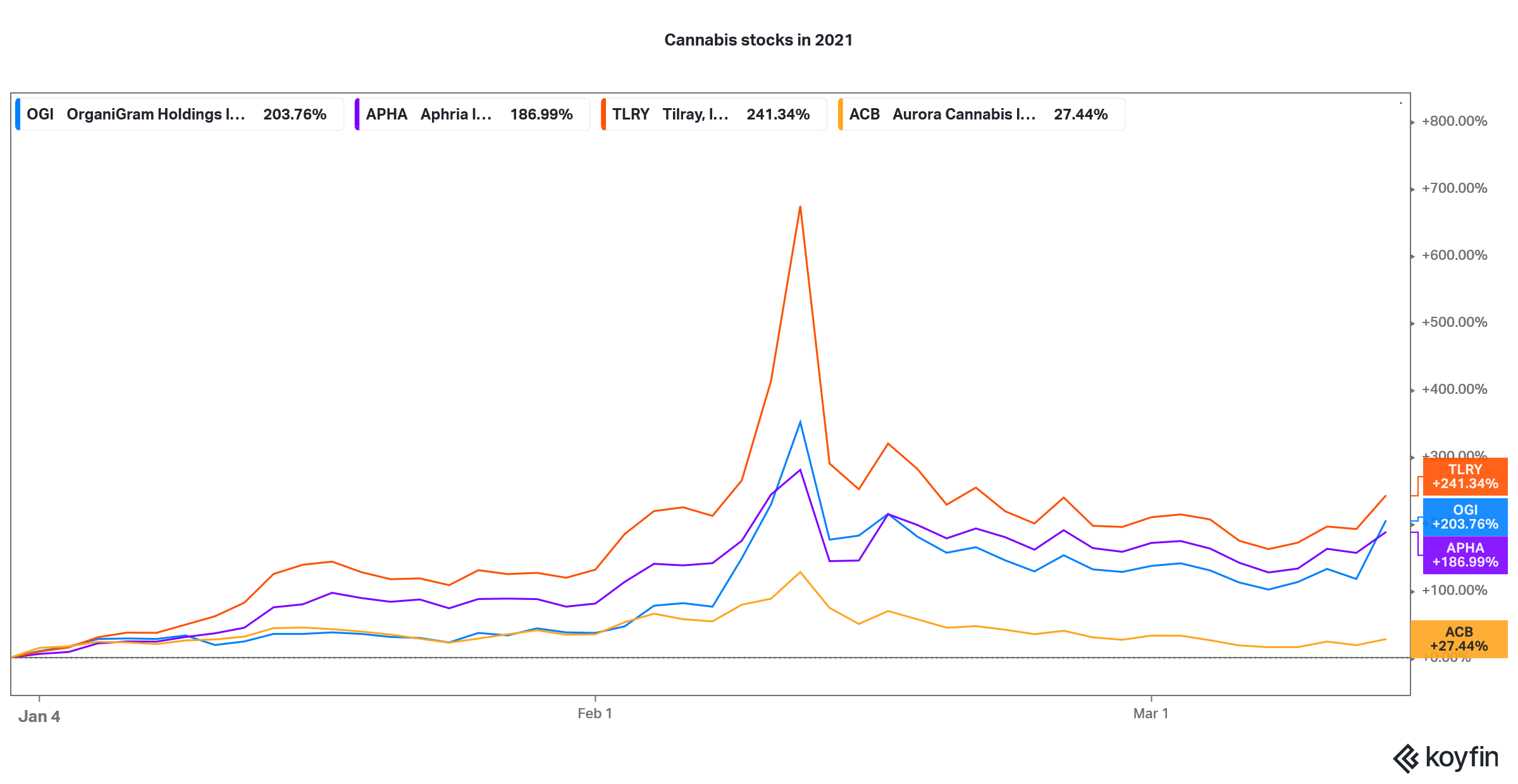 The news that's boosting OrganiGram stock
While cannabis stocks have been surging across the board lately, some company-specific factors are also driving OrganiGram stock. A unit of British American Tobacco (BATS) has taken a 19.9 percent stake in OrganiGram valued at $176.6 million. Under their agreement, the two companies plan to establish a "Center of Excellence" to "focus on developing the next generation of cannabis products with an initial focus on CBD (cannabidiol)." The stake sale was based on OGI's trailing five-day stock price.
Article continues below advertisement
There's been plenty of mergers and acquisitions recently in the cannabis space. In Dec. 2020, Aphria and Tilray agreed to merge. And in Mar. 2021, Curaleaf (CURLF) announced the acquisition of EMMAC Life Sciences, which will make it the largest cannabis company globally.
Article continues below advertisement
OGI stock's forecast: Wall Street is divided
After OGI announced the agreement with BAT, Cantor Fitzgerald reiterated its "overweight" rating on OGI and raised its target price from $3.50 to $6. However, Alliance Global Partners maintained its "neutral" rating on the stock after the deal was announced. Earlier this week, BMO Capital Markets downgraded the stock to "underperform" from "market perform" and assigned it a target price of $2.
Article continues below advertisement
According to MarketBeat, analysts' average price target for OGI is $3.19, which is 21 percent below its current price. Their lowest price target is $1.72, and their highest target is $6. Of the 13 analysts covering the stock, four recommend "buy," and one recommends "sell." Eight analysts have given it a "hold" or equivalent rating.
Should you buy OrganiGram stock now?
OrganiGram stock has tripled this year. The stock was down in premarket trading on Mar. 11, but's that's common after a massive spike.
Article continues below advertisement
OGI's NTM (next-12-month) EV-to-EBITDA multiple is 11.15x. In contrast, Curaleaf, Aurora Cannabis, and Aphria have NTM EV-to-EBITDA multiples of 8.9x, 8.5x, and 10.7x, respectively. From a valuation perspective, OGI stock looks pricier than the other cannabis companies.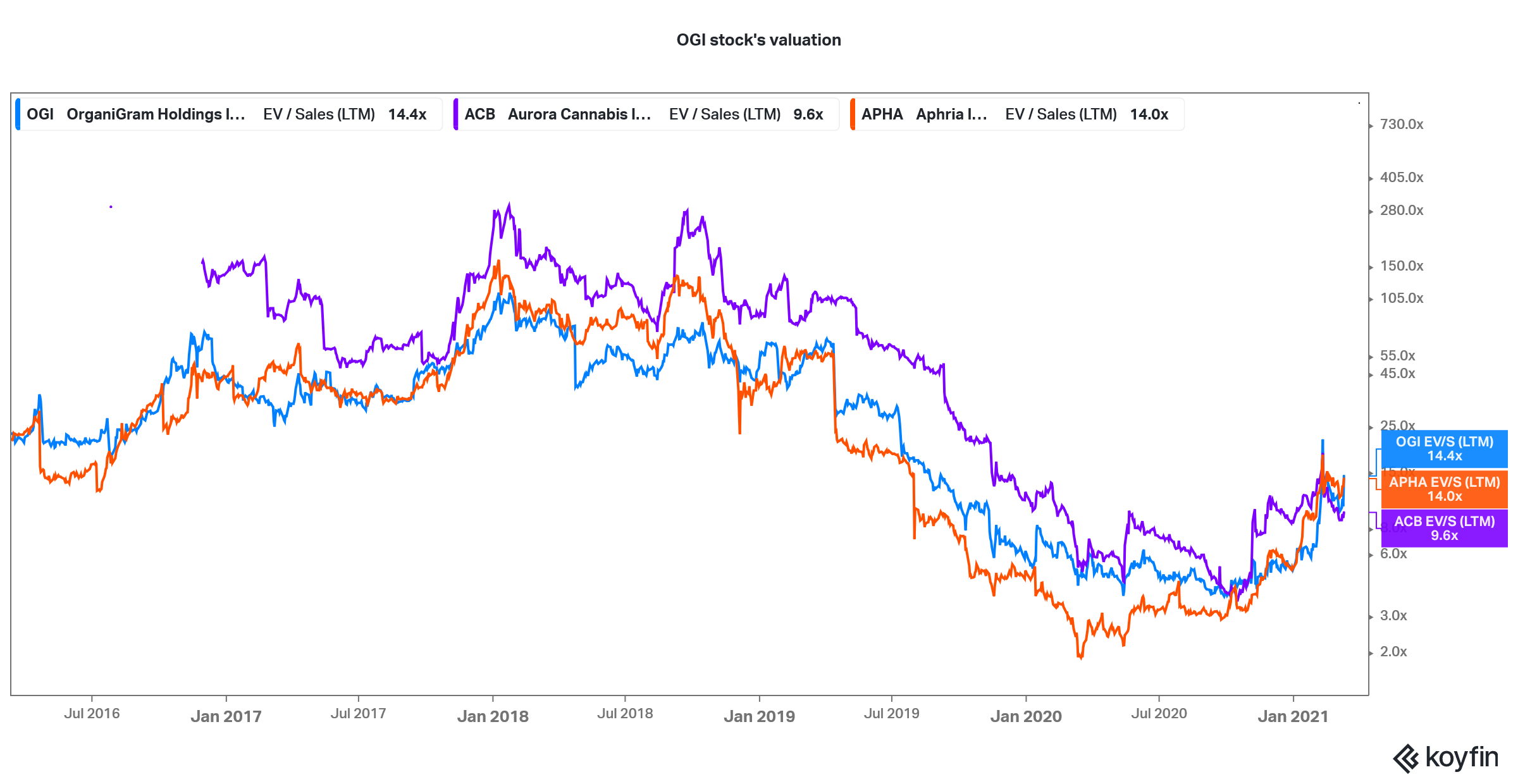 OrganiGram is launching several new cannabis products and working on rationalizing its costs, both moves that are set to pay off in the long term. And analysts recognize this—they expect its revenue to rise by 7 percent in fiscal 2021 and 44 percent in fiscal 2022. However, as the company still needs to execute many of these plans, I would be apprehensive of buying OGI stock just now.