Natural Gas Prices Are Set To Make Heating Bills Expensive This Winter
By Rachel Curry

Oct. 15 2021, Published 10:29 a.m. ET
For many, summer is usually considered a more expensive season, thanks to travel and other extracurriculars. This year, that could change, with heating bills expected to skyrocket this winter. Natural gas prices are a major factor.
Article continues below advertisement
What's the forecast for natural gas prices, and how can households plan ahead for hefty heating bills?
Natural gas prices are up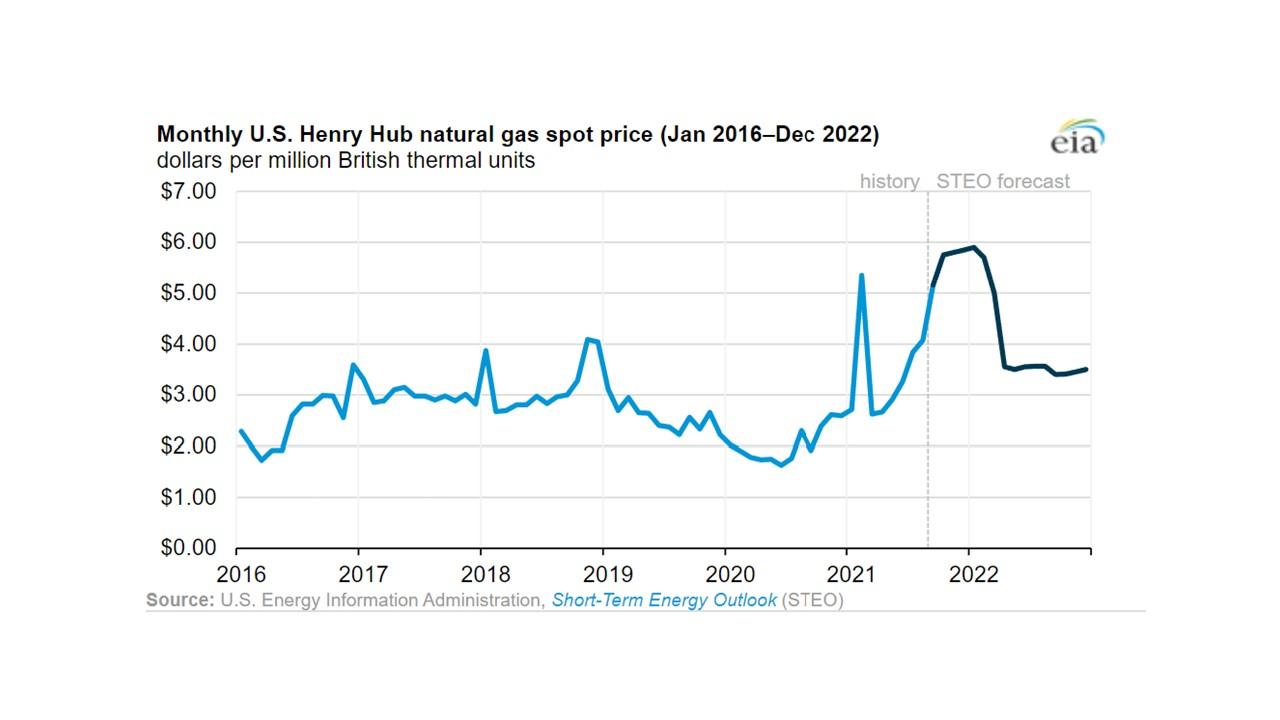 Natural gas prices are up more than 112 percent year-to-date. That's a lot compared with oil prices, which have risen 65 percent. Considering how pricey gas has gotten at the pumps, it's not hard to imagine the boost for natural gas heating bills.
Article continues below advertisement
"What's different about this is normally it's oil that leads to an energy crisis, but in this case it's the tail that's being wagged by natural gas, coal and renewables," IHS Markit vice chairman Daniel Yergin told reporters.
How high will heating bills go this year?
Almost half of U.S. households heat their home mostly with natural gas, and heating bills may increase 30 percent this winter because of natural gas prices rising. U.S. Energy Information Administration (EIA) researchers say a significant increase is on the horizon despite climate change's impact on winter temperatures. Even if winter is 10 percent warmer, households would still see a 22-percent increase in heating bill costs.
Article continues below advertisement
On the other hand, if winter is 10 percent colder (a more likely outcome of extreme weather, according to experts), heating costs could rise as much as 50 percent. From Oct. 1 to March 31, natural-gas homes could see $746 in heating charges, on average. During the same time last year, the average cost was $573.
How to plan for a more expensive heating bill
In addition to more expensive heating bills, households are battling inflation. Altogether, the cost of living is a stressful reality for many.
Article continues below advertisement
There are some actions you can take to reduce your energy usage at home:
Replace your air filters. This can reduce energy costs by up to 15 percent and help your unit last longer.

Buy curtains to block the windows.

Keep doors for unused rooms closed.

Program your thermostat with a timer so you're not using more heat than you need at different points of the day.

Seal any air leaks that could be increasing your bill.

Invest in space heaters. These can make a big difference, especially in areas your heating system has trouble reaching.
A forecast for natural gas costs ahead
According to the EIA, "We forecast that natural gas spot prices at the U.S. benchmark Henry Hub will average $5.67 per million British thermal units (MMBtu) between October and March, the highest winter price since 2007–2008."
The EIA says the higher prices stem from below-average storage levels and strong demand for U.S. liquefied natural gas. Meanwhile, domestic natural gas production growth is slow-going. This year, natural gas futures have reached their highest point in seven years. If anything, that's a peek into natural gas costs in the winter season.