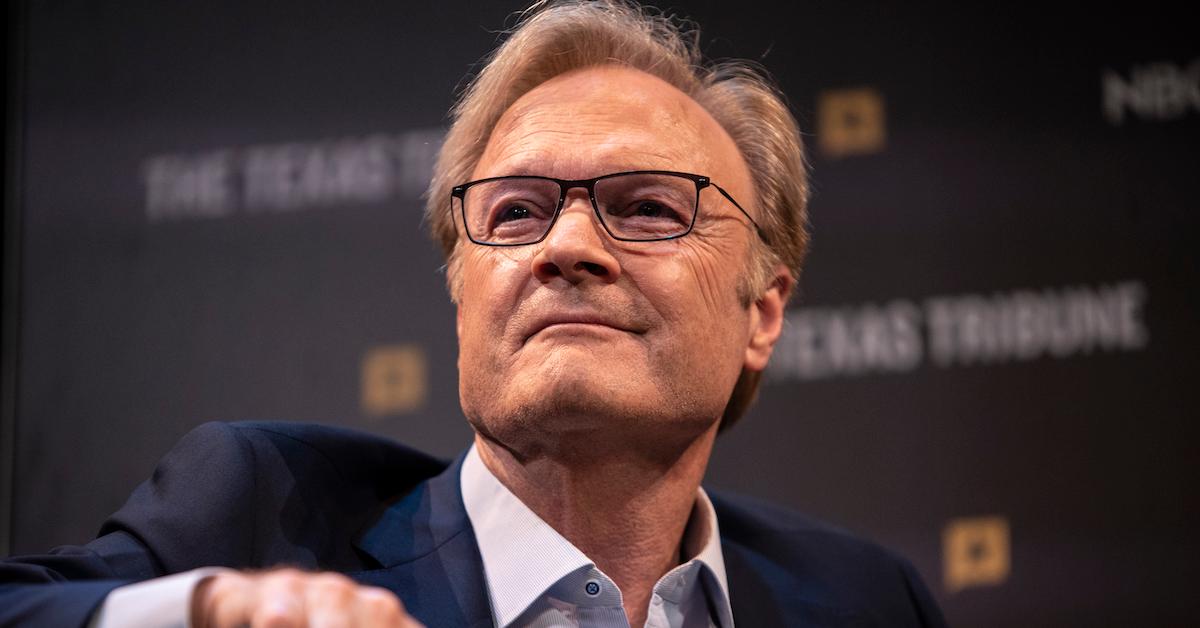 Lawrence O'Donnell's Net Worth Likely Got a Bump After 2017 Salary Negotiations
Lawrence O'Donnell hosts The Last Word with Lawrence O'Donnell on MSNBC, for which he draws a respectable salary as an anchorman. The nightly program airs immediately after Rachel Maddow's namesake show.
Article continues below advertisement
Besides hosting his own show, O'Donnell has played other roles within the NBC family. For example, he produced NBC series The West Wing and Mister Sterling. In The West Wing, the MSNBC anchor also acted as the president's father in flashbacks.
Away from the screen, O'Donnell is an author with several publications. One of his books, Deadly Force, was made into a film in the 1980s.
How did Lawrence O'Donnell get into broadcasting?
Lawrence O'Donnell worked in a variety of fields before getting into broadcasting. In fact, the MSNBC anchor says he didn't set out to be a journalist. For example, he worked as a public school teacher and served 7 years in the U.S. Senate as an aide. Little is known about O'Donnell's salary as a schoolteacher or Congress aide.
Article continues below advertisement
The anchor joined MSNBC after working in the Senate because the network wanted his expertise as an analyst. It was this role that led to O'Donnell getting his own show on the network.
Article continues below advertisement
What does 'The Last Word with Lawrence O'Donnell' focus on?
The Last Word with Lawrence O'Donnell airs weekdays and focuses on news and political commentary. As the name hints, the program serves up the last take on the biggest and most compelling issues of the day.
Article continues below advertisement
The maiden episode of the show featured Joe Biden, the U.S. vice president at the time, and Keith Olbermann, host of the now defunct Countdown on MSNBC. Other notable guests on the show include House Speaker Nancy Pelosi and former Republican congressman Ron Paul.
The show airs live for an hour. Sometimes MSNBC journalists Ali Velshi, Steve Kornacki, Ezra Klein, Ari Melber, and Joy Reid have sat in for O'Donnell on the program. The programming time for the O'Donnell show has changed a couple of times since its debut in Sept. 2010.
Article continues below advertisement
What is Lawrence O'Donnell's salary on MSNBC?
MSNBC hasn't made O'Donnell's salary public. But the anchor is believed to take home $5 million in annual salary from MSNBC. O'Donnell's had a salary negotiation with MSNBC in 2017, which implies his compensation at the network has improved since he started there. The salary negotiation seemed so intense that O'Donnell appeared to prepare his audience for his possible exit from MSNBC. The anchor and the network finally reached a deal to keep his show on the network.
Article continues below advertisement
In addition to his work at MSNBC, O'Donnell's books may also be bringing money. By some estimates, the anchor's MSNBC salary, books, and other investments give him a net worth of about $16 million.
Does Lawrence O'Donnell give to charity?
O'Donnell's respectable MSNBC salary is making its mark in philanthropy. The anchor is a strong contributor to charity. In 2010, O'Donnell's partnered with UNICEF to form KIND (Kids in Need of Desks) Fund. The fund's mission is to support poor schoolkids in Africa with classroom desks and scholarships. The O'Donnell charity initiative for Africa is mostly focused on Malawi. The fund has raised more than $12 million through donations and helped purchase desks for about a million children.