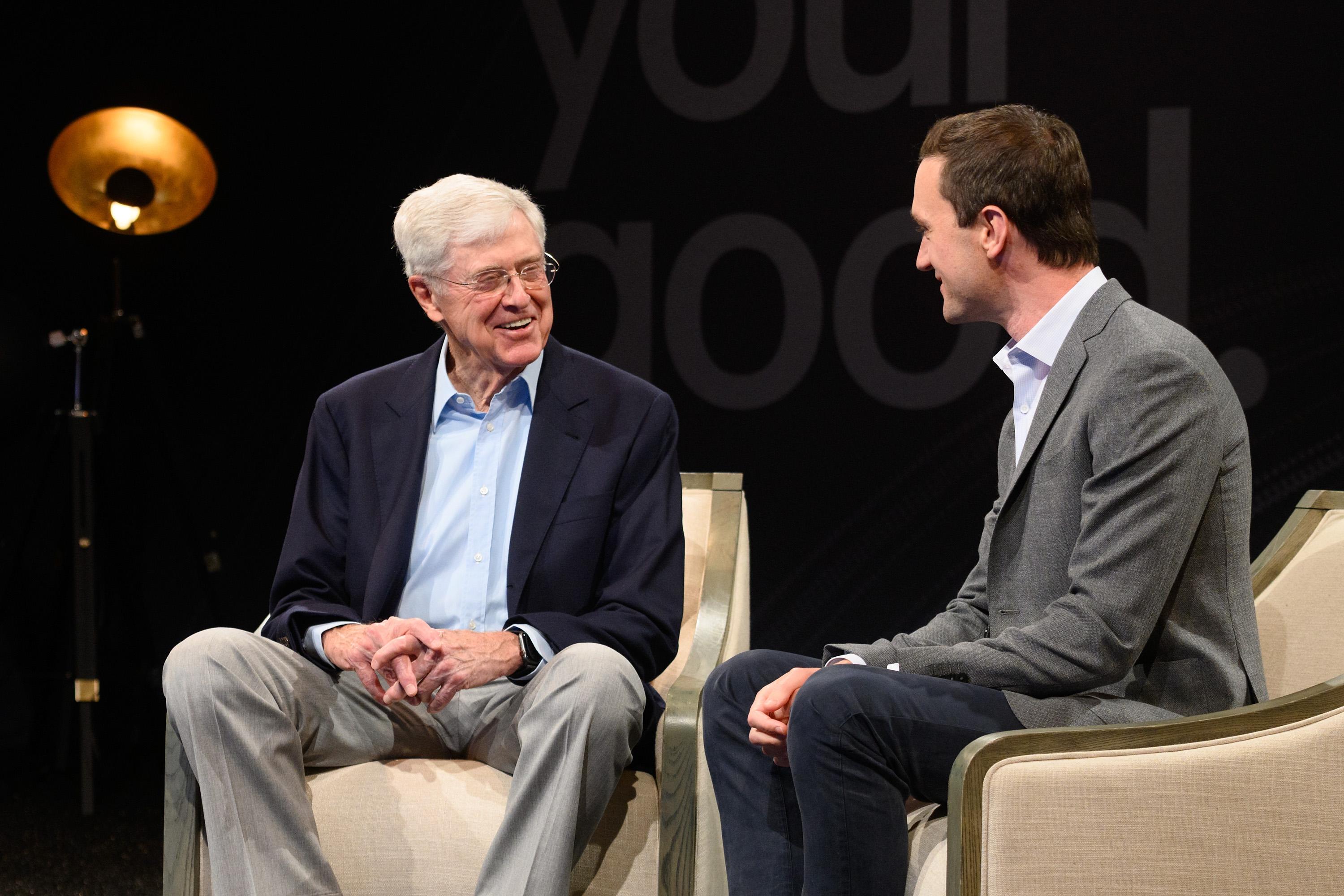 Here's What the Koch Family Is Worth
The COVID-19 pandemic has brought about a strange economic phenomenon. While millions of Americans have lost their jobs, stock markets have spiked and made the super-rich even wealthier. Amazon CEO Jeff Bezos has cemented his position as the world's richest person, and the Waltons (the founders of Walmart) are the world's richest family. According to Visual Capitalist, the Koch family's net worth makes them the third richest in the world.
Article continues below advertisement
The Koch family's history
Koch Industries was founded by Fred C. Koch, an engineer from MIT (Massachusetts Institute of Technology). In 1927, he developed an innovative refining process to convert heavy oil into gasoline, and in 1940, he founded Wood River Oil & Refining Company.
Article continues below advertisement
Based in Kansas, Koch Industries is the second-largest private company in the U.S. Charles G. Koch is its current CEO and chairman, and has been holding these posts since 1967. Koch Industries has operations across various industries, including polymers, fertilizers, automotive components, refining, and commodity trading.
Article continues below advertisement
Since Koch Industries is a privately held company, there's not much information available about its finances. The company employs 130,000 people in more than 70 countries, with almost half of these employees in the U.S. Koch Industries reports that it reinvests 90% of its earnings into its business.
David Koch's net worth
David Koch died last year. Before then, Forbes ranked him at 11 on the list of billionaires globally, with a net worth of $50.5 billion as of March 4, 2019. In July 2018, he stepped down from his position as Koch Industries' executive vice president due to health reasons and was named the group's director emeritus. He also ran as a Libertarian Party vice-presidential candidate in 1980.
Article continues below advertisement
Charles Koch's net worth
According to Forbes, Charles Koch had a net worth of $44.9 billion as of Nov. 6, 2020. He owns a 42% stake in Koch Industries. The venture capital firm headed by his son has invested in Desktop Metal, which is going public through a SPAC (special purpose acquisition company).
A number of companies have gone public through the SPAC route this year. However, their performance has been mixed. Nikola stock tumbled after reports of fraud allegations, and Lordstown Motors also fell after its listing.
Article continues below advertisement
William Koch's net worth
According to Forbes, William Koch had a net worth of $1.5 billion as of Nov. 6, 2020. He sold his stake in Koch Industries for $470 million to his brothers, David and Charles Koch, in 1983. William Koch disputed the payout amount in court but eventually lost. He is the founder of Oxbow Group, which markets natural resources—especially coal.
The Koch brothers' religion
The Koch brothers are known to be libertarians. Whereas Charles Koch has said he isn't religious, he has donated to the Catholic University of America. The Koch brothers have also donated to libertarian and conservative think tanks and many Republican party candidates.