Why You Shouldn't Take Warren Buffett's Advice on Gold
In the second quarter of 2020, Berkshire Hathaway took a stake in Barrick Gold, which is a leading gold mining company. The move surprised the markets considering Warren Buffett's pessimistic view of gold. However, gold is among the best performing asset classes in 2020. Is Buffett wrong about gold? Should you allocate a portion of your portfolio towards gold?
Article continues below advertisement
So far, 2020 has been a bad year for Berkshire Hathaway and Buffett. Nearly all of the assets that Buffett likes — value stocks, banking stocks, consumer companies — have underperformed. In contrast, assets that he doesn't invest in like IPOs, tech companies, gold, and bitcoin have provided phenomenal returns.
Article continues below advertisement
Why Warren Buffett isn't interested in gold
According to Buffett, gold doesn't have any value and is a dead asset. As his famous quote says, "It doesn't do anything but sit there and look at you." He has criticized gold as an investment several times. In the 2018 shareholder letter, Buffett backed his disdain for gold with hard facts.
Buffett pointed out that in his 77-year long investing career, gold has underperformed equities by a wide margin. He said that if an investor had brought 3.25 ounces of gold instead of stocks, "you would now have an asset worth about $4,200, less than 1% of what would have been realized from a simple unmanaged investment in American business." Taking a swipe at gold, he said, "The magical metal was no match for the American mettle."
Article continues below advertisement
Has Buffett ever invested in gold?
While Buffett has changed his views on several aspects including airline stocks and derivatives, he still has a pessimistic view on gold. He has never invested in gold and might not anytime soon.
Berkshire Hathaway's small stake in gold
Berkshire Hathaway hasn't invested in physical gold. However, in the second quarter of 2020, the company took a small stake in Barrick Gold. While the stake isn't similar to investing in gold, for all practical reasons, buying a gold mining company is taking a leveraged bet on gold.
Article continues below advertisement
The stock prices of gold mining companies—including Barrick Gold—are highly correlated to gold prices given the earnings sensitivity to gold. Generally, gold mining stocks are more volatile than gold prices and they tend to rise or fall more than the price movement in physical gold prices.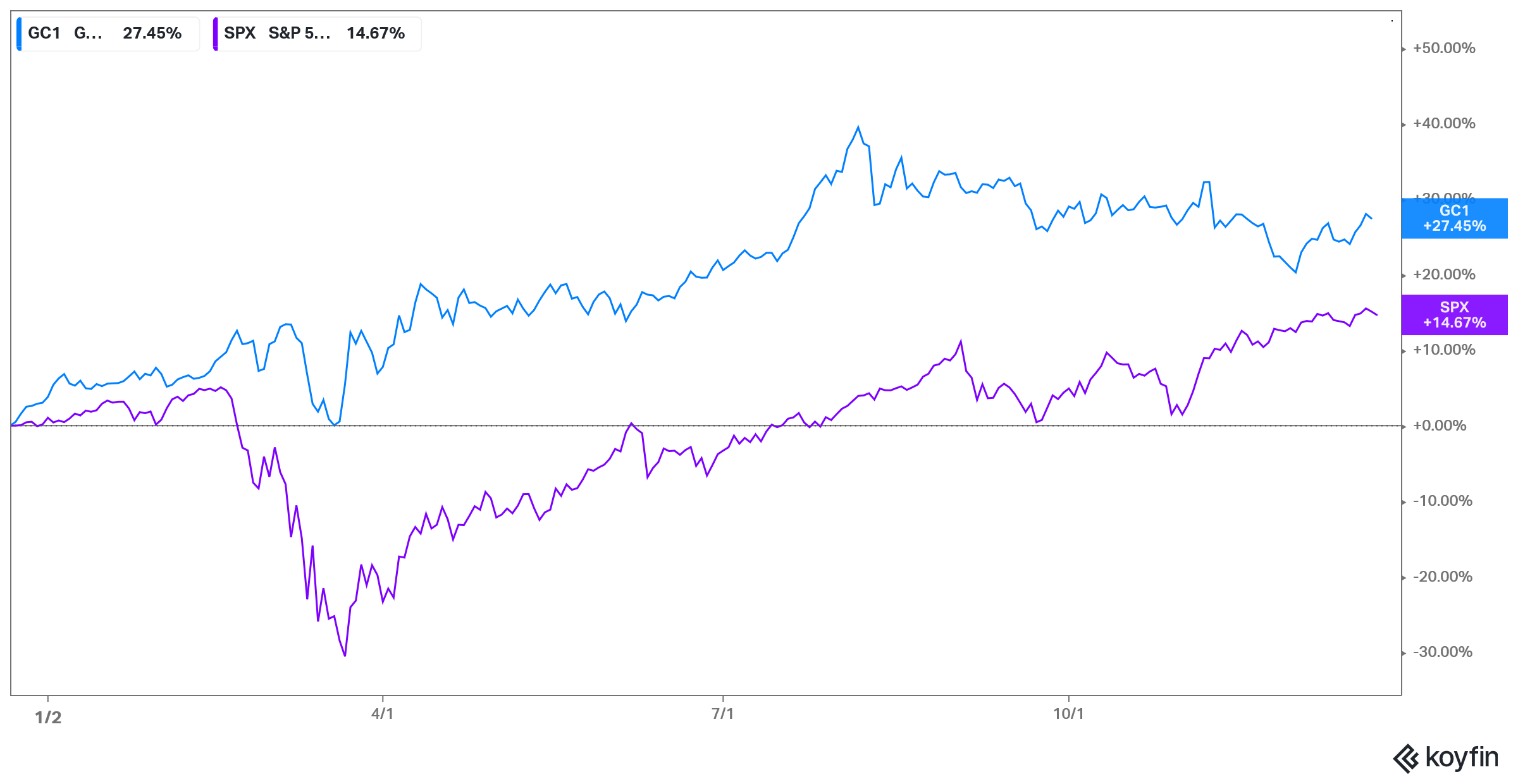 Article continues below advertisement
What's the outlook for gold prices?
Gold has come off its 2020 highs after positive trial results for COVID-19 vaccine candidates. The macro environment is very supportive of gold. Low interest rates are expected to continue for the next few years, which is a positive driver for gold. Also, fiscal deficits globally are rising. Massive money printing to bridge the deficit also increases gold's appeal. The economic environment is still uncertain, which bodes well for safe-haven assets like gold.
Is Warren Buffett wrong on gold?
Buffett isn't wrong about gold if you follow his investment principles in totality. So, if you're willing to hold stocks for years (and decades in some cases) like Buffett, gold isn't a good option for you. There isn't any denying that over the long-term, equities tend to beat the returns from other asset classes like gold and debt.
Article continues below advertisement
That said, not many investors have Buffett's patience and temperament. Also, they might not have the same risk appetite as Buffett. Even at the age of 90, Buffett has most of his assets tied up in stocks. For "mortal" investors, it's always advisable to have part of your portfolio in alternate assets like gold. However, the percentage would depend on your investment objectives and risk appetite.
If you are a risk-averse investor, you should have a higher allocation to gold. However, if you can take risks and are comfortable with losses in the short term, you should have a lower allocation to gold. If you blindly follow Buffett's investment approach, you might have missed out on some of the best-performing asset classes in 2020 including IPOs that are outperforming the markets.