Has Humbl (HMBL) Stock Bottomed as Penny Stocks Rise Again?
By Mohit Oberoi, CFA

Apr. 27 2021, Published 9:48 a.m. ET
There has been a massive sell-off in penny stocks including Humbl (HMBL) over the last month. In some of the cases, these names lost over 90 percent from their peaks. However, over the last few days, we've seen buying support in many beaten-down penny stocks since bargain hunters find them attractive. Has HMBL stock bottomed out and is it a good penny stock to buy now?
Article continues below advertisement
HMBL stock fell over 15 percent on April 26 and is now down almost 82 percent from its 52-week highs. While some of the penny stocks like Zomedica, Castor Maritime, and Sundial Growers have recovered from their bottoms, investors have been giving HMBL stock the cold shoulder.
How much is HMBL stock worth?
Currently, HMBL stock has a market capitalization of $1.3 billion. However, the metric only shows half of the picture when it comes to evaluating how much HMBL stock is currently worth. The company has issued warrants and preferred stocks pursuant to its merger with home-renovation retailer Tesoro (TSNP).
Article continues below advertisement
The merger was structured like a reverse merger as we see with SPACs. In a typical SPAC merger, we have the PIPE, which leads to dilution for existing SPAC stockholders. Something similar happened with Churchill Capital IV (CCIV) after it announced a merger with Lucid Motors. It priced the PIPE at $15, which was way below CCIV's stock price at the time.
Article continues below advertisement
Coming back to HMBL stock, its outstanding share count will rise to almost 6.8 billion after the warrants and preferred stocks are converted. The weighted average conversion price for warrants is around a fifth of HMBL's current stock price, so they are deep in the money and would be converted. After accounting for the proforma outstanding share count, Humbl stock is valued at just under $10 billion.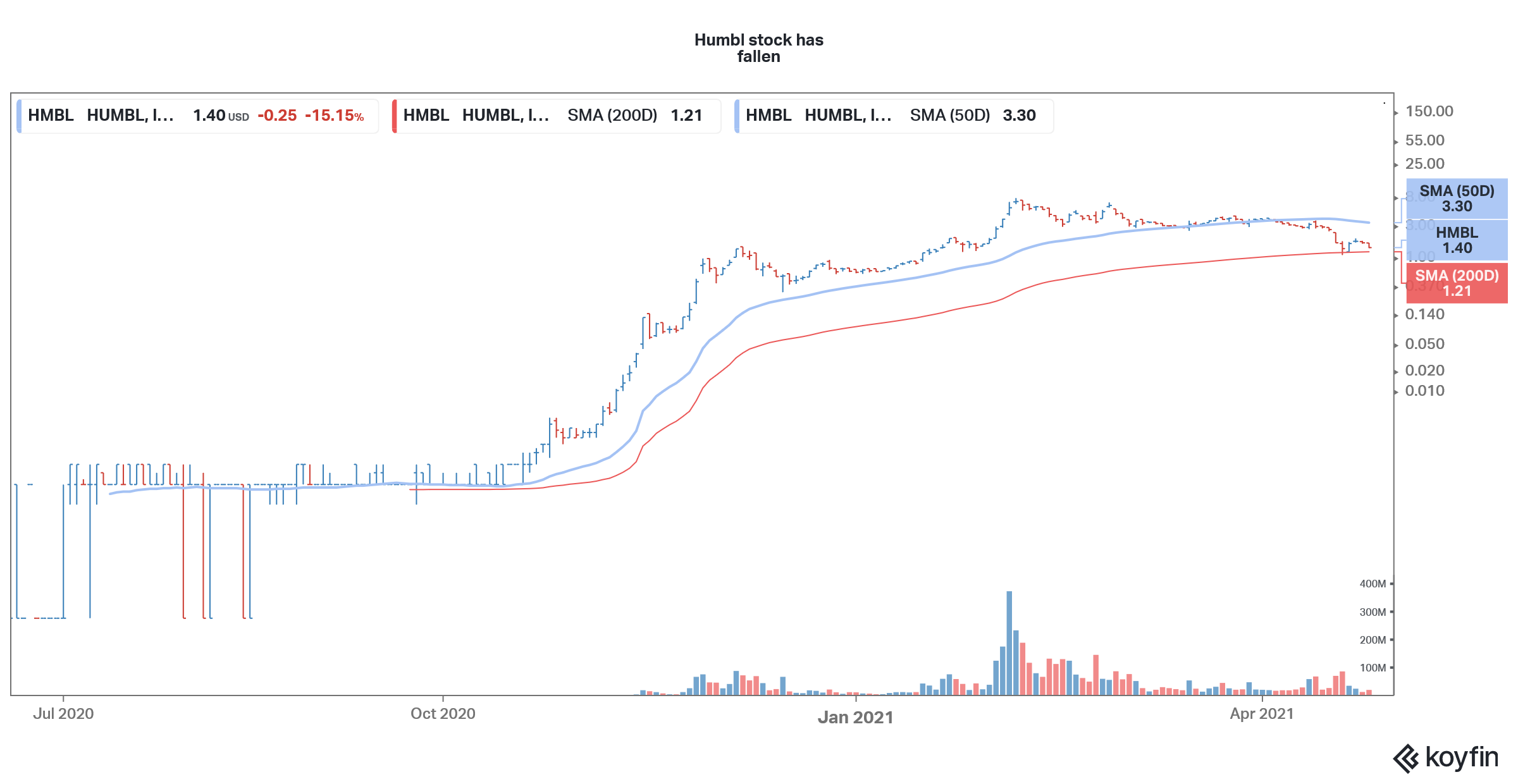 Article continues below advertisement
Has HMBL stock bottomed?
It's tough to say whether HMBL stock has bottomed. That's the risk of investing in penny stocks. Their price action can be detached from fundamentals for an extended period. Also, since Humbl isn't making many revenues currently, it isn't easy to arrive at a fair fundamental value for HMBL stock.
The company is progressing on its business plans. Earlier this month, it launched the Humbl Pay app on the Play Store. Previously, it launched the BLOCK Exchange Traded Index (ETX), which will enable a buyer to invest in a basket of cryptocurrencies. The e-commerce vertical Marketplace is also progressing on its business plans.
Article continues below advertisement
As I have noted previously, HMBL has put too much on its plate and wants to be Amazon, Alibaba, and PayPal at the same time. However, it needs to execute the plans before investors can gain confidence in the company.
Article continues below advertisement
Humbl's target price
Humbl needs to provide more updates on the progression of its business plans before we can assign a target price to the company. Interestingly, despite Humbl having a proforma market cap of almost $10 billion, none of the Wall Street analysts are covering the company. We don't have its target price or earnings estimates.
HMBL will release its quarterly update soon, which would provide insights on how the business is faring. The stock would react to the company's progress on its ambitious business plans. The stock could bounce back from the lows given the rebound in penny stocks, but a sustainable rise would depend on how the company delivers on its business plans.