Why Does Warren Buffett Advise Against Investing in Bonds?
Rising yields have got many investors asking about how to invest in Treasury bonds. But Warren Buffett has warned against them.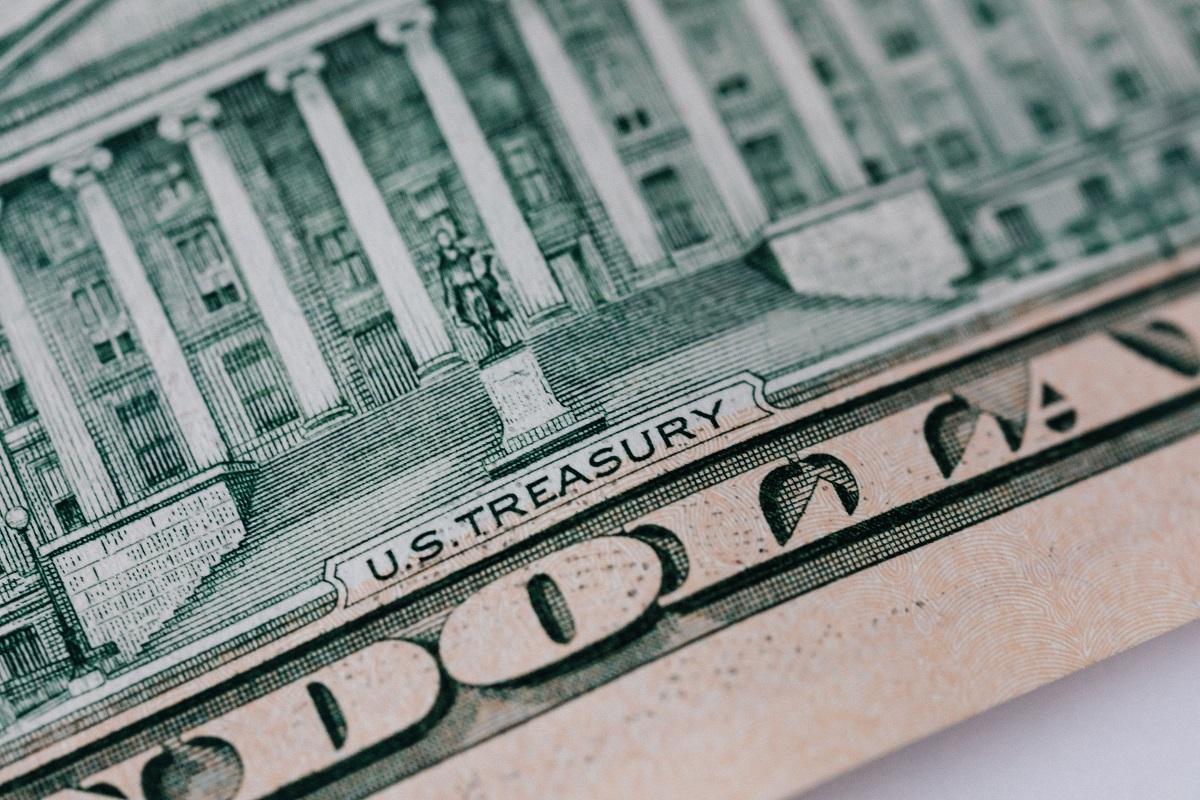 Treasury bonds, government debt securities, are issued to raise money to fund government spending. Issuing them becomes necessary when tax revenue isn't sufficient to keep government programs rolling. Investor interest in Treasury bonds (or T-bonds) tends to pick up in times of economic uncertainty.
Article continues below advertisement
Article continues below advertisement
T-bonds mature in 20 to 30 years. They earn a fixed rate of interest for investors, and the interest payout is made every six months until the bonds mature and the government buys them back. Their value for investors has long been debated. In fact, billionaire legendary investor Warren Buffett holds a strong opinion here.
Are U.S. Treasury bonds a good investment?
T-bonds are generally seen as a risk-free investment because the chance of default is low—they're backed by the U.S. government. Moreover, bonds have guaranteed returns for investors, and because the interest accrued is exempt from state and local taxes, they have low investment costs.
Article continues below advertisement
You can buy bonds to diversify your investment portfolio. As they carry low risk, mixing them with stock investments can make your portfolio more defensive, especially in rough times. Because of their regular interest payments, T-bonds can provide steady income in retirement or help you grow a college fund for your kids.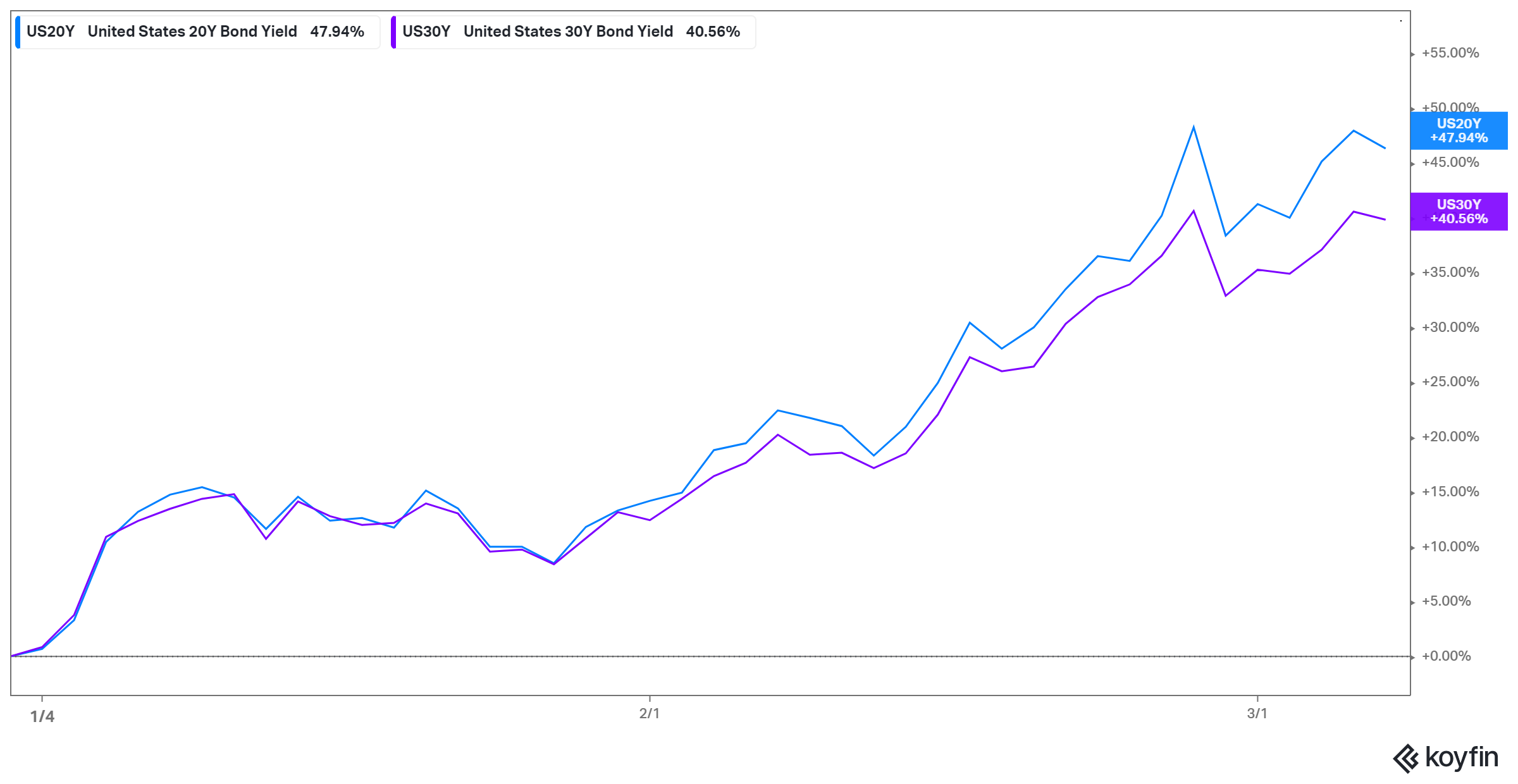 Article continues below advertisement
Article continues below advertisement
Why are bond yields rising?
The Treasury yield is the interest the government pays to borrow money with bonds. Therefore, it's the return on investment for bondholders. The yield, expressed as a percentage, goes up and down depending on demand for the security.
In low demand, bond prices fall, meaning investors have sold their bond holdings to put their money into riskier assets. To compensate for the falling bond prices, bondholders demand higher compensation, causing yields to go up.
Article continues below advertisement
When there's strong demand for bonds, their prices rise as investors put their money into them because they're safer investments. As a result, they could be selling for more than their face value, causing yields to fall because investors are comfortable with just small returns.
Article continues below advertisement
Treasury yield trends can also offer insight into how investors view the economy. Rising T-bond yields show that investors are optimistic about the economy.
Article continues below advertisement
That seems to be the case right now, as coronavirus vaccines reach more people. The White House foresees vaccines being available to all American adults two months earlier than expected. Moreover, the Biden administration's $1.9 trillion stimulus plan promises a major economic boost to corporate sales and profits. As would be expected, yields on 20- and 30-year T-bonds have risen.
Article continues below advertisement
Article continues below advertisement
Why Warren Buffett advises against investing in bonds
Warren Buffett isn't a fan of bonds. The billionaire has used Berkshire Hathaway's annual letters to shareholders to discourage people from investing in them.
Article continues below advertisement
"Bonds are not the place to be these days," Buffett said in the latest letter to Berkshire shareholders. "Fixed-income [bond] investors worldwide…face a bleak future," the Oracle of Omaha added. As an example, the billionaire cited 10-year T-bonds, whose returns have dropped 94 percent since Sept. 1981.
Article continues below advertisement
How to invest in Treasury bonds
You can purchase T-bonds directly from the government online through the TreasuryDirect portal. Alternatively, you can buy them through a bank or brokerage. The minimum amount you need to spend is $100.
The amount you invest in the bond is returned to you upon maturity. You can hold them until they mature or sell them on a secondary market before then (but you must have held them for at least 45 days). In the secondary market, bonds can sell at a premium to their face value if there's strong demand, or at discount to their face value if demand is weak.