How to Impeach a Supreme Court Justice — People Are Fed Up
U.S. Supreme Court justices can be impeached, but how? Here's how the process works and whether the president has any say. Is it a possibility?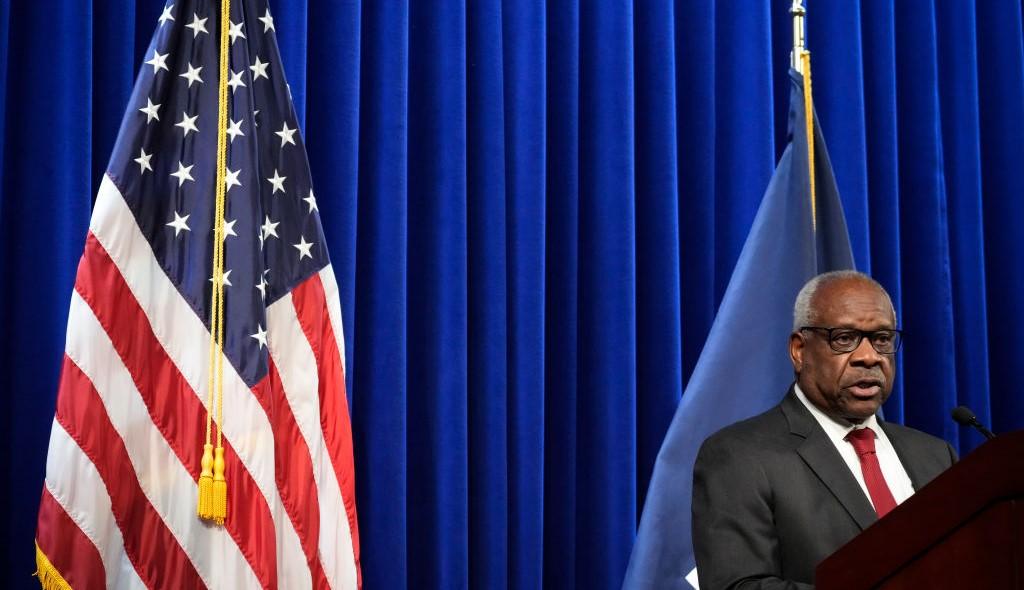 After the U.S. Supreme Court shot down Roe v. Wade and eliminated a person's constitutional right to an abortion on June 24, New York representative Alexandria Ocasio-Cortez is calling for justices to be impeached. She says Supreme Court justices misled the public about their stance on Roe v. Wade, but President Biden's administration may not have a direct route to impeachment.
Article continues below advertisement
Article continues below advertisement
Here's how to impeach a Supreme Court justice and what checks and balances are in place to try to keep the highest court honorable.
Who does the Supreme Court answer to?
Congress has the power to override Supreme Court decisions if it receives a two-thirds vote in both houses to do so. Alternatively, two thirds of U.S. states may request an amendment, which three-quarters of state legislatures must then ratify. If all these steps are completed, a Supreme Court decision can be overturned.
Article continues below advertisement
This is unlikely to occur for Roe v. Wade. Currently, 22 states have some sort of ban on abortion and more states are on the cusp of criminalizing it. Meanwhile, Republicans in Congress tend to lean on the side of anti-abortion.
Can the president veto a Supreme Court decision?
The U.S. president nominates and appoints Supreme Courts when there are available seats. However, the president doesn't have veto power over the Supreme Court.
Article continues below advertisement
Article continues below advertisement
The president can instead decide not to enforce any rulings, but that doesn't help the post-Roe v. Wade era. Since the overturn of Roe v. Wade results in removing abortion as a constitutional right, states have the capacity to ban it outright — and that's exactly what has happened.
Here's what it takes to impeach a Supreme Court justice.
According to Jena Griswold, the Colorado Secretary of State, the current Supreme Court doesn't see "American women as full people."
Article continues below advertisement
Griswold goes on to explain what it would take for Congress to impeach a Supreme Court justice. First, Congress needs legitimate grounds for an impeachment such as a justice committing a legal offense. This offense would likely need to be grave in order to move forward in both the House and Senate.
Article continues below advertisement
Historically, no Supreme Court justice has been impeached and removed. In 1805, Associate Justice Samuel Chase was impeached but acquitted. Justices serve for life or until they choose to step down. There isn't a set term limit and impeachment is the only way to get a justice to involuntarily step down.
Article continues below advertisement
If there are solid grounds for impeachment, the Brennan Center for Justice says, "Under Article I of the United States Consti­tu­tion, the House of Repres­ent­at­ives has the power to impeach and the Senate the power to hold a trial to determ­ine whether removal is appro­pri­ate."
The House can use a simple major­ity vote to impeach a Supreme Court justice, but the Senate must have a two-thirds majority to remove them from office. There are different procedures for judges at the state level.
Ultimately, the Supreme Court maintains an extreme amount of power and the current justices likely won't stop at abortion. Justice Clarence Thomas has already hinted at revisiting rulings on same-sex marriage and contraception, movements that could evolve if no justices are impeached.