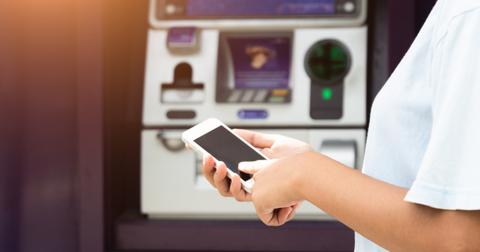 Cash App Investing: How Does It Work?
By Ruchi Gupta

Updated
Cash App Investing is one of the several services you can access on the Cash App platform, a product of California-based financial technology company Square. You can use Cash App to transfer money to your contacts or withdraw cash at an ATM. Cash App has been adding more services since its debut in 2013 and as its competition with PayPal's Venmo intensifies. How does Cash App Investing work, exactly?
How does Cash App Investing work?
Cash App Investing is an online brokerage service, similar to Robinhood or SoFi Invest. The Cash App Investing service launched in 2019 with the goal of expanding access to stock market investing. You can set up a stock trading account with Cash App Investing in minutes on your smartphone and start buying and selling company stocks right away.
Cash App Investing offers access to hundreds of stocks. If you're looking for specific stocks, you can use the search tool to filter stocks by company name or ticker symbol. Cash App Investing is a self-directed brokerage account, meaning you decide which stocks to buy and sell. The service doesn't provide stock recommendations or investment advice.
Introducing Fractional Shares! Invest in thousands of stocks and ETFs on Robinhood with as little as $1, regardless of whole share prices.

We know this was a popular request and we're excited to start launching next week! Sign up for early access. 🚀https://t.co/SmChwAWOlb pic.twitter.com/b8W4dgK3jA

— Robinhood (@RobinhoodApp) December 12, 2019
Presently, Cash App Investing is designed for investment beginners. Setting up an account is free and requires no minimum balance to maintain. It supports fractional share purchases and allows you to start investing from as little as $1. Robinhood and SoFi Invest also allow you to buy fractional shares, ensuring you can begin your investing journey with what you can afford.
Remember that while you can use Cash App Investing to buy fractional shares, there are limits on selling fractional shares. First, the minimum amount you can sell is $1. Second, if you choose to sell 98 percent of your holding in a particular stock, the service will prompt you to either sell your entire holding of that stock or reduce the amount to sell. For example, if you own $100 in stock XYZ, you can either sell all of it or sell an amount below $98.
Cash App Investing does not support margin trading, though, meaning you can't boost your trades with borrowed funds. You can schedule automatic recurring stock purchases in Cash App Investing from $10. It currently supports daily, weekly, and biweekly purchase scheduling. You can apply a similar automatic purchasing schedule when buying bitcoin.
Are there Cash App Investing fees?
Similar to Robinhood and SoFi Invest, there are no trading commission fees when you use Cash App Investing to buy or sell shares. However, fees apply when you use the service to buy bitcoin.
Cash App Investing availability and eligibility
The Cash App Investing service is currently available in the U.S. only. You must be 18 years or older to open a Cash App Investing account. Personal information, including your name, social security number, U.S. residential address, and employment status, is required when setting up a Cash App Investing account. Cash App Investing allows you to buy stocks when U.S. markets are open for trading.
What is Cash App Investing LLC?
Cash App Investing LLC, a subsidiary of Square, runs the Cash App Investing service. It operates as a broker-dealer, is SEC-regulated, and is a member of FINRA and the SIPC (Securities Investor Protection Corporation). The SIPC membership means your Cash App Investing account is protected up to $500,000 if something goes wrong.