As part of the transition process, President-elect Joe Biden has started naming key members of his upcoming administration. There have been some controversial selections. For example, Republicans and some Democrats opposed Neera Tanden's nomination. Biden has also named Heather Boushey as a member of the CEA (Council of Economic Advisors). What's Boushey's net worth and how would her selection help the Biden administration?
Article continues below advertisement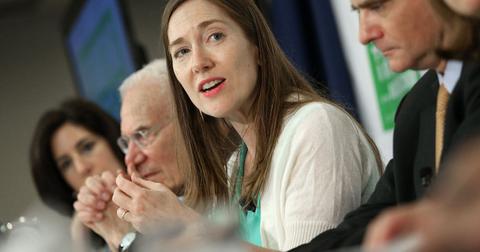 Along with Boushey, Biden has named Jared Bernstein as the other member of the CEA. The CEA would be headed by Cecilia Rouse, a Princeton University labor economist. Unlike the Trump administration, a lot of women would occupy key places in the Biden administration. Vice President-elect Kamala Harris will have many firsts to her name when she assumes the post next year.
Article continues below advertisement
How will Heather Boushey help the Biden administration?
The CEA is a key arm of the U.S. federal government whose mandate is to offer economic advice to the president on both the domestic and the economic front. The CEA also assists the president in preparing the Economic Report and determines whether the different federal government programs are having the intended impact.
My life's work has been centered on ensuring our families and work are properly valued within our economy.

I'm excited to bring that perspective as a CEA member. We have an opportunity to rethink how we invest in people, and we need to seize it as we rebuild our economy.

— Heather Boushey (@HBoushey) November 30, 2020
Article continues below advertisement
The CEA would assume great significance considering the economic scenario amid the COVID-19 pandemic. President-elect Joe Biden would have to walk a tightrope in managing stimulus expectations while also keeping an eye on the soaring budget deficit, which has risen above 100 percent of the GDP.
As a member of the CEA, Boushey, who has been an adviser to Biden for a long time, would be expected to offer advice to the president to help frame economic policies. While the swift actions by the Federal Reserve and the Trump administration helped bail out the U.S. economy, a lot more needs to be done for the economy to return to pre-pandemic levels.
Article continues below advertisement
Heather Boushey's past economic experience
Heather Boushey is the president and CEO of the Washington Center for Equitable Growth, which she co-founded in 2013. Previously, she worked as a senior economist at the Center for Economic and Policy Research in Washington, D.C. A lot of her work focused on economic inequality. In 2016, Boushey published the book Finding Time: The Economics of Work-Life Conflict. She promoted affordable child care and universal access to sick leave.
Boushey's most recent work is Unbound: How Inequality Constricts Our Economy and What We Can Do About It, which was published in October 2020. In the book, she argues how the massive inequality in society is a negative for markets as well as democracy. She also notes how income inequality impacts growth in multiple ways. Both of these books were published by the Harvard University Press.
Article continues below advertisement
MUST WATCH 🎥

"Inequality has been something that's been increasingly with us for four decades and it's not really related to monetary policy."

-Jay Powell

It's been going up exponentially since the U.S ended golds link to monetary policy... 👀

pic.twitter.com/Y6IXHQ1MHY

— Gold Telegraph ✪ (@GoldTelegraph_) November 24, 2020
As part of the CEA, Boushey could help devise policies directed at helping the poor and lower-middle-class in American society. Incidentally, wealth inequality has increased amid the COVID-19 pandemic. While the rich have become richer due to the spike in stock markets, the poor have become poorer. Despite a fall in unemployment levels from April 2020, millions of Americans are still unemployed. Boushey's prior work in studying inequality will likely come in handy.
Article continues below advertisement
Is Heather Boushey married?
Heather Boushey married Todd Nathaniel Tucker in 2007. Currently, Tucker is a fellow at the Roosevelt Institute. He specializes in international law and trade agreements.
What is Heather Boushey's net worth?
There isn't any publicly available information on Heather Boushey's net worth. Considering that Boushey is a successful economist and author, she likely has a decent net worth.