Glenn Youngkin Went From Private Equity Executive to Virginia's Executive Mansion
Virginia governor Glenn Youngkin, a Republican politician with a nine-figure net worth, is being accused of petty partisanship after vetoing 25 Democrat-sponsored bills with bipartisan support from Virginia's General Assembly. "Some of the vetoes involve very uncontroversial measures … which is not the norm," Stephen Farnsworth, a political scientist at the University of Mary Washington, told The Washington Post. "This is a further example of how partisan politics has become in Virginia."
Article continues below advertisement
Eileen Filler-Corn, minority leader of the Virginia House of Delegates, criticized Youngkin's vetoes in a tweet on April 12, writing, "We got a very clear picture of who @GovernorVA truly is last night. These are the petty actions of a governor prioritizing political fights over passing bipartisan policies to improve the lives of Virginians." Here's more information about the eyebrow-raising governor.
Glenn Youngkin
Governor of Virginia, former co-CEO of The Carlyle Group
Net worth: $470 million (as of November 2021)
Businessman Glenn Youngkin has served as Virginia's 74th governor since Jan. 2022. Before getting into politics, Youngkin was a longtime employee at The Carlyle Group, becoming co-CEO of the private equity firm in 2018.
Birthdate: Dec. 9, 1966
Birthplace: Richmond, Va.
Education: B.A. in managerial studies and B.S. in mechanical engineering from Rice University, MBA from Harvard Business School
Wife: Suzanne Youngkin
Children: 4
Article continues below advertisement
Glenn Youngkin ran for governor after 25 years at The Carlyle Group
Youngkin stopped down as Carlyle's co-CEO in Sept. 2020 and announced his candidacy for governor the following January. In campaign ads, the Virginia native said he "spent the last 30 years building business and creating jobs, leading a team of nearly 2,000 people who trusted me to get things done."
Article continues below advertisement
As the newspaper reported, Youngkin attended Rice University on a basketball scholarship and then studied at Harvard Business School. After a stint at consulting firm McKinsey & Company, he joined The Carlyle Group in 1995. Youngkin rose in the ranks there, heading up a global industrial group, helping the equity firm go public in 2012, and then becoming co-CEO in 2018.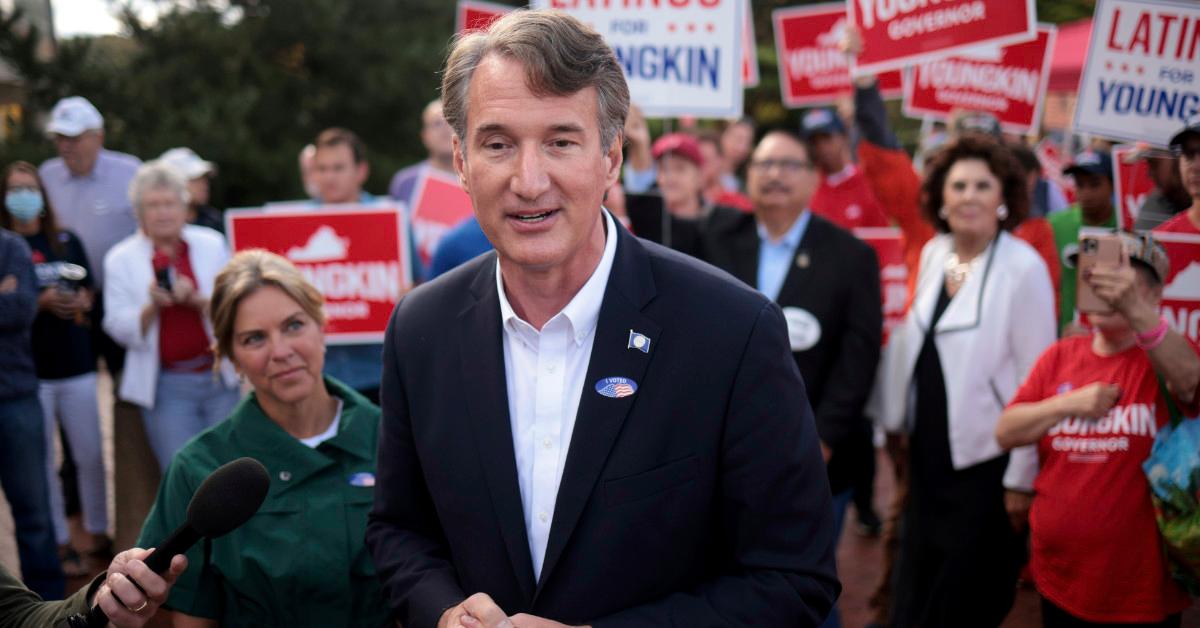 Article continues below advertisement
But an Aug. 2021 Bloomberg report, citing sources close to Carlyle, claimed that Youngkin "shepherded several bets and strategies that chalked up losses" during his time with the firm and "flamed out" as co-CEO amid a power struggle with co-CEO Kewsong Lee.
Youngkin is ranked as one of the wealthiest U.S. governors
In Nov. 2021, Forbes named Youngkin one of the wealthiest governors in the U.S., reporting that he had a net worth of around $470 million. Most of that net worth came from his Carlyle stake of almost 2 percent of the firm, which was worth $370 million. The magazine also estimated that Youngkin had $78 million in cash and other investments and had at least $18 million in real estate.