Does Amazon Own Canvas Technology? Robotics Acquisition, Explained
Amazon acquired Canvas Technology, a robotics startup based in Colorado, in 2019. Its autonomous carts should help expedite Amazon's warehouse fulfillment services.
In Amazon's ongoing quest to automate more of its processes, the company has been building up its robotics holdings. It acquired Kiva Systems in 2012 and Canvas Technology in 2019. The robotics startup, based in Boulder, Colo., was a strategic acquisition intended to help Amazon with its warehouse robotic needs.
Article continues below advertisement
Article continues below advertisement
According to Faegre Drinker, the firm that represented Canvas Technology in the deal with Amazon, the sale was priced at over $100 million. It was one of the largest transactions in the technology sector in the Rocky Mountain region that year.
Article continues below advertisement
How did Canvas Technology start?
Founded in 2015, Canvas Technology says that it's a robotics company "on a mission to provide end-to-end autonomous delivery of goods." Its goal is to provide safe and autonomous technology for driving indoors and outdoors.
Canvas makes fully autonomous carts to transport goods around warehouses—an ideal part of the Amazon universe. Prior to the sale to Amazon, Canvas raised $15 million in a Series A funding round led by Playground Global.
Article continues below advertisement
Article continues below advertisement
A statement by an Amazon spokesperson at the time of the 2019 Canvas acquisition said, "We are inspired by Canvas Technology's innovations, and share a common vision for a future where people work alongside robotics to further improve safety and the workplace experience."
Why did Amazon acquire Canvas Technology?
Canvas Technology's autonomous cart was showcased at the Playground Global open house about a year prior to the acquisition, TechCrunch reported. The system uses 3D imaging and in-house software that's also applicable to other types of hardware.
Article continues below advertisement
In 2019, when the acquisition was complete, Amazon said, "We look forward to working with Canvas Technology's fantastic team to keep inventing for customers."
Article continues below advertisement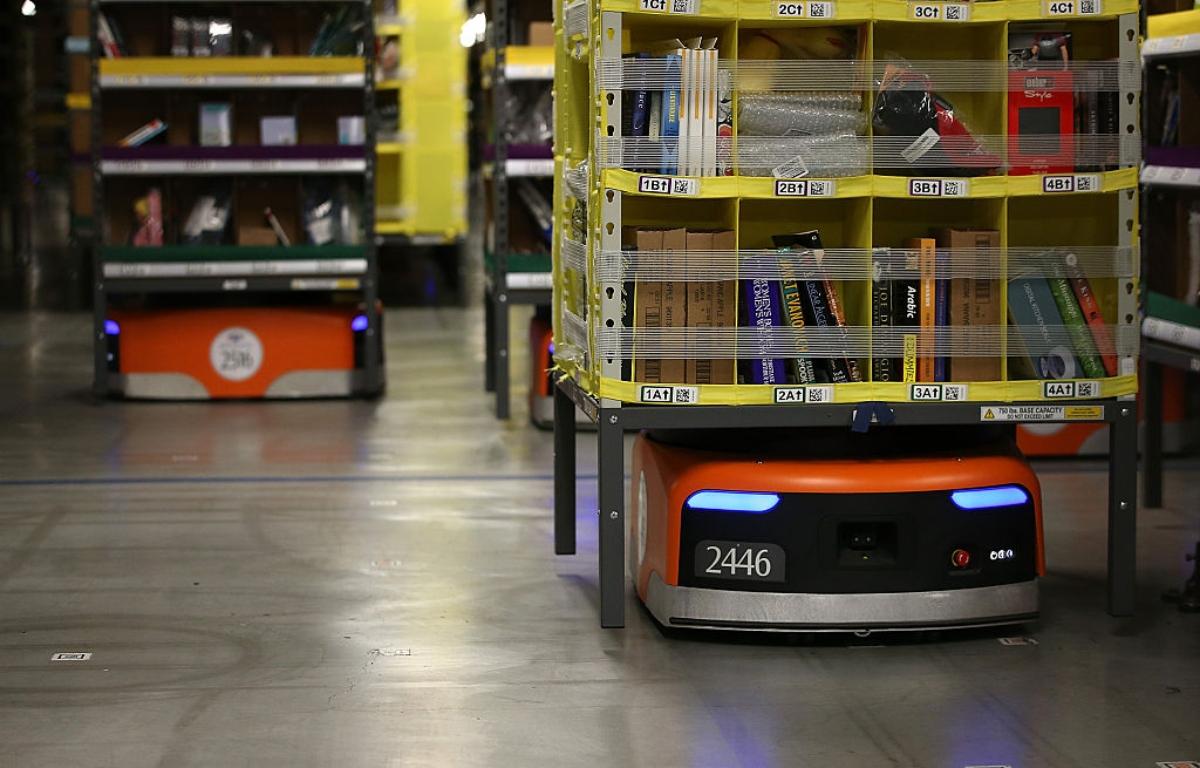 Article continues below advertisement
Canvas has robotic safety precautions.
As with any autonomous technology, workplace safety is a key aspect of a company's success. Amazon provided robotics safety vests for employees to use anytime they needed to enter the fenced-off area intended for Kiva robotic systems.
For Canvas Technology robots, safety is fairly simple thanks to the autonomous vision system. In addition, as TechCrunch noted, the system is designed more specifically to interact directly with warehouse workers. Canvas robots operate essentially like a self-driving car, but in a warehouse setting.
Article continues below advertisement
Article continues below advertisement
Amazon Robotics has secured key deals.
Amazon bought robotics company Kiva Systems and announced the $775 million deal on March 19, 2012. At that time, Kiva was its 25th merger and acquisition transaction since 2007, Pitchbook reported.
Kiva's addition to Amazon's operations helped the company seriously reduce the time from customer purchase to shipping, thanks to the speed with which autonomous robots could fulfill purchase orders.
Article continues below advertisement
Meanwhile, Amazon Robotics has its hub located in North Reading, Mass., and another location in Westborough. The company said, "Current advancements are underway in autonomous movement and mobility, artificial intelligence and machine learning, manipulation, simulation, robotic management software, predictive analytics, and much more."
Another part of Amazon's efforts in the robotics space is its autonomous robot designed for home use, Amazon Astro. The company unveiled the new product in its fall demonstration as a home companion that's able to assist with security tasks like alerting the owner to appliances left running or checking on loved ones.