Are Todd and Julie Chrisley Broke? Couple Lied About Net Worth for Years
It's a "very sad, heartbreaking" time for the family of reality TV stars Todd and Julie Chrisley. The Chrisleys were recently convicted of 12 counts of tax evasion, bank and wire fraud, and conspiracy. Known for their lavish lifestyle portrayed on Chrisley Knows Best, are the Chrisleys broke now that they've been convicted?
Article continues below advertisement
It's hard to say how much money the Chrisleys actually have because they apparently have been lying about their wealth for years. Their June 7 conviction centers around $30 million in fraudulent loans the Chrisleys obtained by forging documents.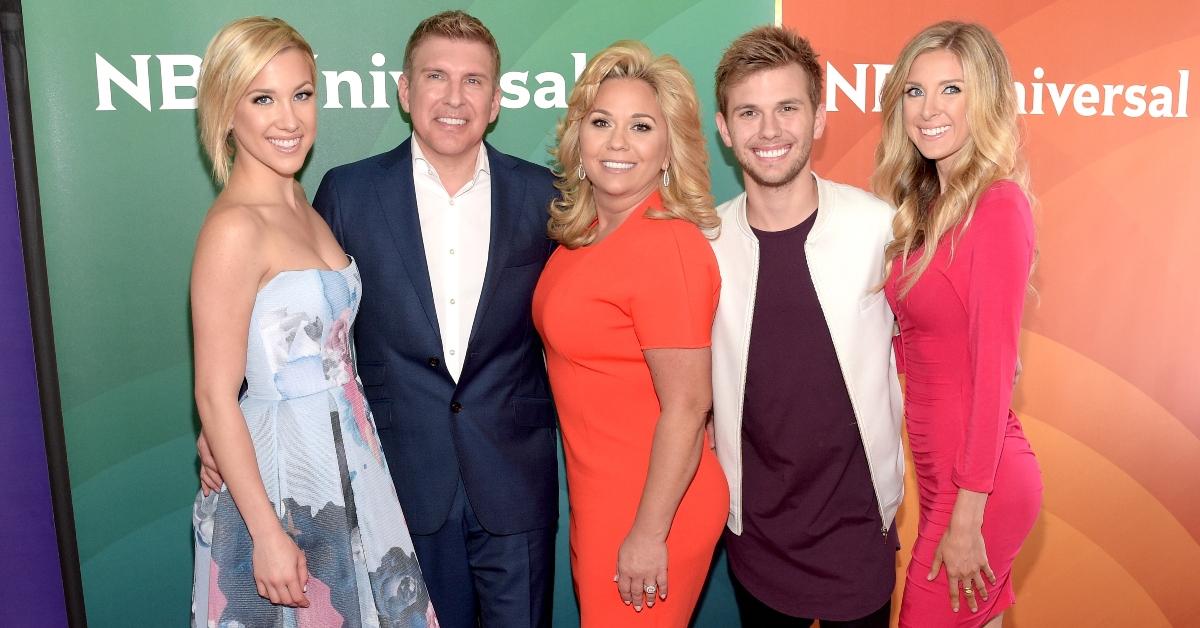 Article continues below advertisement
According to Celebrity Net Worth, Todd's net worth is $1.5 million. While that sounds like a nice chunk of change, it's a far cry from the $50 million that the couple's net worth used to be estimated at.
The legal and court fees the Chrisleys had to pay to fight the fraud charges, plus the cost of an appeal, are sure to widdle away at any remaining money they may have. Plus, the conviction could mean that both Todd and Julie could be fined up to $1 million and sentenced to up to 30 years in jail.
Article continues below advertisement
Todd Chrisley talked about the conviction on his 'Chrisley Confessions' podcast.
Todd addressed the couple's conviction on a recent episode of their podcast Chrisley Confessions. The couple was released on bond but must participate in home detention and a location monitoring program, Deadline reports.
"I know all of you guys are wanting to know every detail that is going on in our lives, and I have to ask that you respect that we're not allowed to talk about it at the present time. There will come a time to where all of it is discussed," Todd said on the podcast. "We did want to come on today and let everyone know that it's a very sad, heartbreaking time for our family right now. But we still hold steadfast in our faith, and we trust that God will do what he does best because God's a miracle worker."
Article continues below advertisement
What did Todd Chrisley do for a living before reality TV?
Before Todd entered the realm of reality television, he was a real estate investor, and he was somewhat successful at it at first. But his lavish spending and borrowing new loans to pay off older loans eventually caught up with him. His company, Chrisley Asset Management, filed for bankruptcy in 2013.
Todd's business dealings at Chrisley Asset Management between 2007 and 2012 got him and his wife in trouble with the feds. The couple was accused of running a "scrapbooking" scheme to obtain bank loans with phony documents pieced together to make them appear to have more money than they did.
Article continues below advertisement
"In all, they received at least $60 million in loans from banks, all of them by fraud," former employee Mark Braddock told the court.
Article continues below advertisement
The facade of their luxurious life and wealth helped the Chrisleys get a million-dollar deal for their own cable reality TV show Chrisley Knows Best in 2013. The couple opened a side company, 7C's Production, to hide money, federal prosecutors claimed.
Todd and Julie Chrisley will be sentenced in October.
Sentencing for the Chrisleys is scheduled for October. The couple faces up to 30 years in prison. Their attorneys have said they plan to appeal the court's decision.