ACRX Stock Has a Strong Start in 2021, Still a Risky Bet for Investors
By Mohit Oberoi, CFA

Jan. 14 2021, Published 8:19 a.m. ET
AcelRx (ACRX) stock made a new 52-week high of $2.12 on Jan. 12. However, the stock fell almost 9 percent on the next trading day. It's among the biggest gainers in 2021 with a YTD rise of over 60 percent until Jan. 13. What's the forecast for ACRX stock and will it continue to rise? 
Article continues below advertisement
AcelRx is a specialty pharmaceutical company that's focused on developing and commercializing innovative therapies. It isn't unusual for pharmaceutical companies, especially those that are working on developing a new medicine, to witness volatility when they release their trial results.
Article continues below advertisement
AcelRx's latest news
There hasn't been any official news from AcelRx in 2021. The last public news was on December 10, 2020, when the company released the trial results for its sublingual opioid DSUVIA. The same day, AcelRx announced a stock offering to raise $10 million.
Why DSUVIA is important for ACRX stock
According to AcelRx, DSUVIA "is indicated for use in adults in certified medically supervised healthcare settings, such as hospitals, surgical centers, and emergency departments, for the management of acute pain severe enough to require an opioid analgesic, and for which alternative treatments are inadequate."
Article continues below advertisement
AcelRx estimates that DSUVIA has the potential to reach over $1 billion in annual revenues. To put that in perspective, AcelRx posted revenues of only $2.29 million in 2019. However, clinical state pharmaceutical companies like AcelRx don't report meaningful revenues during the trial phase.
ACRX stock's valuation
Currently, ACRX stock is valued at an NTM EV-to-revenue multiple of 8.4x. The multiple doesn't look high considering the risk-return profile. Since the company isn't generating profits right now, which is quite common for pharmaceutical companies in the early phase, we can't value it on earnings-based valuation metrics like the PE multiple.
Article continues below advertisement
ACRX's stock forecast
Since ACRX is a penny stock, not many analysts cover it. According to the estimates compiled by TipRanks, only three analysts are covering AcelRx. The stock has an average target price of $7, which is more than a 250 percent premium over its current stock price. All three analysts have a buy rating on ACRX stock. The lowest price target is $5, while the highest price target is $9.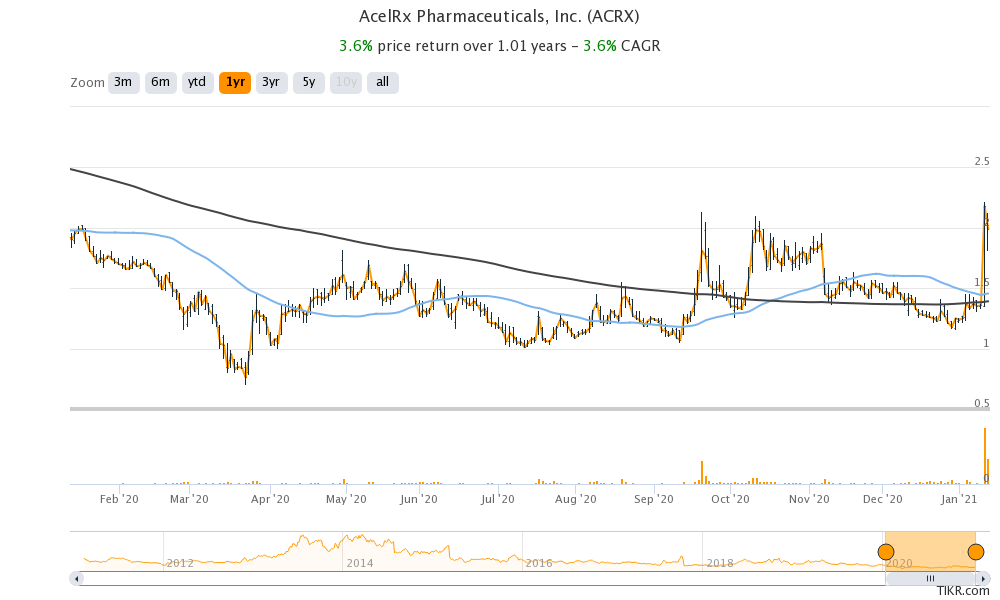 Article continues below advertisement
AcelRx stock is a risky bet
ACRX stock has a market capitalization of only about $180 million and is a penny stock. Penny stocks, especially of clinical state pharmaceutical companies, are a risky bet. However, if the clinical trials succeed and the product is commercialized, clinical-stage pharmaceutical companies can be multi-bagger.
Talking of ACRX, if DSUVIA reaches anywhere near the $1 billion annual revenues that the company is forecasting, the stock could be a multi-bagger. Think of it this way, even a 2x revenue multiple of DSUVIA's forecasted revenues would mean ACRX stock getting a market capitalization of $2 billion or more than 10x its current valuation.
Article continues below advertisement
However, there are risks associated with the company including an unfavorable market response to DSUVIA as well as other products from AcelRx. Also, investors would have to take a long-term view of the stock and should be comfortable with heightened volatility in the short term before investing in ACRX stock.
ACRX stock's technical indicators
After the spike in January, ACRX stock is now trading above its 200-day SMA (simple moving average) as well as 50-day SMA, which is a bullish technical indicator. However, its 14-day RSI (relative strength index) of 70.5 signals overbought positions.