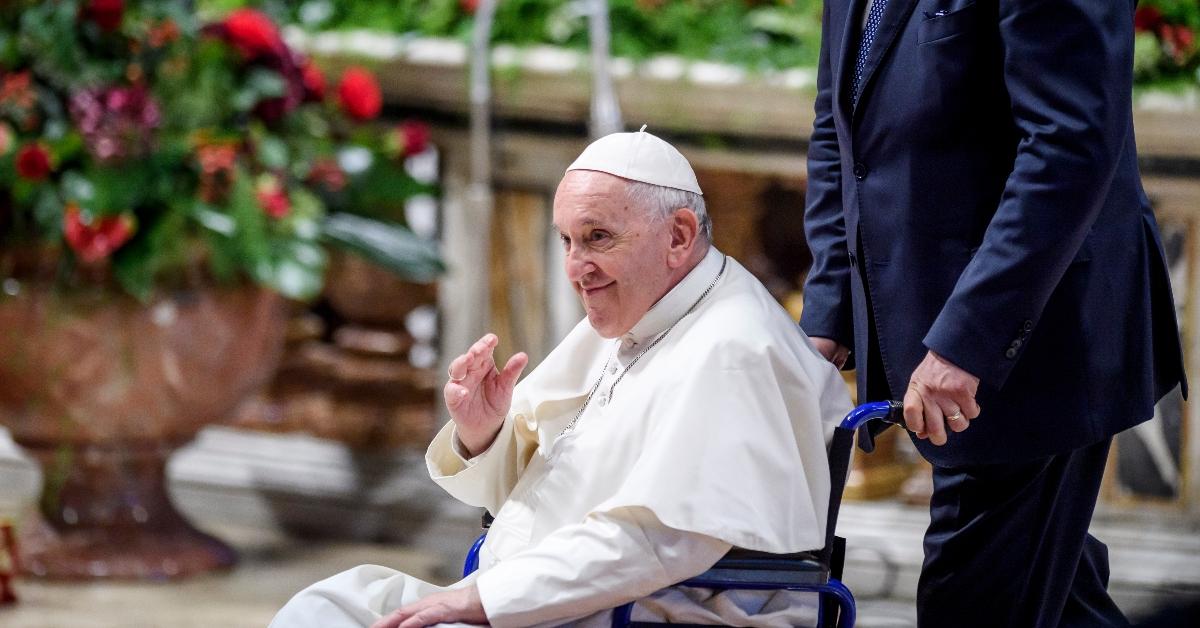 Why Is Pope Francis in a Wheelchair? Pontiff Visits Canada This Week
When Pope Francis landed in Canada July 24 on his "trip of penance" to apologize to the country's indigenous people for the abuse of their children at Catholic Church-run residential schools, he left the plane in a wheelchair. Why is Pope Francis in a wheelchair?
Article continues below advertisement
The 85-year-old pontiff has been using a wheelchair for most of this year primarily due to problems he has been having with his knee. In January, the Pope stayed seated during meetings due to an inflamed knee ligament, the Catholic News Agency (CNA) reports.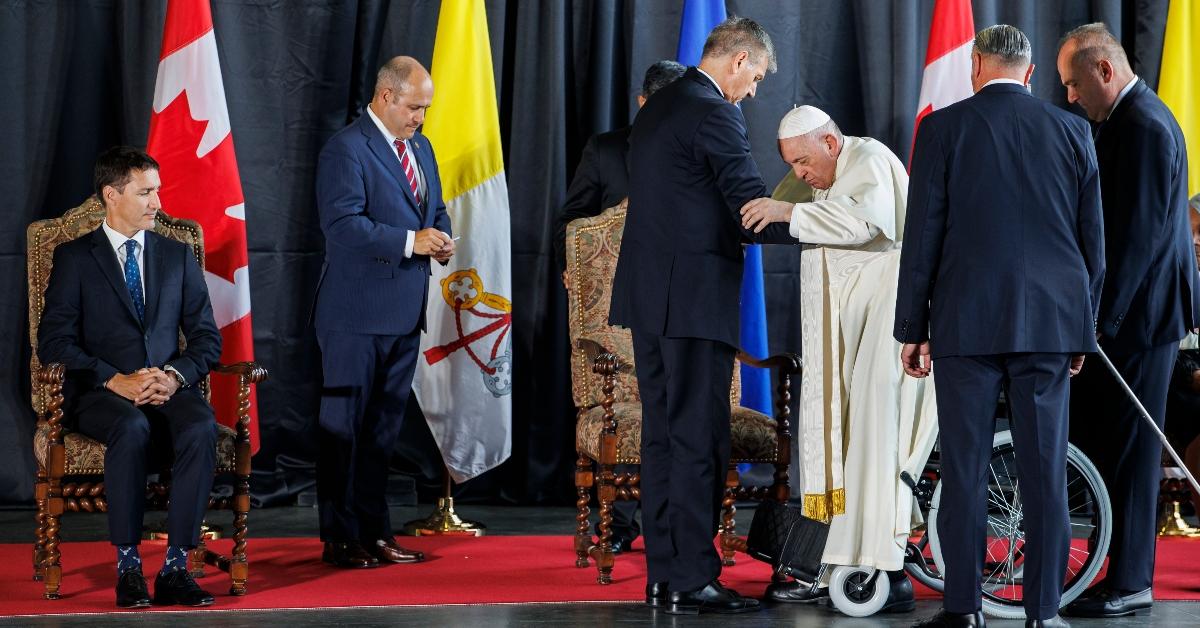 Article continues below advertisement
CNA reports that, at one meeting, the Pope told journalists, "Excuse me if I stay seated, but I have a pain in my leg today ... It hurts me, it hurts if I'm standing."
Pope Francis has canceled or postponed events due to knee pain.
The knee has reportedly continued to give the Pope problems, causing him to cancel or postpone several scheduled events. In February, he canceled a trip to Florence and Ash Wednesday Mass due to his knee issues, CNA reports. His knee pain also affected his participation in the Vatican's Good Friday and Easter services.
Article continues below advertisement
In May, the Pope underwent a medical procedure to repair a torn ligament in his right knee, CNA reported. He is also undergoing two hours of rehabilitation daily.
"Do you know what I need for my knee? A bit of tequila," Pope Francis joked with a seminarian from Mexico who thanked him for attending a May 15 Mass at St. Peter's Square, despite his knee problems.
Article continues below advertisement
Earlier this month, the Pope also had to cancel trips to the Democratic Republic of Congo and South Sudan because of his knee problems, Reuters reports.
Article continues below advertisement
Rumors are circulating that Pope Francis will retire soon.
Concerns over the Pope's health have resurrected rumors that he may be considering retirement soon. In December, he'll celebrate his 86th birthday, and if he is still in office, he will be the oldest Pope to serve in the role since Pope Leo XII, who remained pontiff until his death at 93 in 1903.
Pope Francis apologizes to Canada's indigenous people.
Article continues below advertisement
For decades, indigenous children were reportedly forcibly separated from their families and enrolled in schools in an effort to assimilate them into white Canadian culture. According to a 2015 report by the Truth and Reconciliation Commission of the Canadian government, many children in these schools were physically or sexually abused, and some never returned home.
Article continues below advertisement
In 2021, a mass grave containing the remains of 215 children was found at the site of a former residential school in British Columbia, The New York Times reported. That school closed in 1978.
"For the deplorable behavior of those members of the Catholic Church, I ask forgiveness from God, and I would like to tell you from the bottom of my heart that I am very pained," Pope Francis said in April when a group of indigenous leaders visited the Vatican, Reuters reports. "I feel shame – sorrow and shame – for the role that a number of Catholics, particularly those with educational responsibilities, had in all these things that wounded you, in the abuses you suffered and in the lack of respect shown for your identity, your culture and even your spiritual values,"