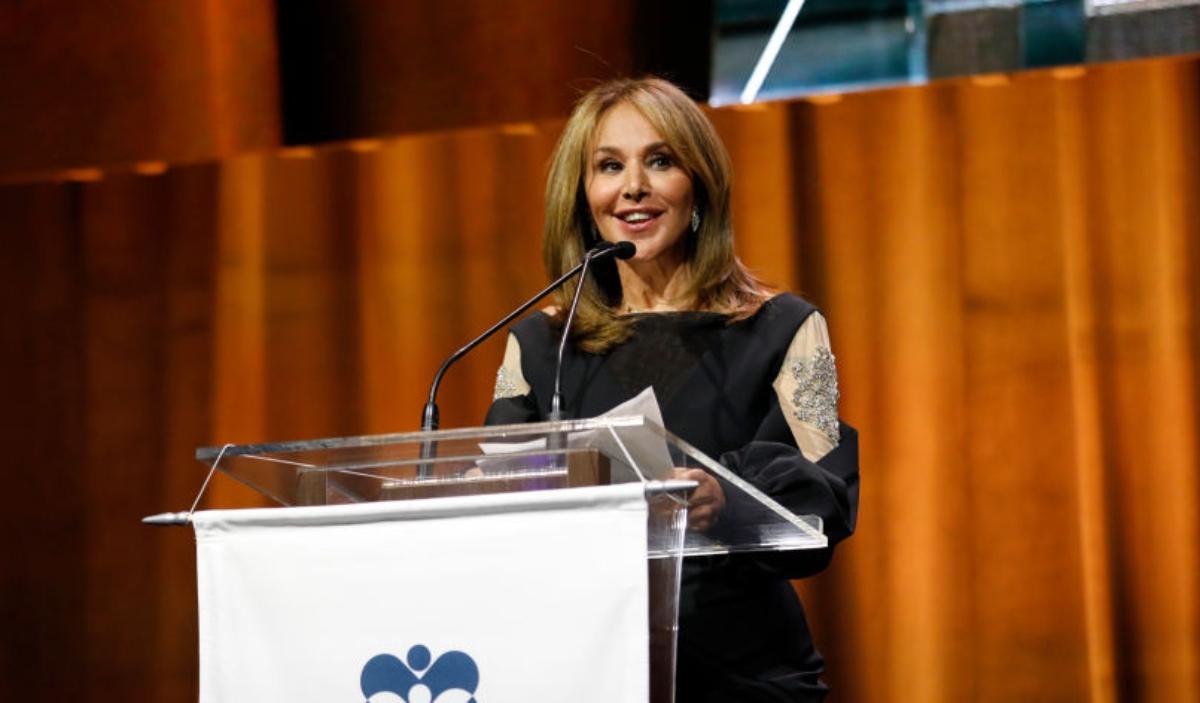 What Are Rosanna Scotto's Political Beliefs?
A longtime television anchor with Fox 5 News at WNYW, Rosanna Scotto co-hosts Good Day New York. Her career began at an Atlanta news station launched by Ted Turner and led her to host Good Morning New York, the precursor to the eventual Live With Regis and Kathie Lee. Does Scotto ever talk about her political beliefs on the air?
Article continues below advertisement
Scotto has mentioned Republican leanings over the years as a broadcast journalist. For example, she interviewed Ann Coulter in 2015 to discuss her book Adios, America! Scotto posted on her Facebook page that she would discuss with Coulter why Donald Trump "should not apologize for immigration comments."
When tweeting about the upcoming election day in 2016, although Scotto didn't come right out to say she would vote for Trump, commenters appeared to be for Trump or comment about how Scotto seemed to support Trump. Scotto is also a practicing Catholic, which could indicate one could expect her to be a Republican or conservative voter.
Article continues below advertisement
Rosanna Scotto was friends with Ivana Trump.
Scotto was photographed last year with Ivana Trump at Fresco by Scotto, the Italian restaurant she co-owns with family members. Scotto was also an invited guest to Ivana's recent funeral.
Rosanna Scotto's husband is Louis Ruggiero.
Since 1986, Scotto has been married to Louis Ruggiero, an attorney. Together, the couple have raised two children. She said in a 2012 interview with National Catholic Reporter that her husband was "very supportive of my demanding career."
Article continues below advertisement
As a Catholic, Scotto values her faith deeply. She also said in 2012, "Together, we try to raise our two children, Jenna and LJ, with the same old-fashioned values we grew up with. Our kids attended Catholic grammar school because we wanted to make sure they had a strong foundation."
Article continues below advertisement
Rosanna Scotto is an anchor for Fox 5 News.
A journalist with Fox 5 for many years, Scotto has covered stories that took her to Israel, Rome, and many locations across the U.S.
Some high-profile stories she's reported on, as mentioned in her online biography, include the first exclusive interview with Diana Bianchi (involved in Christie Brinkley's divorce case), the child custody case for Woody Allen and Mia Farrow, the trials of Joel Steinberg and the so-called "Swiss Nanny," and more.
Article continues below advertisement
As an anchor for Fox 5 News at 10 and Good Day New York, Scotto has won three Emmy Awards. Scotto has also won several Associated Press First Place nominations and awards over the course of her career.
Rosanna Scotto's salary at Fox is uncertain.
It isn't clear from public record how much Scotto earns at Fox 5 News. However, given her longevity with the same network, the network likely pays her well for having over 30 years of experience. Futureofworking.com stated that as of 2015, her estimated net worth was $2.5 million.
Rosanna Scotto has also had a minor acting career.
Scotto has appeared in cameos and small roles, playing herself in an episode of New York Undercover in 1997. In 1998, she again played a news anchor in The Object of My Affection. She had other small roles in Ransom, Lisa Picard Is Famous, The Scout, a remake of Miracle on 34th Street, and 2016's Ghostbusters film.