How Darth Putin's Twitter Suspension Ended Up Making the Parody Account Famous
Darth Putin, a Putin parody Twitter account, was so close to resembling the real Russian president, Twitter actually suspended the account for a while. Here's the whole saga.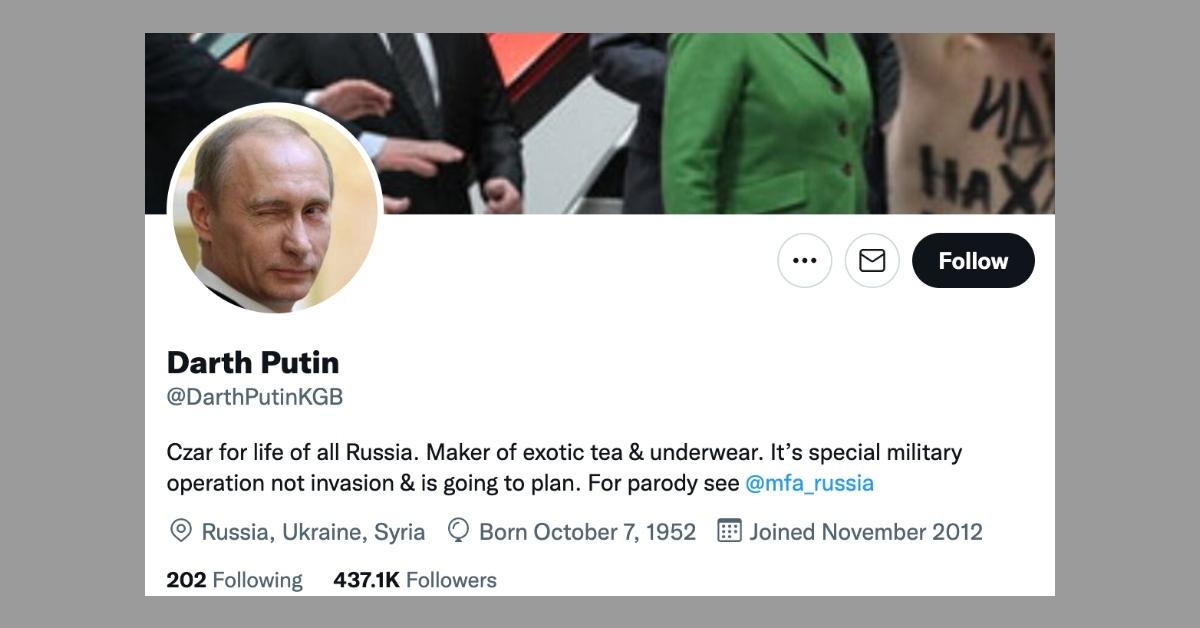 Few dictators have been described as having a great sense of humor, particularly about themselves. So, it's safe to say, if he's aware of Darth Putin on Twitter, Russian President Vladimir Putin isn't a fan of the parody account.
Back in 2016, @DarthPutinKGB and several other accounts parodying the Kremlin were suspended without warning, leading many fans and the account owners themselves to conclude that Russian Federation officials had strong-armed the social network to take down the accounts.
Article continues below advertisement
Article continues below advertisement
The public outcry was swift and persistent, and it wasn't long before Twitter reversed its decision to suspend Darth Putin as well as several other accounts lampooning Russia's leaders. Among them were @SovietSergey, a parody of Russian foreign minister Sergey Lavrov, and @AmbYakovenkoNot, a spoof of Russia's ambassador to the U.K.

Article continues below advertisement
If the Russian government was indeed behind the effort to suppress Darth Putin's reach, it was a severe misfire. Due to all the attention surrounding the suspension, the Putin parody account's popularity soared. While its follower account before suspension was only around 53,000, it now boasts over 400,000.
Who is behind Darth Putin?
Very little is known about the identity of the person behind the Darth Putin account, and that's by design. The owner wishes to remain anonymous. While they haven't stated their reasons, it's reasonable to assume they would rather not become the target of Russian hackers and trolls, but it's also possible they work in some capacity where it would be inappropriate to reveal they spend their spare time making fun of a Russian dictator.
Article continues below advertisement
Article continues below advertisement
And whoever it is seems to have been successful at remaining in the shadows for the nearly 10 years the account has existed — you know, give or take a day-long suspension. Based on their grammar, spelling, and media consumption, it's safe to assume (though not definite) that an America runs the show.
Article continues below advertisement
Putin is likely not a Twitter user.
You might be wondering, is the real Putin on Twitter? Well, if he has a personal account, he keeps it low key. However, there's an official account for the President of Russia. The English language handle is @KremlinRussia_E, and hasn't been updated since March, just a few weeks after Russia invaded Ukraine. The Russian-language version, @KremlinRussia has been dormant for just as long.
Article continues below advertisement
Both official accounts were established by former Russian President Dmitry Medvedev in 2010. Medvedev, who is currently deputy chairman of the Russian Security Council, was preceded and succeeded by Putin. (During those years, Putin served as Prime Minister and was seen as a shadow president).
The account only follows 22 others. Curiously, one of them is Elon Musk.
Putin denies and involvement with the official account, which generally only shares occasional updates on the Russian president's activity, such as phone calls with foreign heads of state, and professes to not have a personal account.