Klondike Is Discontinuing the Choco Taco — Fans Aren't Pleased
Growing up, Klondike's Choco Taco always caught the attention of hot and hungry children who were patiently waiting at an ice cream stand or truck for their turn to make a purchase. Sadly, that delicious ice cream treat, which replaces the traditional taco shell with a waffle cone filled with vanilla ice cream, swirls of chocolate, and peanuts, is going away — forever.
Article continues below advertisement
Why is Klondike discontinuing the Choco Taco? The treat has been on the market for nearly 40 years. Here's what we know.
After spending nearly 40 years on the market, it's time to say goodbye to the Choco Taco.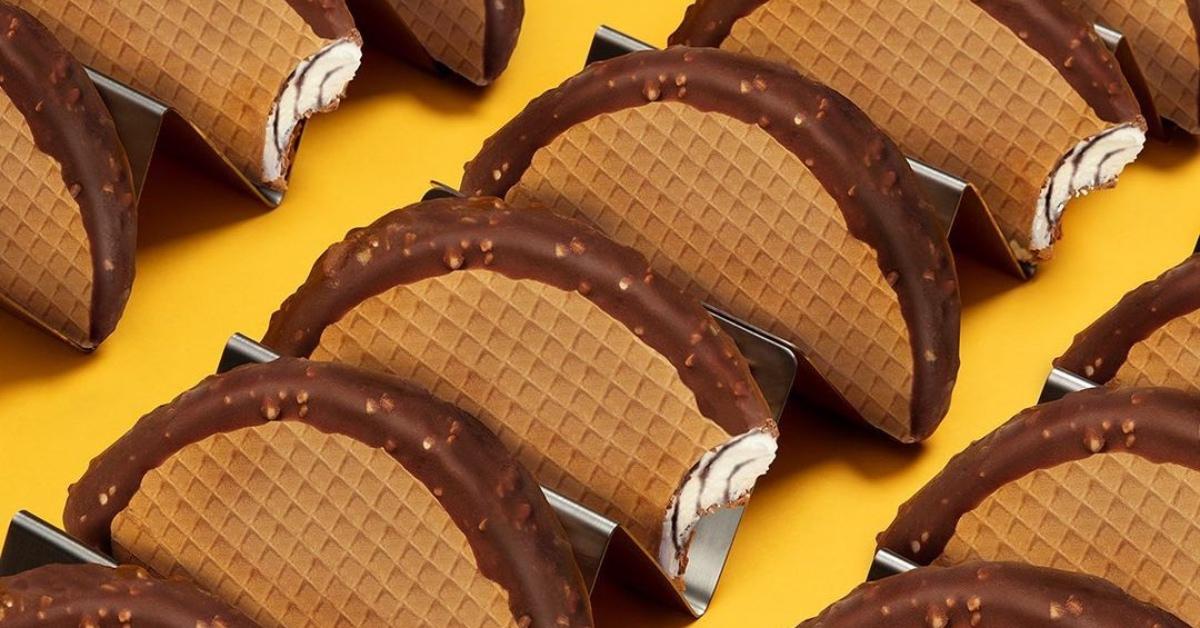 Klondike, parented by Unilever, confirmed via its website that the company is doing away with the Choco Taco after having it on the market for nearly 40 years now. Under the product's description, instead of finding a list of retailers that currently sell the item, we found this message:
Article continues below advertisement
"The Klondike Choco Taco has unfortunately been discontinued in both 1ct and 4ct pack sizes. Over the past two years, we have experienced an unprecedented spike in demand across our portfolio and have had to make very tough decisions to ensure availability of our full portfolio nationwide."
Klondike added in its message that its decision to end the lifespan of its cold, crunchy, and creamy treat was "unfortunate" and "disappointing" but that the company hopes consumers will "try [its] other delicious frozen treats, including Klondike Cones, Shakes, Sandwiches, and of course, [its] signature Bar available nationwide."
Article continues below advertisement
Fans of the Choco Taco shared their disappointment on Twitter in these hilarious tweets.
As saddening as the news may be that Choco Tacos will be gone forever, Twitter users made light of the situation with these ridiculously funny tweets.
Article continues below advertisement
Article continues below advertisement
Are Choco Tacos still being sold?
The overwhelming response to Choco Tacos being discontinued now has many asking where the remaining ice cream tacos are being sold. On Feb. 22, Klondike announced via Instagram that it was bringing the beloved sweet treat to select Taco Bell locations, though that promotion may have already ended.
Article continues below advertisement
If you can't find it there, you may still be lucky enough to snag a box at your local supermarket. Until the remaining Choco Tacos are sold (or expire), they will continue to be sold by certain retailers including Walmart, Albertsons, and Kroger.
Some can't bear the thought of losing the Choco Taco and are looking to save the product from its demise.
If you grew up eating Choco Tacos, chances are you're having a hard time swallowing Klondike's latest news. Instagram user Coco Barner (@ cocothegnome) is one who simply couldn't let the news go without a response.
Article continues below advertisement
The Instagram user said, "@tacobell thank you for bringing back the Mexican pizza @klondikebar how dare you get rid of this national treasure during summer!!! Why are you hurting us??? Haven't we been through enough!?"
Alexis Ohanian, the co-founder of Reddit, was another who felt compelled to respond to Klondike's announcement. On July 25, Ohanian tweeted, "Dear @Unilever — I'd like to buy the rights to your Choco Taco and keep it from melting away from future generations' childhoods." It isn't clear whether Unilever or Klondike has responded to Ohanian's offer.