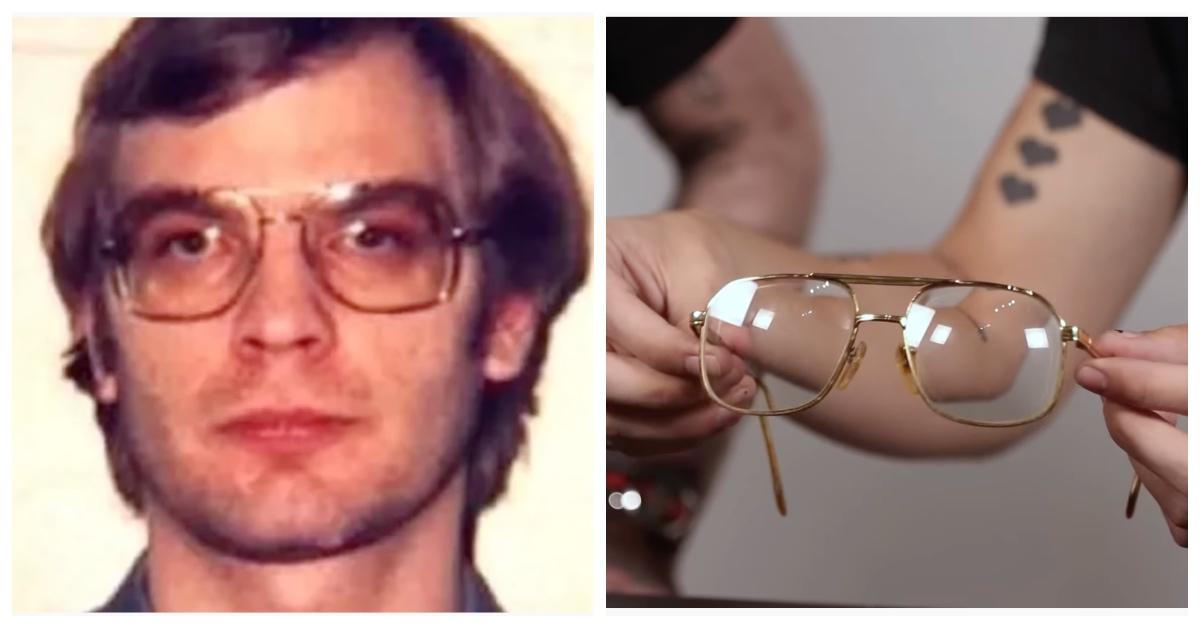 Yes, You Can Buy Jeffrey Dahmer's Prison Glasses — For a Hefty Price
After Jeffrey Dahmer was sentenced to 15 consecutive life sentences for murdering over a dozen men he lured into his apartment, he entered his prison cell with two things intact, the realization he would never be a free man again and his glasses, a staple piece that completed his signature look.
Article continues below advertisement
Although Dahmer didn't last long in prison as he was beaten to death by a fellow inmate, his glasses survived and are now available for you to buy. Read on to find out more about who's selling Dahmer's glasses and how much you would have to pay for the serial killer's specs.
A rare collectibles store is reportedly selling Jeffrey Dahmer's glasses and other pieces of his personal property.
Dahmer isn't exactly an idol or someone you would admire, but he's certainly a person of interest. During the first week the Netflix series Monster: The Jeffrey Dahmer Story launched on the platform, the BBC says it was watched for 196.2 million hours. As of Oct. 1, it was also the number one show on Netflix.
Article continues below advertisement
As disturbing (and disgusting) as Dahmer's crimes were, many people seem to collectively agree that they like his shades, with rapper Rick Ross being one of them. Back in September, Ross took to Twitter with a request from his fans: "Locate me a pair of Dahmer shades."
While it wasn't clear if the artist wanted a pair that actually belonged to the killer or some specs that closely resemble them, we discovered that a pair of Dahmer's glasses may be available for purchase.
Article continues below advertisement
According to TMZ, Cult Collectibles, based out of Vancouver, Canada, is currently the possessor of Dahmer's prison glasses. Although the company's owner, Taylor James, doesn't have the glasses listed for sale on his website alongside other Dahmer memorabilia, he told the source he's willing to sell the item for $150,000. Those who are interested will need to contact James directly to settle the deal.
Jeffrey Dahmer's handwritten school project is also for sale — for $15,000.
James told TMZ that in addition to receiving Dahmer's glasses a few years ago, he was also given dozens of pieces of Dahmer's personal property. He says that after he was contacted by a former housekeeper for Dahmer's father, Lionel, the two agreed he would list items on his website and collect a portion of the profit.
Article continues below advertisement
While much of the Dahmer collection is sold out, there are still a few pieces you can buy. For example, the site lists one of Dahmer's tax refund forms for $2,500 and his confession statement for $8,500. You can also buy a handwritten school project belonging to Dahmer for a whopping $15,000 or his urn for $250,000.
An original family photo that was taken in 1973 and features Dahmer, his brother, and his father, is also up for sale, for $4,000. Dahmer was only 13 years old at the time and is pictured wearing similar shades to those he wore in prison.
Cult Collectibles not only sells Dahmer memorabilia but also rare and one-of-a-kind items or "murderabilia," as the website refers to it, that center around crimes and cults.