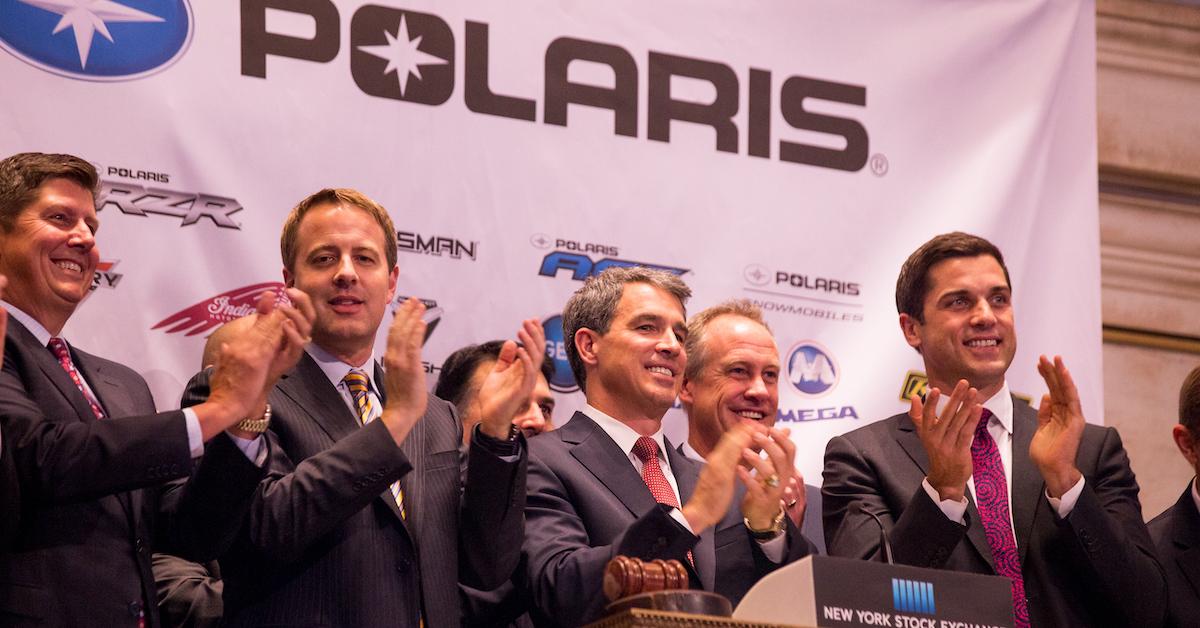 Snowmobile Company Polaris Issues Its Second Recall This Month
Snowmobile company Polaris has announced that several of their snowmobiles are being recalled. When people purchase any type of machinery, especially a vehicle, a recall is the last thing they want to experience. So, why are Polaris snowmobiles being recalled?
Article continues below advertisement
Polaris is an automotive manufacturer based in Medina, Minn. The company was founded in 1954 by Edgar Hetteen, David Johnson, and Allen Hetteen. Polaris specializes in all-terrain vehicles including motorcycles and snowmobiles. The current CEO of Polaris is Michael T. Speetzen, who assumed the role in 2021. Polaris has a slew of subsidiaries including but not limited to Victory Motorcycles, Taylor-Dunn Manufacturing, Aixam, Klim, Slingshot, and Indian Motorcycle.
Article continues below advertisement
Why is Polaris recalling snowmobiles?
According to StarTribune, Polaris announced that its snowmobiles raised concerns regarding fuel tanks. Polaris snowmobile fuel tanks posed fire hazards, mainly after extended storage. There have been 30 gas tank ruptures and 16 fires caused by the gas tanks. The recall affects 230,000 snowmobiles globally.
"We recognize this is frustrating and an inconvenience for our dealers and customers, but safety is the driver behind our decision and we are committed to making this right," stated Polaris spokesperson Jess Rogers in an email. The models affected by the recall are the Matryx snowmobiles manufactured between 2021 and 2023, Axys models from 2015 to 2022, and 2013/2014 Trail Performance snowmobiles. Polaris has issued a stop-ride and stop-sale order for all the affected models.
Article continues below advertisement
The announcement comes with strict directions to minimize further accidents. It says, "Consumers should immediately stop using the impacted units. Polaris is currently evaluating a comprehensive action plan to correct this concern at no cost to consumers and will contact affected consumers once determined." The statement continued by saying that snowmobile owners shouldn't try to make any repairs on their own and that if a rider must use their snowmobile, they need to ensure the tank is full or add fresh gasoline if needed.
Article continues below advertisement
This is Polaris second recall this month.
This isn't the first time Polaris has had to do some recalls on its products. Just a few days ago, Polaris issued a recall for the 2022 Patriot Boost RMK Khaos and the Patriot Boost PRO RMK snowmobiles. The recall affected an estimated 3,800 units worldwide. The issue that led to the recall is what Polaris describes as an "increased risk of primary (drive) clutch bolt failure."
For these snowmobiles, Polaris says, "Certain primary clutch bolt failures can cause clutch components to be separated from the unit, posing a potential injury hazard to consumers." Similar to its current recall, Polaris instructed owners to avoid doing their own repairs and take their snowmobile to the nearest Polaris dealer for a free repair and update.