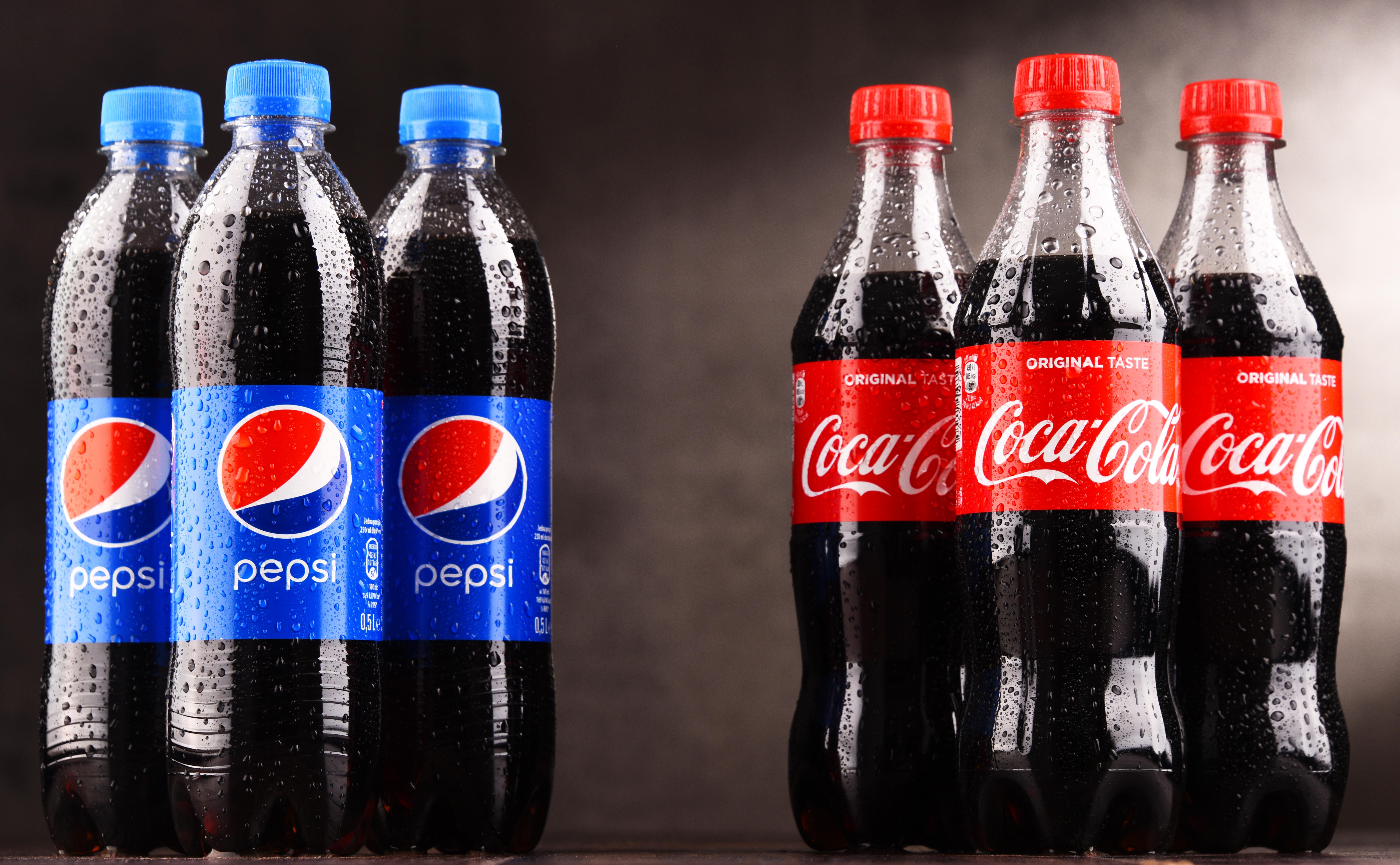 How Did PepsiCo and Coca-Cola Perform in 2019?
The food and beverage giant PepsiCo (PEP) stock has surged 23.9% since the beginning of 2019. Meanwhile, the stock of its closest peer, beverage giant Coca-Cola (KO), has risen 15.5% year-to-date as of December 24. The benchmark S&P 500 index was up 28.6% year-to-date as of December 24.
While competing with each other, both companies have also been facing increased competition from companies selling beverage categories in the evolving non-carbonated drinks space, like plant-based and functional beverages. PepsiCo and Coca-Cola are implementing various strategies, including innovation and marketing, to improve their revenues. The companies chose these strategies to gain a competitive edge amid growing direct and indirect competition.
Article continues below advertisement
Product innovation
In the wake of increasing rivalry, the beverage giants have been innovating better beverages and low- or no-sugar variants to cater to health-conscious consumers.
Coca-Cola displayed an array of innovative beverages during the NACS (National Association of Convenience Stores) show held in October. Some of its new drinks showcased at this event included Coca-Cola Energy, new flavors in its Peach Tea iced tea line, Dunkin' Cold Brew Coffee in Caramel Black and Midnight Black flavors, four new flavors of Smartwater, Simply Tea in three varieties, Odwalla Zero Sugar smoothies in three flavors, three flavors of its new omega-3 superfusion beverage called Gomega, and Sprite Winter Spiced Cranberry.
Coca-Cola launched Coca-Cola Energy in Hungary and Spain. It's now available in over 25 countries. The company plans to launch it in the US market in 2020.
PepsiCo competes in the energy drinks category through Mountain Dew Kickstart and Amp Energy. It developed MTN DEW AMP GAME FUEL specifically for gamers. It also launched a new functional beverage, Bolt24, under its Gatorade sports drink brand. Bolt24 provides all-day hydration for athletes.
Additionally, PepsiCo is launching Pepsi Café in April 2020 to expand in the cola-coffee space. Coca-Cola sells its Coca-Cola Plus Coffee drink in several international markets but hasn't launched in the US yet.
Likewise, Coca-Cola acquired the world's second-largest coffee chain, Costa, in early 2019. It acquired Costa from Whitbread PLC for $4.9 billion. Through this acquisition, Coca-Cola aims to expand in the global coffee market, which is estimated to grow 6% annually.
PepsiCo and Coca-Cola's recent performance
PepsiCo and Coca-Cola announced their third-quarter earnings in October. Both consumer staple companies beat analyst revenue estimates. PepsiCo's third-quarter revenue grew 4.3% year-over-year to $17.19 billion. It exceeded analysts' estimates of $16.92 billion. Meanwhile, Coca-Cola's third-quarter revenue grew 8.3% to $9.51 billion, higher than analysts' prediction of $9.43 billion.
Higher product pricing and strong organic sales growth of 4.3% drove PepsiCo's top-line growth. However, organic sales growth has slowed from 4.8% in the first half of 2019. Higher pricing and favorable geographic mix were key revenue-driving factors for Coca-Cola's third-quarter revenue. The company reported strong organic sales growth and unit case volume growth of 5% and 2%, respectively.
However, both companies reported a decline in their third-quarter adjusted EPS. Coca-Cola's adjusted EPS fell 1.8% year-over-year to $0.56, in line with Wall Street's expectations. PepsiCo's adjusted EPS was down 1.9% to $1.56. However, it was better than analysts' forecasts of $1.50.
Overall, PepsiCo's revenue has grown 3.1% year-over-year to $46.52 billion during the first nine months of 2019. In comparison, Coca-Cola's revenue grew by 6.4% year-over-year to $28.20 billion over the same period.
Article continues below advertisement
Full-year outlook
Coca-Cola has maintained its 2019 outlook with expectations of organic sales growth of at least 5%. The company projects its 2019 adjusted EPS growth between -1.0% to 1.0% compared to $2.08 in 2018. Analysts estimate the company's 2019 adjusted EPS to grow 1.2% to $2.11 this year.
Meanwhile, PepsiCo expects to meet or exceed its organic sales growth target of 4% for 2019. Innovation and continued momentum in its Frito-Lay snack business are expected to drive PepsiCo's performance. However, it has projected a decline of around 3% in its 2019 adjusted EPS from $5.66 in fiscal 2018. Analysts estimate PepsiCo's 2019 adjusted EPS to decline 2.6% to $5.51.
Analysts' recommendations for PepsiCo and Coca-Cola
A majority of the analysts have a bullish stance for Coca-Cola's stock. Currently, 56% or 13 analysts out of 23 analysts rate Coca-Cola stock a "buy" while the rest rate it a "hold." Meanwhile, 33% or seven out of 21 analysts have a "buy" recommendation for PepsiCo stock. Thirteen analysts have recommended a "hold" while one has a "sell" rating.
Currently, analysts see more upside in Coca-Cola stock over the next 12 months. Coca-Cola's stock has a target price of $58.76, with a potential upside of 7.4% for the next 12 months. PepsiCo's stock has an average target price of $139.67, with a potential upside of around 2% over the next 12 months.
Article continues below advertisement
Shareholder returns
PepsiCo and Coca-Cola are widely referred to as "dividend aristocrats," as they have been increasing their dividends for more than 25 consecutive years. PepsiCo has raised its dividend for 47 consecutive years now. Comparatively, Coca-Cola has increased its dividend for 57 years in a row.
This year, PepsiCo raised its quarterly dividend per share by 3.0% year-over-year to $0.96 (or annualized dividend per share of $3.82). Meanwhile, Coca-Cola raised its dividend per share by 2.6% this year to $0.40 (or annualized dividend per share of $1.60). As of December 24, PepsiCo's dividend yield was 2.8%, while Coca-Cola's dividend yield was 2.9%.
PepsiCo repurchased $2.3 billion of its common stock in the first nine months of fiscal 2019. It plans to repurchase shares worth $3 billion by the end of fiscal 2019. Thus, it intends to return around $8 billion to its shareholders, including dividends of about $5 billion in 2019. In comparison, Coca-Cola repurchased 13.7 million shares for $635 million and paid $3.4 billion in dividends in the first nine months of 2019.
The consumer staple giants expect to improve their performance, backed by innovations and technology-aided productivity savings. Higher global volume growth, specifically in emerging markets, is also expected to drive their performance.
Correction: An earlier version of this article suggested that Coca-Cola expects 2019 organic sales growth of 5% instead of at least 5%.