McDonald's Menu Struggles to Shed Its Junk Food Rep
Despite health-related controversies, fast food companies such as McDonald's maintain that they provide consumers with choice and convenience.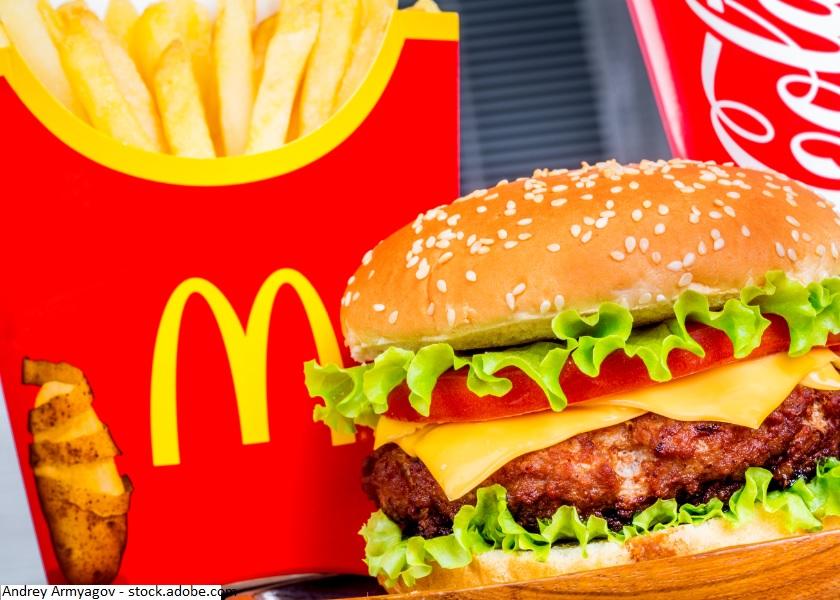 Nobody expects McDonald's (MCD) products to be healthy. For most, the restaurant is synonymous with junk food laden with ingredients that can cause health issues, such as trans fats, petrochemicals, high levels of sugar, and artificial sweeteners. Fast food companies such as McDonald's maintain that they're merely providing consumers with choice and convenience. It's ultimately up to the consumer to decide what to eat.
Despite this health-related controversy, McDonald's locations around the world offer a mostly uniform menu—apart from geographic variations to suit local consumer tastes. The company is also always testing out new products.
Article continues below advertisement
Article continues below advertisement
McDonald's menu
Among McDonald's flagship menu choices are the Big Mac, the Quarter Pounder with Cheese, a variety of hamburgers and cheeseburgers, the Filet-O-Fish, several chicken sandwiches, Chicken McNuggets, Snack Wraps, french fries, salads, oatmeal, shakes, McFlurries, sundaes, soft-serve cones, pies, soft drinks, coffee, McCafé beverages, and a variety of other beverages. The company also regularly sells products under limited-time promotions. For example, it offers the ever-popular McRib on a seasonal basis.
McDonald's restaurants in the US and many international markets also offer a full or limited breakfast menu. Breakfast offerings include the Egg McMuffin, the Sausage McMuffin with Egg, McGriddles, biscuit and bagel sandwiches, and hotcakes.
McDonald's is also focusing on its McCafé coffee brand as well as its snack and treat offerings to build stronger relationships with its casual customers. Its aim is to convert its casual customers to committed ones.
Unique international menu items
In Asia, many McDonald's restaurants also serve soups. In India, lamb often replaces beef in burgers due to the religious prohibition of beef consumption. Menu items in Indonesia and Singapore include McRice and Ebi (prawns or shrimp) burgers. In Germany and Western Europe, McDonald's serves higher-margin products such as beer. In New Zealand, its restaurants serve a local favorite: meat pies! The McArabia is a common menu item in Saudi Arabia. It consists of grilled chicken or grilled kofta in pita bread.
It's clear that though McDonald's menu items may not be the healthiest, the company works hard to adjust its menus to the tastes of its consumers. In recent years, it's added lower-calorie salads, fruits, and wraps to its line-up.
Article continues below advertisement
Why McDonald's is diversifying its portfolio
With US and European markets maturing and the fast food market becoming increasingly competitive, McDonald's has been diversifying its portfolio to maintain growth.
Operating leverage, via which a company can use existing operating resources to increase sales, is becoming another avenue of competition for restaurant players. For restaurants, a property is an operating resource that remains stable in terms of expenses such as rent. Increasing foot traffic thus eventually translates into sales. Offering a breakfast menu is one way in which a company can increase its foot traffic during nonpeak hours.
Why McDonald's added healthy menu options
In recent years, due to declining sales, McDonald's has started to include healthier options on its menu. It's tried to keep its target market narrowed down to families, but it aims to attract other segments as well. The company has included play areas in many of its restaurants, and its marketing schemes feature family-friendly ads and slogans. The term "Happy Meal" has become a household name.
The company isn't blind to the fact that junk food and unhealthy eating habits lead to obesity. The 2004 documentary Super Size Me revolved around this theme. So what makes McDonald's food unhealthy? Fast food usually contains excess calories, sodium, empty carbs, and unhealthy fats. The negative effects of eating it include cardiovascular disease, type 2 diabetes, asthma, liver disease, and cancer. According to a study conducted by the University of California, Berkley, the risk of obesity is greater if a person is living near a fast food restaurant. According to a University of Washington study, a poor diet is a factor in one in five deaths worldwide.
Burger King, Yum! Brands (YUM), and Wendy's (WEN) are also heavy hitters in the restaurant industry. Investors can access the industry through the PowerShares Dynamic Leisure and Entertainment ETF (PEJ) and the PowerShares Dynamic Food & Beverage ETF (PBJ).
Article continues below advertisement
Article continues below advertisement
High in calories
Total calories amount to an average of 1,670 in a regular McDonald's menu meal, which includes a burger, large fries, coke, and a dessert. According to the USDA's (US Department of Agriculture) dietary guidelines, a female aged 14–18 with a sedentary lifestyle requires a daily minimum of 1,800 calories, and a female with an active lifestyle requires a minimum of 2,400 calories daily. A male aged 14–18 with a sedentary lifestyle requires a daily minimum of 2,000–2,400 calories. A male with an active lifestyle requires a minimum of 2,800–3,200 calories daily. Just one McDonald's meal provides 92% of the calorie requirement for a female aged 14–18 with a sedentary lifestyle.
Due to increasing pressure, McDonald's has been focusing on introducing healthier items, such as salads and wraps, to its menus. It's also dedicated a page to menu items with less than 400 calories. A healthy option consisting of a salad, medium fries, diet coke, and a dessert adds up to 860 calories.
As it stands, McDonald's hasn't been very successful at attracting customers with these healthier items. Its reputation as a purveyor of fare that's synonymous with junk food is proving hard to shake.
Learn about McDonald's franchise model in Analyzing McDonald's Franchise Agreement and Structure.
This post is an update of posts by Samantha Nielson and Adam Jones for Market Realist.