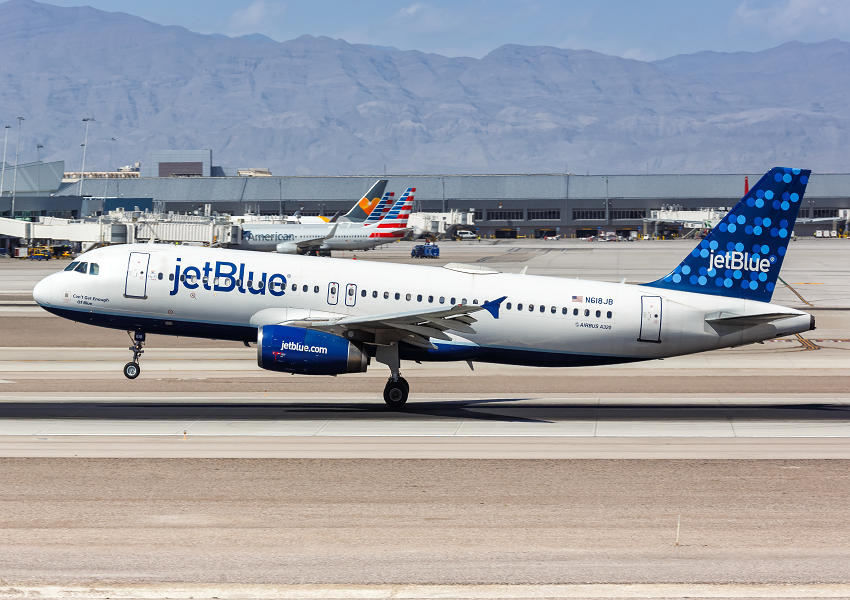 JetBlue Q3 Earnings Soar on High Revenues, Low Costs
JetBlue Airways (JBLU) reported robust Q3 results today. Revenues and earnings beat analysts' expectations and improved significantly year-over-year.
JetBlue's adjusted Q3 earnings of $0.59 beat Wall Street's estimate of $0.51 and increased 40% year-over-year. Higher revenues, efficient cost management, and lower fuel costs mainly drove JetBlue's Q3 earnings higher.
Article continues below advertisement
JetBlue Q3 revenues
The company's third-quarter revenues of $2.09 billion came in marginally higher than Wall Street analysts' expectations of $2.07 billion. Quarterly revenues also improved by 3.9% year-over-year, mainly driven by healthy corporate and leisure demand.
JetBlue also disclosed that its operational initiatives helped it completely offset the negative impact from "hurricane Dorian and runway constructions in Fort Lauderdale and JFK" airports. JetBlue also faced business disruptions in several markets, but it managed to handle demand through quickly redeploying capacity.
The company's overall seating capacity grew 4.8% year-over-year to 16.3 billion, mainly driven by robust growth in the completion factor. JetBlue's Q3 capacity increase remained at the higher end of its previous growth guidance range of 3%–5%.
Costs and margins improved
JetBlue beat its low-end guidance range for ex-fuel CASM (cost per available seat mile). The company reported a 0.3% year-over-year increase in its ex-fuel CASM during the third quarter. The low-cost carrier had anticipated that ex-fuel CASM would rise between 0.5% and 2.5%. The shift of expenses into the fourth quarter and benefits from an ongoing "Structural Cost Program" lowered JetBlue's Q3 ex-fuel CASM.
Also, lower fuel costs significantly boosted JetBlue's Q3 earnings. The average fuel price per gallon fell 11% year-over-year to $2.06 in the third quarter. Notably, crude oil prices remained significantly lower in Q3 2019 compared to Q3 2018.
WTI crude oil prices came in at $56 per barrel in the last quarter, approximately 19% lower than $69 in the year-ago quarter. As fuel costs account for one-fourth of an airline's total operating expenses, a fall in crude prices boosts their profitability.
Higher revenues and lower expenses helped JetBlue Airways' adjusted pre-tax margin expand by 240 basis points. The company's adjusted pre-tax margin came in at 11.4% for Q3 of 2019 versus 9% in Q3 of 2018.
Article continues below advertisement
JetBlue outlook
For the fourth quarter, JetBlue expects unit revenues to decline in the range of 0.5%–3.5%. The company expects the benefit of healthy domestic demand to be more than offset by lower yield and soft international demand.
JetBlue expects to increase its total seating capacity by 4.5%–6.5% in the fourth quarter and by 6%–7% in the full fiscal year. For the fourth quarter, JetBlue estimates that ex-fuel CASM will either decline 1% or increase 1%. Ex-fuel CASM for the full year is anticipated to increase in the range of 0.5%–1%.
Also, the company anticipates that the average fuel cost per gallon will be $2.07 in Q4 2019. Additionally, JetBlue reaffirmed that it's on track to achieve its 2020 EPS target of $2.50–3.00. Reuters-polled analysts are estimating earnings of $2.36 per share in fiscal 2020.
Airline peers' Q3 earnings
In the airline industry, Delta Air Lines (DAL) and United Airlines (UAL) have reported their third-quarter results. Both companies have beat Q3 earnings estimates and saw significant year-over-year improvements.
Delta's Q3 adjusted EPS of $2.32 beat analysts' consensus estimate of $2.26 and increased 33% year-over-year. United's Q3 adjusted EPS grew 33% year-over-year to $4.07 and surpassed analysts' expectations of $3.97.
Southwest Airlines (LUV) and American Airlines (AAL) are due to report their respective Q3 results on October 24. Analysts' estimates suggest that Southwest's Q3 earnings will remain flat year-over-year. Meanwhile, American Airlines' earnings should grow 23.5% year-over-year.