Beyond Meat Stock Plunged despite Strong Q3 Results
Beyond Meat (BYND) stock fell 10.2% in after-market trading hours on October 28, even as the company reported better-than-expected third-quarter results.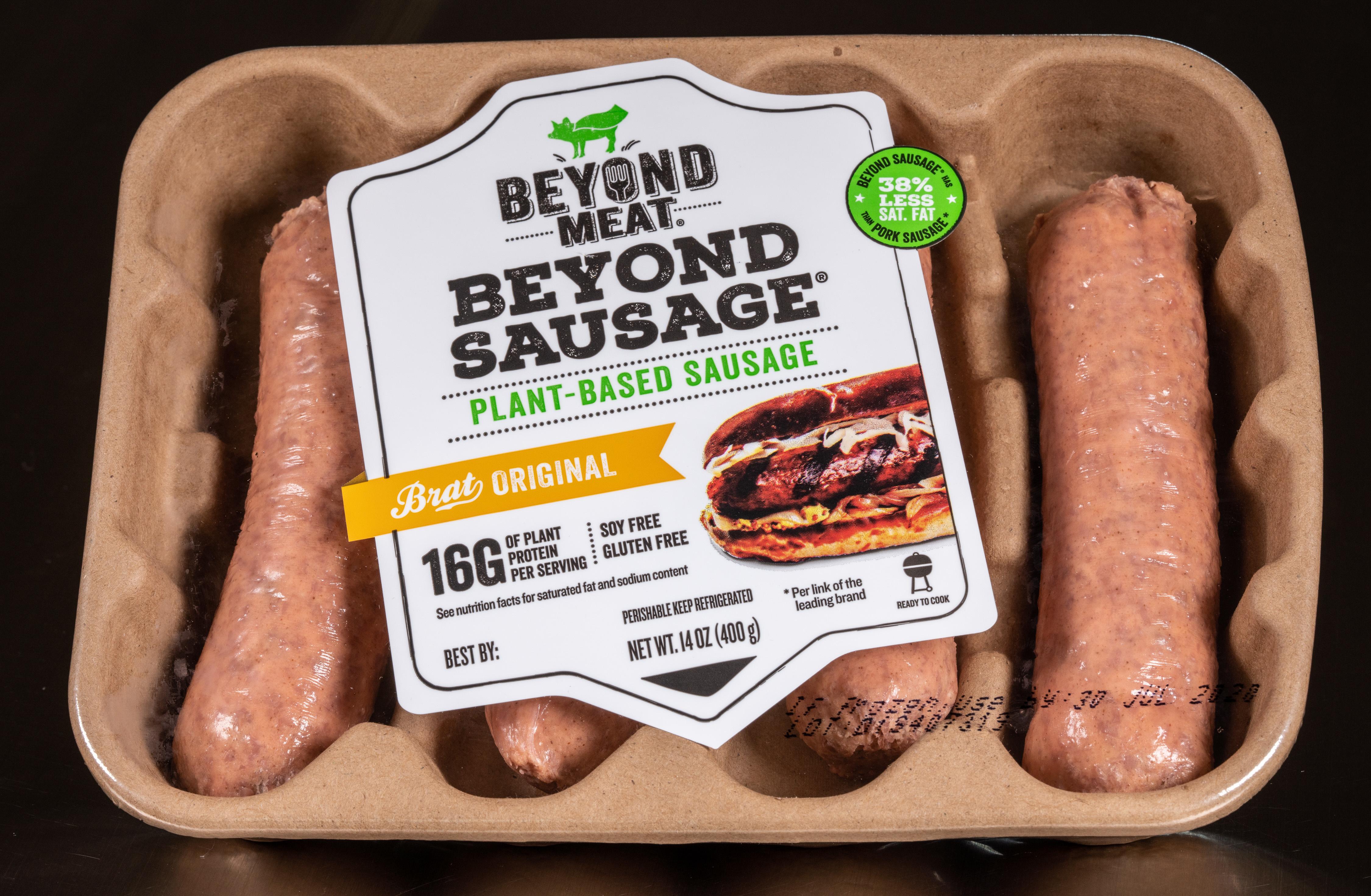 Beyond Meat (BYND) stock fell 10.2% in after-market trading hours on October 28, even as the company reported better-than-expected third-quarter results. The stock was down 19.6% at 9:48 AM EDT today.
The plant-based meat maker generated revenue of about $92 million, ahead of analysts' estimate of $82.2 million. Moreover, it was the first time that the company reported a quarterly profit. The third-quarter EPS of $0.06 beat analysts' forecast of $0.03. Beyond Meat also raised its outlook for fiscal 2019. The company reported EPS of -$1.45 in Q3 2018.
Article continues below advertisement
Article continues below advertisement
Beyond Meat stock fell despite strong results as the company indicated that it would have to offer more store discounts. The company's decision to offer higher promotional discounts reflects the impact of rising competition in the plant-based meat space. The sell-off on Tuesday also resulted from the expiry of its IPO lockup period.
Key takeaways from Beyond Meat's Q3 results
Beyond Meat's revenue grew 250% year-over-year in the second quarter. The company's revenue grew about 37% sequentially compared to the second quarter.
A 265% YoY rise in Beyond Meat's fresh platform revenue drove its top-line growth in the third quarter. The fresh platform witnessed higher sales volumes resulting from increased distribution to new domestic and international customers. Also, higher demand from the existing customer base boosted the fresh platform volumes. Revenue from the frozen platform grew by about 75% YoY.
With respect to channel-wise growth, Beyond Meat's retail revenue grew 211% YoY, while revenue from restaurants and foodservice was up 312%. The restaurant and foodservice channel accounted for 45% of the company's third-quarter revenue.
The company's gross margin expanded to 35.6% in Q3 2019 compared to 19.2% in 2018's third quarter. This significant improvement resulted from cost leverage on strong volumes and production efficiency.
Article continues below advertisement
Beyond Meat's outlook
Beyond Meat now expects 2019 revenue of $265 million–$275 million compared to its previous estimate of over $240 million. The company expects 2019 adjusted EBITDA of $20 million. It previously forecast a positive adjusted EBITDA.
Beyond Meat is scaling its domestic and international reach to boost its revenue. Also, strategic partnerships with popular grocers and restaurants are expected to drive further growth.
Strategic partnerships vital for future growth
In the third quarter, Beyond Meat tested Beyond Breakfast Sausage in Dunkin' Brands' (DNKN) Manhattan locations. Following a positive response, the company expanded its partnership with Dunkin's to over 9,000 locations effective November 6.
In August, the company partnered with Subway to offer the Beyond Meatball Marinara sub at 685 restaurants in the US and Canada. In August, Beyond Meat also teamed up with Yum! Brands' (YUM) subsidiary KFC (Kentucky Fried Chicken) to test Beyond Fried Chicken in nuggets and boneless wings in the Atlanta location.
On September 26, Beyond Meat stock surged over 11% following the news that McDonald's (MCD) would test a plant-based burger with Beyond Meat patties in 28 restaurants in Southwestern Ontario, Canada.
Article continues below advertisement
Article continues below advertisement
Now Denny's (DENN) has partnered with Beyond Meat to launch Denny's Beyond Burger in Los Angeles. Denny's is planning a nationwide launch of the new product in 2020. Aside from the aforementioned partnerships, Beyond Meat has also partnered with other entities such as TGI Fridays, Carl's Jr., BurgerFi, and Del Taco.
Growing rivalry
Rival Impossible Foods has partnered with Burger King to offer the plant-based Impossible Whopper burger in the US. Also, Impossible Foods is seeking regulatory approval to sell its plant-based burgers in Europe.
Beyond Meat also faces competition from Kellogg (K), Hormel Foods, and Tyson Foods (TSN), which have developed their own meat alternatives. In September, Kellogg announced the launch of the Incogmeato plant-based portfolio of burgers, chicken nuggets, and tenders. Kellogg plans to roll out Incogmeato to grocery stores and foodservice chains early next year.
In June, Tyson Foods announced the launch of plant-based nuggets under its Raised & Rooted brand. Tyson Foods intends to offer more alternative protein products under Raised & Rooted as well as other brands. Also, Tyson Foods, under its Aidells brand, offers Aidells Whole Blends sausage and meatballs made of chicken and plant-based ingredients.
The demand for plant-based meat is growing, given the rise in health-conscious consumers and evolving tastes. In our view, Beyond Meat would have to focus on continued innovation and strategic collaborations to grow in the plant-based meat market.
Beyond Meat's closing stock price of $105.41 on October 28 reflected a 60.3% rise compared to its closing stock price of $65.75 on May 2, when the company began trading on the Nasdaq.