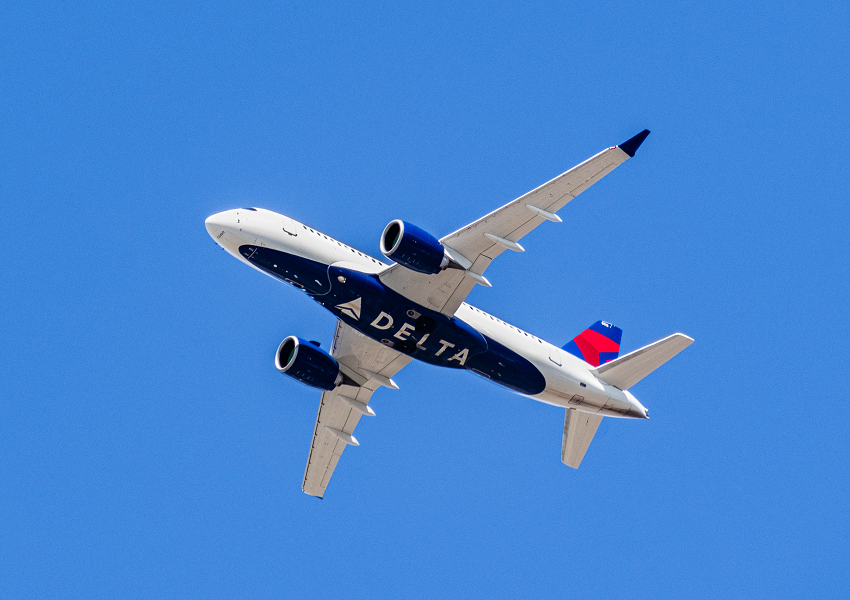 Delta: Lowest Cancellation Rate of Top Four US Airlines
In August, Delta Air Lines (DAL) had the lowest flight cancellation rate against its top three US-based peers. Additionally, the airline had a better on-time performance last month than its top competitors. Lower flight cancellations lead to better utilization of seat capacity, improving the passenger mile revenue for airlines.
A low flight cancellation rate and reliable on-time performance help airlines build loyalty and a positive image among their passengers. Frequent fliers tend to pay a premium price to travel on these airlines, as the risk of last-minute cancellations remains very low.
Article continues below advertisement
Article continues below advertisement
Delta has the lowest flight cancellation rate
According to data compiled by airline analytics firm OAG, Delta Air Lines canceled 0.9% of its flights last month. Delta is ranked as the top performer among the top four US air carriers regarding the lowest number of flight cancellations.
The largest US carrier by fleet size, American Airlines (AAL) recorded the highest cancellation rate of 2.7%. United Airlines (UAL) and Southwest Airlines (LUV) recorded flight cancellation rates of 2.1% and 1.3%, respectively, in August.
Nonetheless, all the four companies registered an improvement in their August flight cancellation rate compared with July. In July, Delta, American, United, and Southwest had flight cancellation rates of 1.1%, 3.2%, 2.2%, and 1.3%, respectively.
Furthermore, Delta leads in on-time performance against its top competitors. In August, Delta's on-time performance rating was 82%. United, American, and Southwest Airlines recorded on-time performance rates of 74.7%, 75.3%, and 81.1%, respectively, in August.
August's on-time performance percentage revealed month-over-month improvement for all four airlines. In July, Delta, Southwest, American, and United had on-time performance ratings of 80.4%, 79.4%, 75.5%, and 73.6%, respectively.
What caused higher flight cancellations for Delta's peers?
We believe that Delta's low cancellation rate compared with its peers is primarily due to its lack of exposure to Boeing's (BA) 737 MAX planes. Notably, Boeing's 737 MAX aircraft has faced a global flying ban since mid-March in the wake of two deadly accidents within five months.
The flying ban has caused thousands of flight cancellations for Delta's top three peers. Southwest, American, and United together own 72 MAX planes. During its second-quarter results, Southwest revealed that it canceled over 20,000 flights since the MAX grounding in March. Southwest is the largest US customer for the 737 MAX—it owns 34 aircraft and has placed orders for 246 more.
American, which has 24 MAX jets, faced 7,800 flight cancellations during the second quarter. United, which owns 14 MAX aircraft, recorded 3,440 flight cancellations during the last quarter. American and United have unfulfilled orders for MAX planes totaling 76 and 86, respectively.
Southwest and American had reported respective capacity declines of 3.6% and 0.8% in the second quarter due to the MAX grounding. The two companies posted a negative impact of $175 million each on their respective Q2 pretax income reports.
Article continues below advertisement
According to the August 6 OAG report, Southwest, American, and United would face 6.3 million seating capacity losses if Boeing's MAX remains grounded until October. According to OAG estimates, these airlines could lose over $600 million in revenue and associated expenses if the grounding extends until next month.
Delta's stock performance
Delta Air Lines stock has emerged as the top performer in the airline industry, while its peers have struggled to keep the pace with the broader market. The stock has returned 16.7% year-to-date. On the contrary, American Airlines stock has lagged its peer group, with its stock plunging 11.5% year-to-date. Southwest and United's stock prices are up 14.7% and 3.9%, respectively, YTD.
Delta Air Lines stock has outpaced the year-to-date gains of the Dow Jones Industrial Average, which is up 14.7%. The stock's YTD return is also higher than the increase in the iShares Transportation Average ETF (IYT), which has risen 15%. About 20% of IYT's portfolio comprises passenger airline stocks.