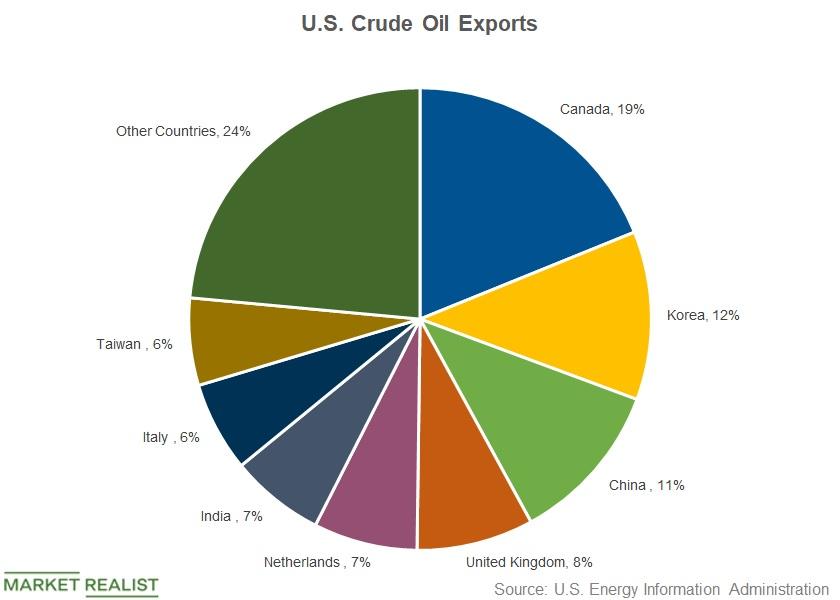 Where Does the United States Export Oil?
US oil exports
In this part, we'll take a look at the top countries where the US exports its crude oil. Among the countries to which the US exports crude oil, Canada stands at the top, accounting for 19% of US crude oil exports in 2018. Roughly 12% of the exports went to Korea. China followed, accounting for 11% of the total US crude oil exports in 2018. The United Kingdom and the Netherlands accounted for 8% and 7%, respectively, of US crude oil exports in 2018. The top five countries together accounted for 57% of total exports.
Sign up for Bagels & Stox, our witty take on the top market and investment news, straight to your inbox! Whether you're a serious investor or just want to be informed, Bagels & Stox will be your favorite email.
Notably, the export destinations varied during the year. China was the largest export destination in the first half of 2018. But from August to October, there were no exports to China.
When we include petroleum products along with crude oil, the ranking changes. Mexico tops the chart when petroleum products exports are also included. It accounts for 16% of the total US crude oil and petroleum products exports. Almost all of the exports to Mexico are petroleum products.
The United States Oil Fund (USO), which tracks the West Texas Intermediate near-month crude oil futures, has risen ~32% year-to-date. The Energy Select Sector SPDR ETF (XLE) has risen by 11% in 2019. Oil prices significantly impact investor sentiments and, in turn, energy-sector stocks.
Article continues below advertisement
Very large crude carriers
The industry is responding to the higher crude oil export opportunity. In July 2018, Enterprise Products Partners (EPD) announced a plan to develop an offshore crude oil export terminal capable of fully loading VLCC (very large crude carriers) off the Texas Gulf Coast. The terminal will not require lightering vessels. Lightering, or transferring cargo, is required when a port cannot accept large vessels. Enterprise Products believes that the rising oil exports to Asia and Europe have resulted in demand for faster and cost-efficient loading.