What's Likely to Drive GoPro Sales Going Forward?
GoPro (GPRO) is optimistic about demand for its line of camera products.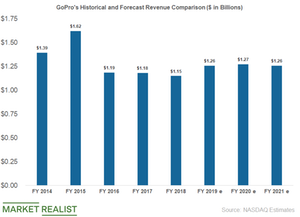 HERO7 Black
GoPro (GPRO) is optimistic about demand for its line of camera products. A strong sell-through and focus on its flagship product, the HERO7 Black, resulted in a sequential and year-over-year rise in average selling price (or ASP).
Effective channel and consistent demand for the HERO7 product resulted in improved channel marketing collaboration with GoPro's distributors and global retail partners. GoPro expects robust demand for the HERO7 line to continue in the second quarter as well.
Article continues below advertisement
Article continues below advertisement
User engagement
Organic viewership for GoPro's content in the first quarter rose to an all-time quarterly high of 173 million views. GoPro's social media following rose by 1.3 million to 40 million driven by increases across Instagram (FB) and YouTube (GOOGL) platforms. GoPro recently announced that its YouTube channel has now surpassed the milestone of two billion views.
GoPro continues to expand its Plus subscription offering. Its subscription service now has 220,000 paying subscribers, a rise of 50% YoY. This user engagement translates to incremental and repeat purchases over the long run.
Market leader in the United States
According to NPD Group, GoPro has a unit market share of 89% in the action camera category in the United States. The dollar share of GoPro stands at 97%, which has increased compared to a unit share of 86% and a dollar share of 95% in the prior-year quarter. The HERO7 Black was the best-selling camera in the United States in the digital imaging category.
Research firm GfK estimated that GoPro's unit share in Europe rose to 86% for products priced at $199 and above. GfK has estimated sell-though in China (FXI), Japan, Korea, and Thailand to rise by 11% YoY on a dollar basis.
During the first-quarter earnings call, GoPro announced it will be launching a refreshed line-up of products across price points in the holiday quarter of 2019, which is expected to drive GoPro sales and profitability in 2019 and beyond.