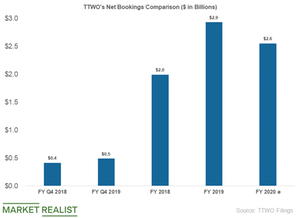 What Games Could Drive Take-Two's Sales in 2020 and Beyond?
Borderlands 3
Take-Two Interactive (TTWO) recently announced Borderlands 3. 2K and Gearbox Software also released Borderlands: Game of the Year Edition for PC, PlayStation 4 (SNE), and Xbox One (MSFT). The edition comes with ultra-HD visuals and gameplay improvements.
Borderlands players will now be able to import their saved progress, continue from where they left off, and benefit from other recently added features. Borderlands 3 is expected to launch on September 13 this year on PC, Xbox One, and PlayStation 4. The franchise has sold over 43 million units worldwide to date.
Borderlands 3 was the number one game on Twitch (AMZN) at a recent event hosted by Gearbox. The game garnered 12 million unique views and over 1 million hours' worth of content consumption.
Article continues below advertisement
NBA 2K Mobile and Word Life
2K and Cat Daddy launched NBA 2K Mobile for Android last month. The iOS version was launched last year and is free to download.
Social Point launched Word Life, a free-to-play mobile game, on May 9. Take-Two's president, Karl Slatoff, said, "Word Life is an easy to play game that is filled with thousands of levels in many innovative game modes. Word Life brings a new dimension to traditional word puzzle games, boasting a multiplayer mode through which players can battle with words in exciting matchups."
NBA 2K20 and WWE 2K20
TTWO will soon launch the latest installments of its popular franchises. The company will launch NBA 2K20 and WWE 2K20 this fall. In fiscal 2020, it will also release updates for Red Dead Online and Grand Theft Auto Online, which should increase user engagement.
These games and new releases will be key revenue drivers for Take-Two Interactive.