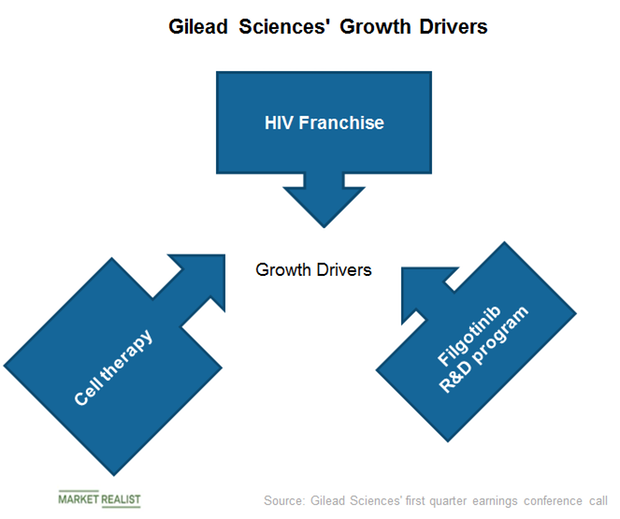 What Are Gilead Sciences' Key Growth Drivers in 2019?
Growth drivers
Since the second quarter of 2016, Gilead Sciences (GILD) has been reporting major YoY (year-over-year) revenue declines, mainly due to its lower HCV (hepatitis C) franchise sales. The company has been affected by a reduced number of new patient starts for its HCV therapies, reduced pricing, and increasing pressure from branded and generic competition. To learn more about Gilead Sciences' HCV franchise, read How Did Gilead Sciences' HCV Franchise Perform in Q1?
The recent failure of the company's late-stage investigational NASH (nonalcoholic steatohepatitis) asset, selonsertib, to meet the primary endpoints of its Phase 3 trials has further added to the company's concerns.
Gilead Sciences expects the reduced rate of its HCV revenue decline and the increasing uptake of its HIV and cell therapy products to drive its revenues in future years.
Article continues below advertisement
Article continues below advertisement
HIV franchise
The increasing uptake of Biktarvy—especially from patients switching from other HIV therapies—and the increasing use of Truvada for pre-exposure prophylaxis have emerged as the major growth drivers for Gilead Sciences' HIV franchise in the US market. To learn more about the company's HIV franchise performance in the United States, read How Gilead Sciences' HIV Franchise Performed in the First Quarter.
Biktarvy has also reported a solid run in the ex-US markets of Europe and Japan. Read Biktarvy to Have Strong International Revenue Performance to know more.
Apart from these approved drugs, the company expects to receive FDA approval for Descovy in pre-exposure prophylaxis indications based on the robust results of its DISCOVER trial. On March 14, RBC Capital markets analyst Brian Abrahams highlighted the transformative potential of the company's early-stage and long-acting investigational HIV therapy, GS-6207.
Article continues below advertisement
Cell therapy
Gilead Sciences' cell therapy, Yescarta, has managed to report robust uptake in the US market. According to Gilead's first-quarter earnings conference call, the company is focused on creating awareness for the therapy and getting sites certified to administer it in Europe. Increasing reimbursement under the 2020 Medicare Hospital Inpatient Prospective Payment System in the United States and improving access in ex-US markets are expected to drive Yescarta's revenue performance in future years. To learn more about Yescarta, read How Gilead Sciences' Cell Therapy Business Performed in Q1.
Filgotinib research program
Based on positive results from studies in FINCH program, Gilead Sciences plans to file for an application seeking approval for the investigational therapy filgotinib in rheumatoid arthritis indications in Europe in the second half of 2019.