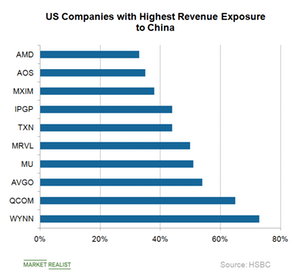 How the US-China Trade War Affects Semiconductor Stocks
The US-China trade war affects businesses and consumers 
The US-China (FXI) trade war has significantly affected businesses, consumers, and investors. On May 10, the United States increased its tariffs on $200 billion worth of Chinese imports from 10% to 25%, and China threatened to retaliate.
Many US companies have heavy exposures to China in terms of what they sell and what they buy from the country.
Article continues below advertisement
Companies that sell to China
China is a key market for semiconductor companies such as Qualcomm, Broadcom, and Micron, which earn more than 50% of their revenues from the country. Higher tariffs on Chinese imports will induce an economic slowdown in the Asian nation, thereby reducing demand. Moreover, retaliatory measures by China will affect US semiconductor exports. Both these effects will negatively affect chip companies with high exposures to China.
Companies that buy from China
At the same time, China is a key supplier for companies such as Apple (AAPL), which has outsourced iPhone production to China. A 25% tariff on Chinese imports will make iPhones expensive for US consumers, affecting its US revenue.
Companies that both buy from and sell to China
Moreover, a slowdown in Chinese demand will affect its revenue from China. As Apple is one of the biggest customers of chip companies, declines in iPhone sales will reduce orders for chip components that go inside iPhones. Chip companies' high exposures to China make them vulnerable.
Apple stock fell 30.6% in the fourth quarter of 2018, when the United States imposed a 10% tariff on $200 billion worth of Chinese imports. During the quarter, Apple's revenue fell 4.5% YoY driven by a 26.7% fall in revenue from China. This weak demand continued in the first quarter, which saw Apple's revenue fall 5% YoY driven by a 21.5% decline in revenue from China. The fresh round of tariffs will likely cause more revenue declines in the coming quarters. Fears about weaker revenue sent Apple stock down 8.3% between May 6 and 10.