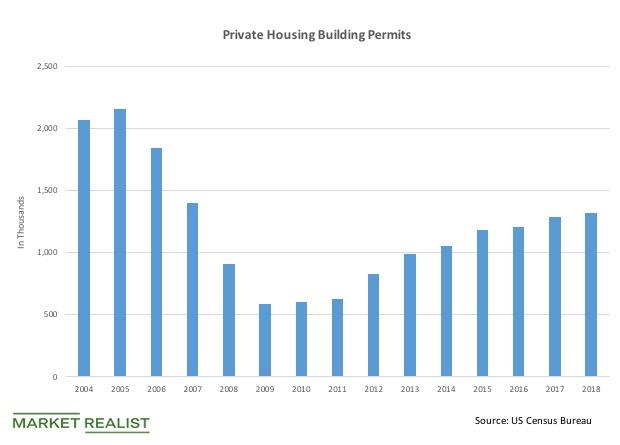 How Building Permits and the Housing Market Can Predict Trends
Building permits
When real estate developers or REITs like AvalonBay (AVB) are confident about the economy, they build more in anticipation of future demand from consumers. Now, when they want to build something new, they have to first get permission from Uncle Sam. The US Census Bureau surveys the permit-issuing places on a monthly basis. Building permits data is useful in gauging developer and consumer sentiment about the economy. If the data suggests an increase in the building permits, it could mean that the economy will grow provided there is a demand for all that's being built. An increase in building permits results in an increase in employment as more construction workers find a job. Higher employment leads to higher consumer spending, which in turn boosts the economy.
Article continues below advertisement
What if developers build (XHB) something nobody is buying? The unsold inventory of residential apartments builds up, straining the finances of the developers and eventually bringing the market down. What if people are buying these residential apartments with borrowed funds that they perhaps can't repay? That's how the 2007 subprime crisis happened.
Housing market
While building permits give an idea about the new supply in the market, the broader housing market tells a much clearer story about the demand side.
A drop in housing prices could indicate oversupply or unaffordability. Drop in housing prices set the ball rolling for other side effects. Homeowners that become less wealthy may choose to default on their mortgages if prices drop below the outstanding balance. The weak housing market also means fewer construction (ITB) jobs, impacting consumer spending.
According to the senior economic advisor for the Center of Household Financial Stability at the St. Louis Fed, housing downturns have preceded every US recession since the end of the second world war. That's pretty accurate!