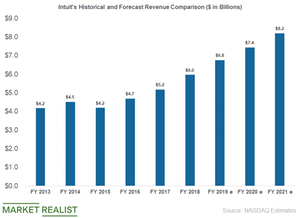 Here Are Intuit's Key Revenue Drivers
Returns filed with IRS
Intuit (INTU) provides several tax-based solutions to enterprises and individuals. Thus, the company's revenue is cyclical. It derives around 50% of sales from tax filings. The total number of returns filed with the IRS (Internal Revenue Service) is a key indicator of revenue growth for Intuit.
The second revenue indicator is the percentage of returns filed using DIY (do-it-yourself) software. The third is Intuit's market share in the DIY category. Intuit estimated its Turbo Tax Online share rose by half a percentage point in the last reported quarter. The fourth driver is the average revenue per return.
Article continues below advertisement
During Intuit's third-quarter earnings call, CEO Sasan Goodarzi stated, "We had a great tax season. We grew the DIY category and grew our share within the category driven by our innovation and significantly improved customer experiences. We produced our most robust free offering yet and made significant progress in our effort to transform the assisted category."
Intuit's DIY strategy
Intuit's commitment to provide a free tax offering has meant that over 55 million Turbo Tax consumers paid nothing for the service over the last five years. Intuit's key focus is to expand its market share in the DIY category, transform the assisted tax preparation segment, and disrupt the traditional consumer finance space.
Turbo Tax Live is now an important contributor to Intuit's revenue growth. The company has managed to triple the number of customers using Turbo Tax Live year-over-year. Turbo Tax now has a 28% share in total individual returns and provides Intuit with a large addressable market.
Intuit's consumer platform also connects users to financial products. It is aimed at helping customers make smart investing decisions. Intuit's Turbo registrations have risen from 5 million to 14 million.
Small business and self-employed
Intuit's Small Business & Self Employed Group's Online Ecosystem experienced revenue growth of 38% in the last quarter. Intuit is focused on online services to deliver more value to customers. It aims to be the center of small business growth by managing their capital and payroll services.